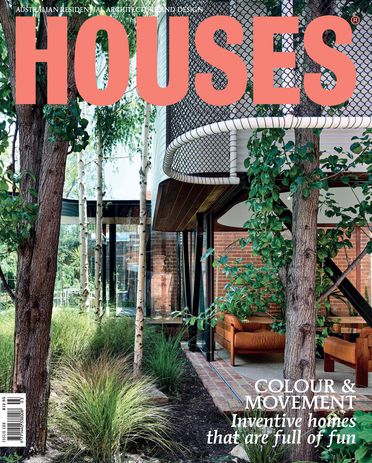 Architecture isn't always such serious business – often it's playful and fun, with the aim of making spaces enjoyable to inhabit. To achieve design excellence you need to think outside the box and solve problems in new and inventive ways. Many of the homes featured in this issue – alterations and additions, new builds and apartments – are about experimentation and challenging the status quo.
Wowowa Architecture is a practice that is "drawn to opportunities for play and whimsy." At Wowowa's Tiger Prawn, the clients were drawn to Monique Woodward's parallel between the Hawthorn brick ornament and the tiger prawn – and as a result, the prawn became the inspiration for both material and form. The scalloped brick facade on the rear extension is both contextual and playful and the interior comprises "surprising view lines and delightful shadow play."
At Austin Maynard Architects' King Bill, a collage of the textures and colours of the surrounding neighbourhood has been incorporated into the collection of spaces that make up the home. Curving steel wraps over the former stable at the rear of the property, connected to the existing terrace by a winding glazed corridor. The main bedroom features a heavyweight net hanging out over the study/library below – a place to read a book or gaze out to the treetops.
Embracing colour is another way to create a unique and vibrant living environment. The reconfiguration of a twenty-three-square-metre apartment by Agius Scorpo Architects includes a new kitchen "composed of Tasmanian oak and a slick of punchy yellow paint." The design of this element is dynamic in itself – it opens up, hides away, slides along and folds out. Regardless of how small it is, it's a joyful space with flair.
In Tasmania, the Bruny Island Cabin by Maguire and Devine Architects is another small space that celebrates simple pleasures. Climbing a ladder to the mezzanine sleeping loft reminded me of time spent in cubbyhouses as a child. The cocoon-like interior is a calm environment, but there is definitely a sense of play within the space.
Architects work hard at solving problems and responding to client briefs in a number of ways and there is no harm in adding some fun and whimsy to the mix.
Katelin Butler, editor
Follow Houses on Twitter, Facebook and Instagram.
Source