Despite how easy it may seem, simplicity in architecture is not straightforward – designing a house is complex and requires thoughtful planning and restraint. The homes in this issue express simplicity in varied ways, reflecting how we can do more with less. These homes are not reductive, but are instead understated and elegant.
At Glebe House by Chenchow Little, a minimalist palette heightens the sculptural quality of the architecture, while at Vikki's Place by Curious Practice, familiar materials like plywood bring tactility and warmth. In these homes, harmonious materials help to make the design ideas clear while also providing a robust setting for the kids and grandkids that may come along in years to come.
Our Spotlight on granny flats gives a snapshot of a type of micro-scale architecture that is shaping suburbia. No longer just an afterthought, plonked on a site, the new granny flat is a considered, flexible dwelling, fit for any stage of life. Homes like these, and many others in this issue, make us reflect on what it means to live simply.
Gemma Savio, associate editor
Katelin Butler, editorial director
Follow Houses on Twitter, Facebook and Instagram.
Source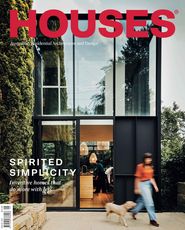 Issue
Houses, October 2019