Our homes are profoundly personal. They tend to register stories, becoming vivid portraits of those who live in them. These stories can be told incidentally, through the patina of time, inscribed from one generation to the next. But sometimes, these narratives are deliberately brought to the fore by an architect or designer.
This kind of architectural storytelling is palpable at Bozen's Cottage by Taylor and Hinds Architects, a historic stone cottage that, through layers of finely executed alterations and additions, expresses the lived histories of individuals who have called the building home.
At Paddington House, the subject of this issue's Revisited, the late Ken Woolley has paid tribute to his wife's love of music – expressed in a distinct geometry and spatial complexity within the home.
Fusing function and poetics, this issue's houses reflect the deeply thoughtful process behind their making. In each instance, the architect or designer has given clarity to the home's narratives, stitching the values of each owner, whether new or successive, into its fabric. In this way, the house becomes a ready vessel for holding and making memories.
Gemma Savio, editor

Follow Houses on Twitter, Facebook and Instagram.
Source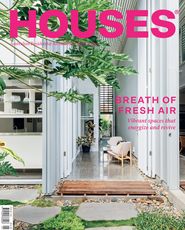 Issue
Houses, February 2020