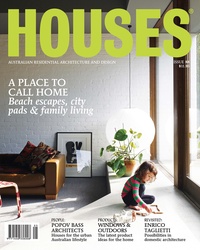 During a conversation that I had with Rachel Nolan of Kennedy Nolan Architects about our cover project, the Merricks Beach House, we discussed how "architecture is one thing, but having everyone in the house animating the spaces and making them warm and welcoming, is another." This is not just a visual thing, but an aural, olfactory and textural experience. Think of the sound of laughter, the smell of coffee or the warmth of a wood fire. Architecture becomes a stage for daily life.
In this issue's profile of Popov Bass Architects, Brian Bass expresses a similar sentiment to Rachel's. "Architecture is fundamentally about space, light and materials. Then there's the idea of how all that relates to the person who is living in it and how they want to live."
At the Wattle Avenue House by Minifie van Schaik, the architecture is inspiring for its creative owners, a place where you could "write a book, or invent a dish." Subtle but clever alterations and additions were all that was needed to transform a reliable brick veneer house into something more alluring.
In the playfully theatrical photographs of Breathe Architecture's Jack and Jill House, this idea of house as stage set is further explored, its narrative played out in imagery.
This issue also includes houses by Mac-Interactive Architects, Architecture Workshop, KPDO with Neometro and MAA, David Boyle Architect, Richards and Spence, Tribe Studio and Christopher Polly Architect.
All these houses, whether a beach escape, city pad or family home, are places in which to revel in the act of daily living. It's all in the design details by architects and designers with the spatial understanding to create these enjoyable and individualized homes.
Katelin Butler, editor 
Follow Houses on Twitter, Facebook and Instagram. Purchase individual issues or subscribe to have six issues delivered to you. Houses is now available in a digital edition for tablets, mobile devices and computers.