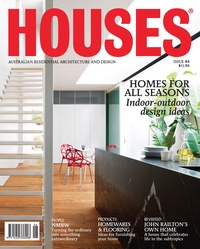 Establishing a dialogue between a new building and its location is integral to many stand-out architectural projects. Sometimes this relationship is determined by council regulations, but research into the site and surrounding areas is normally the starting point for architects when designing a new house or adding to an existing home.
Houses 89 documents the variety of ways that the built form responds to its context. The Rexroth Mannasmann Collective's Myrtle Street House sits on a narrow street of largely intact single-storey Federation villas. Responding to the patterns and characteristics of the streetscape, the architects developed an informed abstraction of the surrounding forms to create a "triangle to the street." Similarly, A House with Tiles on It by Welsh and Major Architects takes something familiar from the streetscape – the terracotta roof tiling – and employs it in an alternative way, as vertical cladding.
Nathan Lester Architecture's Shelly Beach House invites the rocky landscape to "participate in the architecture" in a direct and continual dialogue between built and natural environments.
On sites with spectacular views, there is a tendency for the architect or designer to be dictated to by the location. Bourne Blue Architecture's Merewether Residence, while celebrating the view, is a relatively restrained response to such a prime beachfront position.
Relationships between buildings and their contexts are not always harmonious – instead, a new building might challenge the status quo in some way. The design intent of MODO's Hans House was partly to "critique the conventional developer attitude to house design." The bold, overhanging form, with bright lime green details, stands out in its context.
When architecture "speaks" to its context, whether it be through critique or abstraction, it adds another layer to the continuing narrative of a place.
This issue also includes houses by Tobias Partners, AM Architecture, Loucas Zahos Architects, Maria Gigney Architects, Bower Architecture and Ashley Lochhead Architects. We profile NMBW Architecture Studio, which "turns the ordinary into something extraordinary" in its series of residential projects, and revisit John Railton's house and office that he designed and built for his family in 1963.
Katelin Butler, editor  
Purchase print issues.
Subscribe for six issues delivered. 
Digital edition for mobile devices and computers.

Follow Houses on Twitter, Facebook and Instagram.