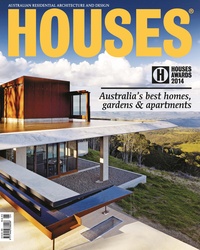 Landscapes in Australia are like nowhere else in the world. The 2014 Houses Awards' Australian House of the Year sits on one of these undeniably spectacular sites, where it's hard not to be distracted by the beauty of the scenery. The opportunity and the challenge of such projects is the need to do justice to this landscape. A successful piece of architecture will be in harmony with its setting but doesn't rely on it. The Invisible House by Peter Stutchbury Architecture does this. Each time the jury members (including me) looked at the Invisible House, we discovered something new – it is a home with endless surprise and delight. From the rolling, double-height ceiling of battened timber above the living spaces to the extraordinary roof that cantilevers almost four metres in a series of undulations, this house shields its occupants from the wild weather experienced in this landscape, while drawing in natural light.
The winners of the eight categories in the 2014 Houses Awards showcase an extremely high calibre of work from across the country. The Dogtrot House by Dunn and Hillam Architects presents familiar Australian shed architecture in an articulate and rigorous manner; Cabin Two by Maddison Architects expresses a structural and architectural honesty in its folding forms; Skylight House by Andrew Burges Architects displays subtle control of light; Loft Apartment by Adrian Amore Architects presents a series of mesmerizing white curves and twists; Westgarth House by Kennedy Nolan Architects and Middle Park House by Jackson Clements Burrows Architects cleverly deal with heritage overlays in typical suburban settings; The Garden Project by Welsh and Major Architects brings a garden oasis into an inner-city site; and The Commons by Breathe Architecture pushes the boundaries of sustainable design.
The Houses Awards, now in its fourth year, has gone from strength to strength – and it's a very exciting journey to be a part of. Thanks must go to all our Houses Awards supporters – Cult, Artedomus, Fisher and Paykel, Geberit, Haymes Paint, Heritage Council of Victoria, Think Brick Australia and Verosol.
Alongside the announcement of the 2014 Houses Awards, this issue includes a selection of other great projects by Sally Draper Architects, Nobbs Radford Architects, MCK Architects, Black Line One X Architecture Studio and BKK Architects. We also revisit Glenn Murcutt's Simpson-Lee House profile the work of Jeremy Wolveridge Architects.
Katelin Butler, editor
Follow Houses on Twitter, Facebook and Instagram.
Subscriptions and back issues: Print and Digital.