How might the profession become more involved in the provision of general housing? Stuart Harrison reviews the recent UAL conference and exhibition ReHousing.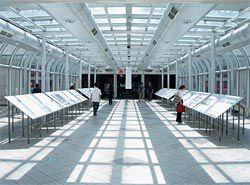 ReHousing, a recent conference held in Melbourne, sought to examine the difficult subject of new general housing, with the aim of fostering innovation in a field that is seemingly deprived of it, and which is often devoid of architects. The conference was centred on themes of demographic change, procurement, affordability, sustainability and location, which were explored through case studies. This allowed contributors to submit design projects and accompanying textual exegesis, for a process of peer referee. The refereed designs were then exhibited in one of Melbourne's most underappreciated spaces – the top level of the two-storey footbridge over Little Lonsdale Street that links Melbourne Central and the Deco Myer department store. Located in this retail link, the work got important exposure to the wider public, and on my several visits, people were indeed stopping and looking at the work on the inclined display tables. Among the many excellent projects on display was the community housing scheme in Woodstock Street, Balaclava, by MGS Architects, which demonstrates that a 31-unit "rooming" complex can foster a strong architectural engagement with context.
The conference presentations took place in the lofty grandeur of Reed & Barnes' Melbourne Town Hall and in the sublime cave-like interior of the Griffins' Capitol Theatre, across Swanston Street. Two international keynote speakers spoke in the crystalline auditoria of the Capitol – Mark Brearly from the Mayor of London's Architecture and Urbanism Unit, and Robert Bruegmann from the University of Illinois at Chicago and author of the book Sprawl: A Compact History – along with a series of invited national speakers.
Brearly spoke of London's recent population growth – the first since the war that nearly destroyed it – and the need to provide new land in a city once scattered with potential spaces. A combination of industry leaving the city, massive public transport investment and a mayor's unit full of talented young architects means that the city is now negotiating new projects to house this strong expansion through a complex and conservative layering of public departments and agencies. Brearly had some potent lessons, such as "he who draws, wins", about how to push through quality in a system leaning towards mediocrity. Robert Bruegmann's position regarding suburban sprawl is contentious and provided a counterpoint that gave the conference a critical sense. In essence, Bruegmann is doubtful that low-density suburban sprawl is intrinsically bad, or that it is less sustainable than dense urban living.
Bruegmann argues sprawl is a longstanding and widespread urban phenomenon and that we need to engage with it rather than dismiss it.
Dr Deborah Dearing, one of several national invited speakers, presented two projects from developer Stockland that seek to incorporate architects' design work into the provision of large-scale housing. Kerstin Thompson, another invited speaker, presented a yet-to-be-built project in Gore Street, Fitzroy, which featured extensive community consultation and received a planning permit. Thompson argued quality in terms of amenity, light, quality of outlook, interaction with street and outdoor spaces – a strategy that satisfied key contextual concerns, while leading the discussion away from matters of aesthetic judgment.
In addition, this project engaged with ideas of context through the use of red brick, here related to the neighbouring Union Hotel but seen generally in the work of the office.
Thompson also showed a series of high-end houses as prototypes for wider housing applications, and this is evident in both the Gore Street project and well-published Napier Street housing project in Fitzroy. The latter was one of two images used on the flyer for the conference, the other being a fence on an outer-suburban housing scheme – a world in which the architect is rarely involved. The wider aim of the conference is clearly to encourage architects to be further involved in this world, and for those making those worlds to seek this engagement.
Professor Geoff Warn, of Perth's Donaldson + Warn, was another invited speaker and he discussed a series of low-cost house projects, designed with Jane Wetherall, that tested both aesthetic and planning conventions in a climate described by Warn as "difficult". One of these projects used a pre-designed shed structure to produce an incredibly cheap house in a state with a massive recent increase in property values.
This attention to general housing, rather than the more-published, boutique, architect-designed housing, was also strong in a video presentation by Perth-based Simon Anderson. This was a polemical work, which also described his office's approach to housing solutions for emerging complex demographics. Two house projects were presented, which also featured in the exhibition – a twin upside-down house that works as two houses or one; and a house in Fremantle that inventively uses conventional timber roof trusses in expressive ways and accommodates a complex family structure (a working mother, children from differing relationships, a grandparent ), more typical of trends in current domestic arrangements.
Melbourne-based Marcus White presented an engaging low-budget housing development on Phillip Island. Understood as a typical suburban block outside the metropolitan area, the relatively cheap land was developed with a small two-storey front building and a single-storey house to the rear of the site, creating three repeated units. White argued that this was a fourdimensional housing study as it accounted for changes of use and differing scenarios over time. The inherent flexibility in the configuration allowed for shifts in relationships and family structure – in-laws on site, grown-up children at home, separated parents and so on – and provides for supplementary income by allowing units to be rented out. This compelling study into flexibility and affordability summarized many of the concerns of the conference.
So, what is the important task for architecture? Sustainability and the incorporation of new technologies often dominate discussion, and while these are significant, the provision of quality housing remains a vital task. This event brought together the interests of two affiliated research groups at RMIT – the Urban Architecture Laboratory (UAL), under the direction of Dr Shane Murray, and Murray's Ageing of Aquarius project, an in-depth investigation into housing the baby boomer population that examined contemporary and traditional housing models. Two graduates of the UAL masters programme, Diego Ramirez and Simon Whibley, instigated and convened the conference with Murray. It has successfully placed housing on the agenda and furthered ways in which design research might be better recognized. Hopefully the discipline will continue to engage with this highly relevant issue.
Source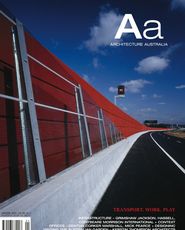 Issue
Architecture Australia, January 2007
Related topics