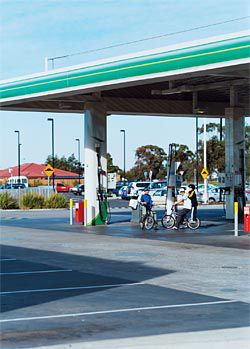 Can we reconsider architecture's relationship to general housing provision in Australia? This is an ambitious task because Australian architects generally treat the possibility of architectural involvement in general housing with either a shrug of despair or quizzical disengagement. Australian architects involved in dwelling design create significant and innovative design outcomes; however, this effort is mainly directed to achieving elite objects for a privileged minority.
It is very easy to understand this disengagement.
Seventy-nine percent of Australians live in detached dwellings, nine percent live in attached dwellings (terraces or duplexes) and only around 12 percent live in apartments.
The public sector funds less than 1.5 percent of housing, leaving the market to provide the remaining 98.5 percent or more. Less than ten percent of housing in Australia has architectural involvement and many observers consider the figure for architectural involvement in new housing to be much less.
The housing industry responsible for general housing in Australia is characterized by small-scale, cottage-based, craft-orientated building practices with little design input. These practices have delivered economical housing, which has made Australian home ownership rates among the highest in the world, but these same practices have also worked against innovation and research and development. The cheapness and simplicity of detached house construction – relying as it does on non-unionized labour and low technology – has, with a few exceptions, excluded architectural involvement.
The provision of housing in Australia, in particular the market-delivered house or apartment, has changed little over the past 60 years. House plans still adhere to a conventional and traditional provision of rooms, orientation and open space are still often mishandled and land design quality appears not to have improved.
Against this context, enormous transformations have taken place in Australian society. Household structures have radically transformed from a monotype nuclear family structure to the highly diverse group of family combinations that characterize our contemporary society. Immigration, the ageing of the population and the transformation of household make-up have created an enormous projected housing demand in our major cities. These pressures lead to a significant environmental threat in terms of available land for housing. In response, government in Australia now promotes higher density housing on redeveloped sites and restricts greenfield housing development.
A complex variety of household structures now occupy Australian housing. Until the 1990s housing was driven by population growth. Today housing demand is driven by household transformation rather than population increase. While the family unit is still the dominant type (particularly for a single-parent family), the fastest growing household type is single women.
The ageing of the population, divorce, postponed marriage, childless and same sex couples – group and individual household structures have been radically transformed. On a national scale, these complexities create significant pressures for appropriate housing, particularly in suburban contexts, where the housing stock is highly homogenous. A significant aspect of this is the now-recognized preference of people who change houses to relocate in the same region due to family and social connections. Sea changers, grey nomads and empty nesters moving to apartments are in a minority compared to this phenomenon of relocation within region. In most suburban areas the supply of alternative housing types in homogenous suburban contexts is a significant issue.
Regardless of these transformations, the majority of new housing in Australia continues to be provided on fringe greenfield sites. There is increasing scrutiny of this type of development, but in the main it is likely to continue to be undertaken by a combination of small- and large-scale development companies who rely on traditional, small-scale, low-cost building practices.
Another form of development, rarely considered in policy, is the inevitable transformation of existing suburbs as various infill strategies are used to ameliorate the increasing mismatch between an ageing population, increasingly variegated households and homogenous suburban housing environments. The difficulty of land assemblage means that this is occurring as opportunistic infill on available housing lots, using the same building practices as greenfield developments.
A more complex form of housing provision, which is currently entwined with planning policy for several large Australian cities, will be the construction of medium- to higher-density housing at activity centres.
While policy documents such as Melbourne 2030 imply overly optimistic levels of medium-density housing redevelopment at activity centres, it is likely that our cities and suburban centres will continue to experience a significant increase in the level of complex, multi-unit, higher-density housing development.
This type of development involves more challenging technical and management processes, as well as a more complex regulatory environment. Architects are and will increasingly be involved in this type of development. In Sydney, the SEPP 65 legislation guarantees architectural involvement in multi-unit, higher-density apartment design. However, a large proportion of our housing will continue to be provided as detached dwellings for the general housing market. By 2036 in Victoria 71 percent of new housing will still consist of detached dwellings.1 This detached volume market presents the greatest challenges to architectural participation, but it is also the area that could most do with design improvement.
The reHousing conference, held in Melbourne last year, aimed to investigate this issue: the possibility of greater architectural involvement in general housing.
Speakers included architects, developers, representatives of government housing bodies and two state government architects. Reflecting on the proceedings, it appears that there is an increasing desire by architects to contribute to general housing, but there is also an acceptance of both the enormous challenges involved and the slow and incremental nature of any improvement. Four areas of concern came up whenever the discussion turned to what needs to be done to facilitate this contribution: marketing, persuasion, education and research, and government and legislation.
Several conference speakers lamented the tendency of contemporary house marketing to project images of dwelling and household structures that have been around for decades. The refusal to look beyond these conventions and to propose innovative or alternative modes of living was perceived as a significant obstacle to improvement. The value of architectural design needs to be communicated to a broader audience. However, communicating the significance of architectural design in the context of contemporary house marketing is extremely difficult. The marketing of general housing is obsessed with the evocation of lifestyle rather than revealing how the physical disposition of the dwellings is contributory to these lifestyles. If the value of architectural design was to feature more prominently in house marketing, how would design be represented?
Architecture is poor at retrieving its own knowledge base and at articulating this knowledge. For most speakers at the conference the most important vehicle for this marketing would be a physical model, a series of display houses which could be experienced directly by the public. To achieve such an outcome requires considerable persuasion of developers.
We need to be persuasive, both with the major players in general housing and with ourselves.
Architecture's own institutions need to attend to the contribution we could make to general housing. How could we encourage architects to work in the general housing area? Our architectural courses, together with the housing industry, could begin to establish and promote careers in general housing. The instigation of an award category for a volume dwelling model would be a valuable recognition of the importance of design input in this area. Such an award would also enhance the image of architecture among the general public, where many view architecture as detached and only serving elites. It would also contribute in a small way to the RAIA's role as a broker between government and the development industry in the pursuit of greater architectural involvement in general housing – this role needs to be expanded and developed if we are to increase architectural involvement in general housing. We also need to persuade ourselves to rethink how we design if we wish to contribute to general housing.
In her conference talk, Kerstin Thompson shared her experience of working with developers and discussed how such an experience challenges architects to concentrate on the fundamental and enduring aspects of their designs in order to survive the rigours of the development process. Kerstin saw this as a positive challenge. Architects working in this area will need to understand the economic realities of volume building and seek design quality in robust volumetric design and planning rather than in exotic and particularized detail.
This will be a difficult task because architects find the featurism of general housing abhorrent and are reluctant to see their spatial and volumetric planning clothed in the "isms" of current marketing. However, some form of re-emphasis that values appropriate internal organization over external appearance will be required in order to develop an architectural contribution to this area. Ultimately, we will need to persuade developers of the value of improving their design outcomes. This is particularly difficult because the majority of developers subdivide land and use several independent builders to provide dwellings on each subdivision. Integrated design management and the control of dwelling design are particularly fraught in this context. However, some developers have realized the importance of improving design outcomes and have begun to invest in research in design quality; unfortunately, funding for this is minute compared to what the same developers spend on market research, which continually delivers status quo outcomes.
Education and research are extremely important.
WA Government Architect and academic Geoffrey London reminded his audience of the significant contribution made in the 1950s and 1960s, when a number of Australian architectural firms worked with progressive developers to provide extremely significant volume housing models based on sound research about construction and appropriate design for this market.
Similarly, in Melbourne, The Age Small Homes Service provided a method for the general public to have access to architectural expertise. Where are the equivalent models today? Architectural discourse itself appears to be uninterested in revealing how its primary disciplinary procedures of plan arrangement and composition could contribute to contemporary dwelling design. It is almost impossible to find an architectural discourse that attempts to uncover the embodied knowledge in contemporary and historical housing design and to communicate this in a manner that would allow this knowledge to be used in developing new housing solutions. In our universities research into the design of dwellings for contemporary general application is very difficult to find, as is the funding to undertake such research. The development industry itself extracts huge profits from housing and, as with much Australian industry, expends inconsequential amounts on research.
If we were able to persuade students of architecture to consider the general housing industry as a career destination we would immediately provide an impetus for expanding research in this area in our schools as well as a significant improvement to the design of general housing.
NSW Government Architect Peter Mould shared his experience of the SEPP 65 legislation, which requires architectural involvement in multi-unit development in that state. The outcomes are very positive, but, as Peter observed, multi-unit, higher-density development usually requires architectural involvement as a consequence of its complexity regardless of legislation.
The real challenge is improving design quality in volume detached housing, which is unlikely to experience similar legislation.
It seems that one of the very important issues is government resistance to architectural participation.
In Victoria, the development of the 2030 planning document was arrived at without architectural participation; similar stories emerge nationally as state governments grapple with planning their futures.
Similarly, the release of land for housing is administered by government agencies and, while many of these strive valiantly to improve the development process, without political will little will change. The fact that there are now five state government architects suggests that government has begun to consider the value of architecture's contribution. However, an enormous amount of lobbying and brokering remains to be done if we are to see this new interest in architecture percolate down to general housing.
Rather than merely broadening a market share, we must ask, how can we understand these issues in terms of new forms of architectural contribution, and how might we reconsider architecture's role in general housing?
Dr Shane Murray is professor of architecture at RMIT University. The reHousing conference, held 5–8 October 2007, was convened by Shane Murray, Diego Ramirez and Simon Whibley.

›› 1 Jane Homewood, reHousing conference presentation, 8 October 2006.