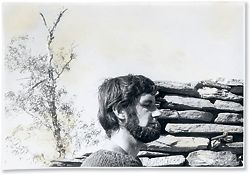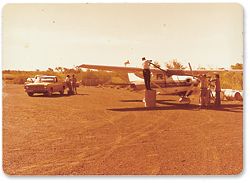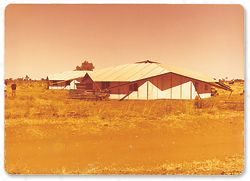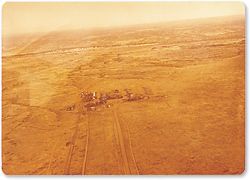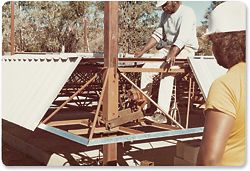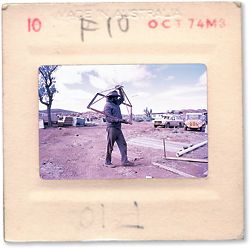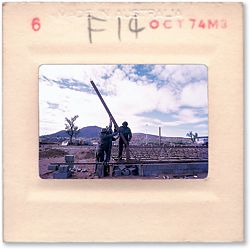 Be architects first. Antony McPhee shares some of his father's experiences providing houses for Aboriginal communities in the 1970s. While the solutions may no longer be appropriate, he argues that the process has ongoing relevance.

The first Indigenous Housing Conference in thirty years will be held in Alice Springs in October. Thirty years ago I was living in Alice Springs, surrounded by "the Aboriginal Problem". A lot changed while I lived there, so I naively believed the situation would eventually improve. But it seems the problems are pretty much the same: the living conditions of many Aboriginal people are still damaging their health, both physical and mental.
I'm not an expert, or even that knowledgeable, about Aboriginal people and their problems. Now I'm just another white city person with pangs of guilt, wondering what can be done to help. I do have a suggestion as to how the problems might be approached, but first I'd like to tell you about the experiences of my father.
Andrew McPhee and Associates was an architectural practice in Alice Springs from 1966 to 1984. My father, Andrew McPhee, was the principal. Working in an area populated by Aboriginal people, he became involved in Aboriginal housing in the early 1970s. He is retired now, and writing his memoirs. I would like to share some of his experiences.

The Beginning
Around 1970 the Commonwealth Government asked the Australian Medical Association (AMA) to do a study on Aboriginal health. One of its conclusions was that little could be done to improve health until the standard of housing was improved.
In response, the then McMahon Liberal federal government devised a housing scheme where the government would provide each community with materials, tools, equipment and one qualified tradesman to supervise, while the Aboriginal community provided all other labour. McPhee's practice was commissioned to design two houses for a church-run mission. Part of the job was to produce a bill of quantities, list of equipment required, obtain prices and arrange delivery.
This project had just started when the Whitlam Labor government was elected in 1972. The new government wanted to extend the housing programme, but didn't believe Aborigines should be required to build their own houses. In response, the RAIA organized a national conference in Canberra on Aboriginal housing, which McPhee participated in. An RAIA committee, The Aboriginal Housing Panel, was formed to collect, collate and disseminate information.
The eventual procedure adopted by the government was based on the Aboriginal communities employing independent professional consultants. A community wanting housing had to form a properly constituted local council and/or housing association, then commission a lawyer, an accountant and an architect. Their architect was to consult with the Aboriginal organization and determine their housing needs, and with evidence, drawings and estimates submit an application to the Department of Aboriginal Affairs for funds to implement their housing scheme.

Consultation
The first problem McPhee had to deal with was identifying and then arranging meetings with the actual clients, the people who would be living in the houses. Consultation could be made difficult by community politics. Allowing Aboriginal people to be directly involved was a new concept, and entrenched managers sometimes saw the housing consultants as a threat to their superior position in "their" community. Relying on these people to organize meetings often proved problematic.
Even once meetings were established, it was difficult to identify who actually made the decisions within the community. The elders would typically select two or three representatives to be interviewed, usually young men with the best English skills. These delegates could provide on-the-spot answers to direct questions, but the answers did not necessarily reflect the views of the community, or even the elders. This problem was compounded by the distances involved. An all-day, or two-day, trip for McPhee might result in a one-hour consultation. This was exaggerated for consultants engaged from Darwin or Adelaide.
McPhee could have proceeded using this unreliable information, as many did – after all, he had fulfilled his consultation requirement. Instead he attempted to improve the quality of the information he had to work with. He started to fly to outlying communities rather than drive, eventually getting his pilot's licence. This still took a whole day, but now more time was spent with the community. He also changed the pace of consultation. On the first visit he would explain the purpose of the visit and what could be done for the community. He would then ask specific questions – "Would you think about who will be the first two families to get a house?" and "Where will those houses have to be built?" – explaining that he didn't want the answer straight away, but when he returned the next week.
On his return visit he would talk to the two families that had been selected and inspect their chosen sites. The first chosen were usually elders. At the end of the second visit he would say, "Would you talk about who will get the next two houses and tell us next week?" and so on …
McPhee came to understand that location was of great significance to his clients, particularly the importance of the position of one house in relation to another. In one community, a single man, a widower, had chosen a site where the water from a large area gathered to drain into a river. McPhee explained that there would be problems with water when it rained and suggested that the site be moved about ten metres. The man agreed. On reflection, back in the office, McPhee wondered if he should go against his client's wishes. On his next visit he told the widower his house could be built where he wanted it; work could be done to divert the stormwater. The widower replied, "I am happy that you will build my house here because no matter where you build my house, I have to live here." McPhee's view is that he didn't need to know why the position of each house was important to his clients, he only needed to know that it was.
Aboriginal people of central Australia had no history of buildings; their culture was refreshingly clear of the status symbology of Western housing. They saw a house as simply somewhere to escape the elements, more often than not just a structure to camp around. But they were not ignorant of what buildings were, or what they could be. One community asked for shutters rather than glass windows, aware that a broken glass window offers no shelter (and that being remote it can take months to get repairs done). Another requested verandahs without concrete floors, preferring to sit on soft warm sand.
The built solutions McPhee designed were direct responses to his clients' requests, the local climate and his observations on how a community used and responded to buildings. Yet McPhee had problems with people, not his direct clients, passing judgment on the resulting built form. At that time many white people considered that providing anything other than "whitefella" houses was racist.

Built Solutions
McPhee's clients ranged from non-English-speaking people straight from a nomadic life, who had never lived on a "mission", to highly Christianized communities familiar with (but not participants in) white man's ways.
One of the communities he designed houses for was nomadic until its members settled down on a government-purchased cattle station. By his third visit to this community they had accepted him. Every man met him at the airstrip and he had to shake hands with all of them, over a hundred men. While he met with them under a tree, the women gathered under another tree about thirty metres away. When the men's meeting concluded the elders asked him to repeat the meeting with the women.
For this community he designed houses with rooms arranged around a court, with a roof shaped like a truncated pyramid so the occupants could have a fire in the middle of their dwelling, the smoke drawn through the opening at the top. There were large rooms on three sides, each of which could be divided into two spaces. The fourth side had an entry lined with storage rooms. The outside corners of the building were left open but covered by the roof. This created four semi-sheltered outdoor spaces facing four different orientations, which provided sunny spots protected from the cold winter winds, and shaded summer spaces that captured breezes. The location of houses was based on photographs of where people were camping, taken as McPhee flew in to meetings with his clients.
Others were also working in Aboriginal housing. By invitation McPhee visited a government-run community close to Alice Springs. Here, the government was trialling a housing experiment where they were building "staged housing". Stage 1 houses were simple, with no internal facilities; cooking took place outside in the traditional way. Stage 2 houses were still simple and basic but had some internal facilities, like a sink and wood stove and doors on the doorways. Stage 3 houses were like basic "whitefella" Housing Commission houses, and stage 4 were proper "whitefella" houses. The plan was to settle a family in a stage 1 house, and if they took good care of that they would be upgraded to stage 2, and so on.
McPhee was introduced to an exemplary young couple who had rapidly risen to a stage 4 house, which they proudly showed him through. It was spotless. Not a thing out of place, the vinyl floors gleaming, the laminex benchtops shining and all the beds neatly made, like an exhibition house. After talking for a while they admitted they actually lived on the verandah of her parents' stage 2 house – with only a bed and a small cupboard. Each morning the young wife went to her stage 4 house and cleaned it. When McPhee asked why they didn't live in their own house she replied, "It is too far away, we want to live close to my parents." Pointing to a stage 2 house next to her parents' house she said, "We liked it better when we lived in that house." The surprised bureaucrat conducting the tour interpreted this to mean that a stage 2 house was all they wanted. McPhee's view was that the position of the house was far more important to them than its standard of sophistication.
Fink was a town with existing streets and surveyed blocks, but the new railway had bypassed the town, leaving a predominately Aboriginal population, the Aputula people. Before tackling the Fink housing challenge, McPhee spent a great deal of time talking to John McNeil and Margaret Bain, who were working with the community. Margaret Bain, of the Australian Inland Mission, was living at Fink and trying to help the community work through their many social problems. John McNeil was developing economic activities that were compatible with the local lifestyle, like catching camels and selling them on the international market.
On one of his early visits to Fink, McPhee was about to board a flight back to Alice Springs, when Margaret Bain came up with a young Aboriginal woman holding a baby. She asked if he could take the baby to the Alice Springs Hospital, otherwise it probably would not survive the night. No-one could persuade the mother to get into the aeroplane and she was to be driven up the next day. As McPhee describes it, "The mother handed the baby to me with such care and sadness, she looked like she was saying goodbye to it forever. The baby was seriously dehydrated and did not make a sound. Margaret Bain said, 'I hope this doesn't turn you off coming to Fink forever.' 'Not a chance,' I replied. I nursed the baby in a torn-off blanket until I got to the waiting ambulance in Alice Springs."
To McPhee catering for traditional customs was just another brief requirement from his clients. Previously at Fink, houses had been destroyed due to a local tradition that as part of the ceremony to send off the deceased's spirit, all their possessions were burned, including their house. McPhee's solution was a modular house system. Rather than burn or abandon the house it could be dismantled and the components used to build new houses on new sites.
One of the advantages of a modular system is that it can be designed so novices can put the components together. McPhee had noticed that the men at Fink were particularly good at keeping their old cars going, so he tailored the design to be put together with tools commonly found in a mechanic's toolbox.
The roof structure was a space frame made of one-metre-square steel prefabricated modules bolted together on the concrete floor slab. Four columns were welded to base plates that had been cast into the slab surface. Using hoist jacks fixed to the top of the columns (the type used to remove car engines), the roof frame was then jacked to a metre above the slab. At this height the roofing material was fixed to the space frame. The roof frame was then jacked to two metres above the floor. Electrical wiring and any other required services were run through the ceiling space and ceiling panels placed in the bottom of the space frame, all done while standing on the floor. No ladders or scaffolding were necessary up to this stage. The roof was then jacked to its full height and bolted in position. The last roof sheets and the ceiling panels around each column were fitted. Wall panels made of lightweight concrete sandwiched between two sheets of cement fibreboard were fitted. Four men could easily carry and lift one panel into position. Where a window or door was required, a panel was left out and a window or door panel fitted.
Because the roof was independently supported on four columns, walls could be moved, added or deducted at any time. A series of layouts were planned that would work within this system. A stage 1 house was a large room each side of a central breezeway. A stage 2 house was the same, but with a simple kitchen in a corner of one room and the other large room divided into two bedrooms. A stage 3 house had the breezeway glassed in using sliding doors and more sophisticated internal fittings. The design was approved by the department, and the local community set up a factory at Fink where the modular components for the roof frame were manufactured.
The Fink people called it the Aputula House, and they were very proud of it. But the architectural profession and most city people were horrified – not only was it different from "whitefella" houses, it didn't pander to aspirations of "cultural appropriateness".
McPhee always maintained that this design was intended only as a solution to the peculiar and specific needs of the situation at Fink. However, John McNeil was ambitious for the Aputula people of Fink and wanted them to provide houses for other Aboriginal communities. But a modular system that worked well for novice builders was a disaster when traditional tradesmen employed by mission-managed communities tried to erect them using methods they considered "the right way to build a house". They found the idea of building the roof first particularly difficult.
Towards the mid-70s the climate started to changed. McPhee was commissioned to design two houses for a government settlement north-west of Alice Springs. There could be no direct consultation with the Aboriginal people and the only house design that the white managers would tolerate was a suburban "Housing Commission" type. McPhee had to disguise practical solutions as conventional suburban housing "features". For example, to allow his clients to have a traditional fire he designed an open fireplace for the centre of the living room.
By this stage "experts" in Aboriginal housing started appearing. Aboriginal housing was becoming an industry, attracting interest from academia and others seeking to carve a career and income from this new field. Of course these people only ever visited; there were no universities, government head departments or corporate offices in Alice Springs.
McPhee increasingly found himself attacked by these "experts". The honest architectural solutions he provided to the immediate problems of his clients, the Aboriginal communities around Alice Springs, were not comprehensible to those who theorized about "the Aboriginal problem" and how it should be solved.
It was the beginning of the end when McPhee was invited, with a number of others involved in Aboriginal housing, to meet with a group from the Aboriginal Congress in Canberra. It became obvious at this meeting that the Aboriginal leadership felt they should have control over the money being spent on Aboriginal housing. Further, they didn't necessarily consider housing to be the best use for this money. Perhaps they were right. In any case, it looked as if the people supposedly benefiting didn't believe that they were. McPhee took on no new commissions and as the work in hand was completed at each community he resigned as their architect. During 1975, the Commonwealth public servants who he, and other consultants, had been dealing with suddenly disappeared. Their replacements made it obvious that the use of independent outside consultants for the provision of Aboriginal housing had come to an end.

The End
So within five short years, an era in Aboriginal housing was over. The era of the professional architect providing professional services directly to the users of their efforts. An era when architects could be architects, and not pretend to be anthropologists, social engineers and custodians of someone else's culture. When the actual day-to-day problems facing Aboriginal communities were allowed to be directly addressed and not shrouded in a contrived ethic of racial appropriateness.
Of course the solutions my father came up with would not be appropriate today. He says that himself. They were not even necessarily the best resolutions. But maybe his approach has some lessons in it. The suggestion I alluded to at the beginning is not earth-shattering, or even that original. It is universal enough to apply to all areas of "the Aboriginal problem", but I specifically direct it to my fellow architects.
Be humble. Be architects, nothing else. Deal directly with the people who will be using your buildings. Treat them as real people, not some theorized construct. Only resolve their immediate problems; the future is for them to decide. Support them in their decisions, become their advocate.
Andrew McPhee was not an expert in Aboriginal matters. But he was an architect. He made sure he dealt with his actual clients, and provided solutions to their real and immediate problems. He believed he should help them as individuals, not a race, a conviction confirmed as he flew back to Alice Springs holding that sick baby in its torn blanket, way back in 1973.
Source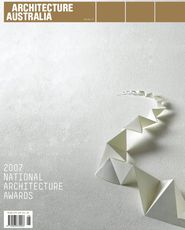 Issue
Architecture Australia, November 2007