For the past decade Monash University's Department of Architecture has been researching new models of dwelling provision to better meet the increasingly complex needs of the Australian housing market. The underlying intention of much of this research is to develop design contributions toward a range of needs that our housing system has failed to address, such as a diversification of household makeup, a longer life expectancy, an increasing desire to age in place and pressures caused by population growth.
In Australia there are approximately 200,000 new dwellings required for social housing tenants1 and, as with the UK, Europe and the US, housing unaffordability and rates of housing stress are reaching critical levels. Local commentators note "the collective angst the country is experiencing over the future of home ownership and long-term housing security in Australia."2
Once the dwelling satisfied a direct physical need for shelter and was the symbolic locus of family. Now its primary role is as an investment asset and questions about its location and physical arrangement recede compared with its potential for capital growth. A traditional design approach that concerns itself solely with typology, siting and spatial planning will be inadequate to the task of diversifying our dwellings and improving access to them. If architecture is to contribute a solution to these challenges, we must ask if architecture can work beyond its traditional disciplinary confines and begin to infiltrate and influence the circumstances of its delivery.
Monash researchers investigating housing diversification have attempted to work within the realities of the Australian housing system, be they development economics, construction capability or local planning and policy contexts. Their work has included proposals for affordable housing, flexible dwelling designs, user-centred accessible accommodation, new typologies for the community housing sector and whole-of-precinct strategies for middle suburban intensification. This work has received considerable attention in government and academic contexts and in areas of the profession, but to date it has not had the impact on housing delivery that we might have hoped for.
It is timely therefore to examine national progress in housing diversity. We have assembled a collection of project reviews and essays that provide insights into recent approaches to addressing this challenge. In her overview article and sequencing of the content, Alysia Bennett has structured the material around three pillars: the specific spatial needs of emerging complex households, architectural typologies that facilitate flux over time and how housing unaffordability might be addressed through reconsidering the relationship between households.
Considering the size and duration of the challenge of achieving housing diversity, it is striking that most of the projects presented are on a relatively small scale. While curating this series of articles, our team found very few multi-unit or high-density developments that demonstrate innovation in diversification, whether in their spatial composition, procurement model or financing structure. We had hoped to find more transformation taking place at a larger scale because of the enormity of the challenge. Observing this lack of impact, several authors in this issue have commented on the need for architects to reconsider their role in terms of both the inevitable disruption to the profession and the extent of their service provision. To address this challenge and enable an ongoing contributory role in urban development, architects will need to transform themselves from commanders of a diminishing domain into influencers and collaborators in an "all-of-system" approach to the delivery of the built environment.
Read the "Housing diversity – opportunities for transformation" series here. Also read ArchitectureAU's series Housing affordability in focus.
Source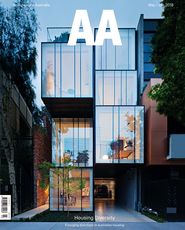 Discussion
Published online: 14 Feb 2020
Words: Shane Murray
Images: Courtesy Spaceagency
Issue
Architecture Australia, May 2018
Related topics