Housing projects, revitalized reservoir vie for Victorian Premier's Sustainability Awards
A Nightingale Housing project, a seaside sustainable housing precinct and a council project revitalizing an old, disused reservoir have been named as finalists in the built environment category of the annual Victorian Premier's Sustainability Awards.
Now in their fifteenth year, the awards recognize achievement in sustainability across industry, business and community from regional to metropolitan Victoria. Premier Daniel Andrews and Minister for Energy, Environment and Climate Change Lily D'Ambrosio announced the 29 finalists across 10 categories on 12 September.
"Each finalist is a testament to the world-class sustainability work we do in Victoria and the prestige of the Premier's Sustainability Awards program," said D'Ambrosio. "We've had the broadest cross section of entries in the award's 15-year history and it's great to see such ingenuity and innovation in the way Victorians approach sustainability."
In the running for a built environment award, Nightingale 1, designed by Breathe Architecture, is "the first of the Nightingales," a series of projects based on an innovative housing development system that is led by architects and has a focus on sustainability. Located opposite the Nightingale model's predecessor, The Commons, in Brunswick, Nightingale 1 aims to deliver 20 quality homes with an average star rating of 8.2 stars, a shared 18Kw solar array and a lush rooftop garden.
Slated for completion in November 2017, it is one of five Nightingale projects currently under development around Australia.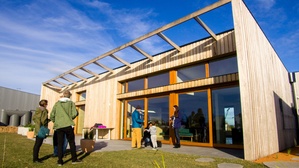 The Nightingale project will be up against The Cape, a new housing development on Cape Patterson by the Cape Sustainable Housing Project. The Cape is a community of 220 houses, 150 kilometres south east of Melbourne, overlooking Bunurong Marine Park.
Billed as "Australia's first truly sustainable residential project," it features houses designed by a variety of architecture and design practices, including Adam Dettrick Architects, DKO, Workshop Architecture, Clare Cousins Architects, Beaumont Concepts and Design Habitat. All houses will achieve a minimum 7.5-star energy rating, include a 2.5 kW solar PV system, 10,000 litres of rainwater storage, and have provisions for charging long-range electric vehicles.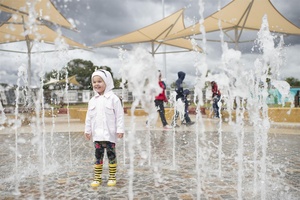 The third finalist is Booran Reserve, a recreational space developed by the Glen Eira City Council on the site of a reservoir decommissioned in the 1970s. The reservoir is now a vibrant recreational space, which runs on solar power and features a stormwater harvesting system for irrigation and toilet flushing.
The 2017 Premier's Sustainability Awards will be held on Thursday 26 October 2017 in Melbourne. In addition to the award categories, finalists are eligible to be selected for the two overall awards, the Premier's Recognition Award and the Premier's Regional Recognition Award, as chosen by Premier Daniel Andrews.
The winner of the built environment category in 2016 was 38 Westbury Street, a community-minded green roof atop a 1950s apartment building designed by modernist architect Mordechai Benshemesh.