<b>REVIEW</b> Clare Newton, David Pryor
<b>PHOTOGRAPHY</b> Peter Clarke, Dianna Snape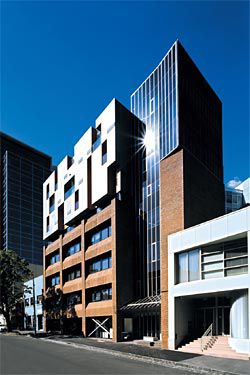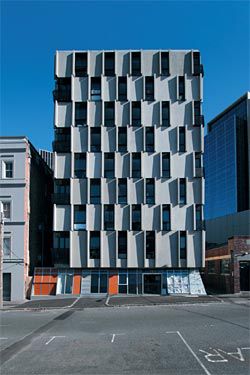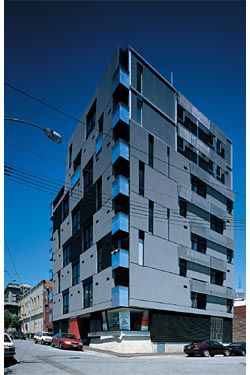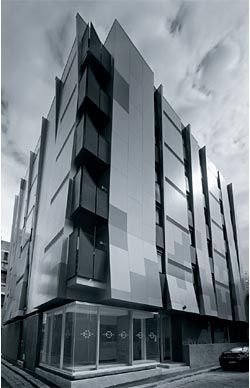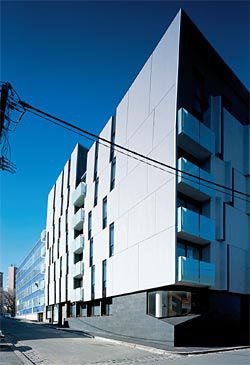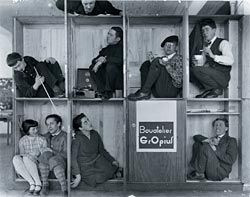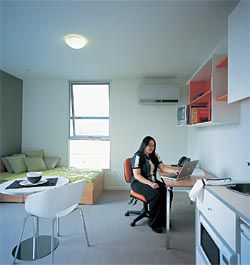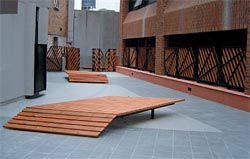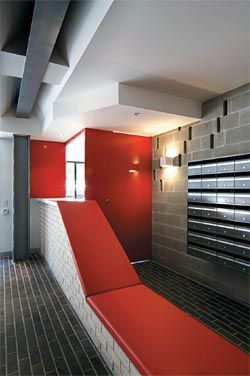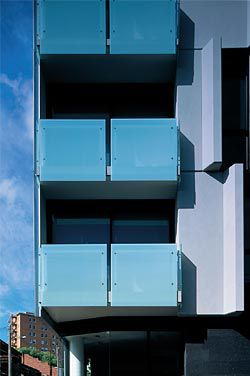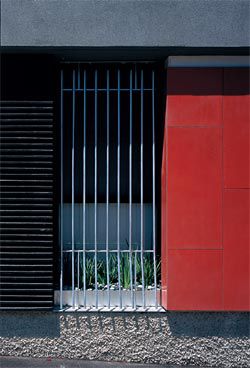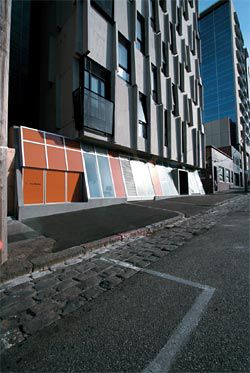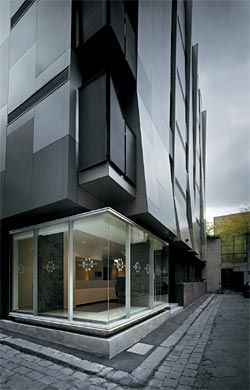 Between the campuses of RMIT and the University of Melbourne, student housing has been sprouting like polyps. Exploiting the new market for international student accommodation, the low-cost apartment blocks which now line Swanston Street give little support for that street's role as Melbourne's civic spine. But a suite of smaller buildings nestle politely among the laneways of south Carlton, rubbing shoulders with a mix of brick warehouses, vacant lots and terrace houses. Six of the best examples are by Hayball Leonard Stent (HLS).
Student housing is distinct from the typical apartment market in demanding very low cost and remarkably little space. The students who buy or rent these apartments don't drive cars and many don't bring their own linen or appliances, let alone furniture. Dispensation to reduce normal town planning requirements has been awarded on the basis of sole use by students, the provision of communal space and a management programme. The students are not eligible for on-street car parking permits.
Each apartment is minute and contains a tiny bathroom, a kitchenette, a cupboard, a single bed and a desk in a footprint of between sixteen and eighteen square metres. To help compensate for the lack of living space, a communal area is provided. Built for around $2,600 per square metre, these are low-cost buildings given the ratio of wet to dry areas. The market-driven minimal brief is functional rather than inspirational and is not conducive to producing architectural masterpieces. But Hayball Leonard Stent has developed a series of sound design strategies to mould their initial yield studies into worthy architecture. These strategies can be characterized as construction, facade composition, materiality and the design process.
Tom Jordan from HLS explained how the firm uses construction constraints to generate design ideas. At schematic design stage, HLS works with a quantity surveyor and sometimes a builder to complete a cost-benefit study, determining the most efficient construction methods for the specific site. On a vacant site with good access, cost constraints would typically indicate precast concrete walls supporting concrete floors. To avoid the cost of band beams and minimize slab depth, every second internal wall is concrete. Avoiding the cost of scaffolding, external walls are pre-finished. The floor-to-floor height is just 2,700 mm. Plenums bring the ceiling height in the corridors down to 2,300 mm but otherwise these buildings are serviced through multiple risers. Precast panels need to be small to be manoeuvred by mobile cranes, and the scale of these elements has proven conducive to a range of facade compositions. This is illustrated in the Earl Street, Vale Street and Leicester Street projects. Other site and time constraints dictate different construction methods. For example, Barry Street involves a rooftop extension to an existing building and so here the architects explored lightweight construction, fabricated off-site into large panels. The landlocked site where Global Apartments has been built could not accommodate even a mobile crane and so scaffolding was used in this instance along with lightweight cladding.
An efficient documentation process supports the construction strategy. Working drawings are ordered to suit the needs of trades, with the fitout documents kept separate from the shell construction.
Designs have been driven by construction methodology within a modernist sensibility. The architects have panelized the facade into a chequerboard of wall and window void hovering over an articulated ground-storey plinth. Windows are treated as gaps rather than holes punched into the already small panels, while airconditioning vents are thoughtfully formalized into each facade design. Cladding materials have been left raw rather than re-finished with paints.
Wall panels are distributed to camouflage the regularity of the apartment plan behind. Within this simple premise, the series of buildings demonstrates a variety of facade compositions. Earl Street and Leicester Street both use a hit-and-miss mosaic of wall and void, whereas at Vale Street the gaps become fissures through the facade.
Each design layout and construction premise is robust and able to be argued in terms of cost. The architects have managed to subvert the appearance of a bottom-line-driven design through the development of highly articulated facades and generous entries. Sunshades and balustrades provide a secondary layering system. Windows are recessed and panels folded or splayed to give the appearance of wall depth. Ironically, it is Barry Street, with the thinnest facade system, that achieves the greatest sense of depth. Like a Halloween pumpkin, the balconies appear to be carved through a solid object. Two-tone Alucobond panelling alludes to the pumpkin's skin and overcomes the normally monotonous finish of this cladding material. Facade geometries are carried into the public areas of the building. In Barry Street, the entry area makes use of the brickwork and chamfered geometry that distinguish the existing building, while brick red is abstracted into bright red elements that punctuate the interior. At Global House the splayed facade is seen again in the reception desk.
The repetitive apartment plan diminishes expressive opportunities. The architects grab at the small opportunity offered at each corner, pulling the units into the corridor space to create a corner balcony. They celebrate the ground floor. In Earl Street, the ground level, with its reception and common area, is a robust plinth composed of rusticated concrete, steel beams and coloured pressed cement tiles. In Leicester Street, the load-bearing apartments float above a raked glass wall, which cleverly camouflages fire boosters and a garage door alongside the entry and a shopfront. Such subtleties can easily get compromised as the building goes through the perils of tendering and construction. HLS takes steps to safeguard the design, making allowances in the initial yield study and ensuring that crucial design elements are locked in to the planning permit.
The rigorous deployment of these strategies has resulted in a family of projects which collectively start to influence urban character between the universities. This coherence is reinforced by the consistent scale of the buildings. Typically about six stories high by six units wide and slightly taller than its width, the scale of each elevation lends itself to a well-proportioned composition.
The apartments are smaller and meaner than Australian residents are accustomed to. Minimal dwellings have been popular in other places and times – in 1929, the second CIAM congress advocated "Existenzminimum", or the minimal dwelling, as a societal good. And in today's context, student housing uses commendably minimal resources as well as supporting sustainable modes of transport. But what happens when the international students go elsewhere? HLS has ensured a level of adaptability by making every second dividing wall non-load-bearing, so that two units could be consolidated into one, but this is of little benefit if the two units have different owners. A concern is that this building type is intrinsically unadaptable because its occupants are limited to students. A further problem for all strata apartments, but particularly for low-cost apartments, is the negotiation of major upgrades as the building ages.
Each student room is nominally self-sufficient. This means it can be strata-titled and sold. It also means that, unlike in a college, students can easily become isolated. Communal spaces are therefore very important. In addition to lounges and roof decks, most of these projects offer incidental spaces where students might pause to chat. At Barry Street, for example, the stair lobbies are among the most attractive spaces in the building, while chance encounters are encouraged at Earl Street by locating the letterboxes in the communal lounge. With around eighty to a hundred residents each, the developments generate enough activity to animate the common areas without overwhelming the individual resident in a crowd of strangers.
These buildings are within viewing distance of each other and HLS has enjoyed developing a common language for the group while reflecting the possibilities of each situation. They contribute to the urban landscape by invigorating disused and potentially threatening laneways. One wonders, however, if the sensitivity and delight explored by the architects within the facade design might also have been carried into the apartments themselves. Effectively, this dwelling type is caravan-sized but without the ingenuity of collapsible furniture and transformable spaces.
›› DAVID PRYOR IS A SENIOR ARCHITECT/URBAN DESIGNER AT THE CITY OF MELBOURNE. CLARE NEWTON IS A SENIOR LECTURER IN ARCHITECTURE AT THE UNIVERSITY OF MELBOURNE.
STUDENT HOUSING, MELBOURNE ››
Architect
Hayball Leonard Stent—
project teams
Len Hayball, Rob Stent, Tom Jordan, Sarah Buckeridge, Luc Baldi, John Hair, Daniel Khong, David Jessup, Nick Williams, Toby Earle, Gosia Gabrys.
››
Photography credits
01, 04, 07, 08, 09, 13 Dianna Snape. 03, 05, 10, 11 Peter Clarke. 02, 12 Ian Rooney, Hayball Leonard Stent. 06 Edmund Collein. Silver gelatin print, printed 1985. Copyright Rudolf Kicken Galerie, Cologne.