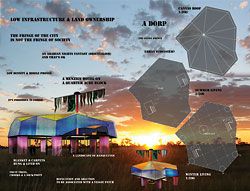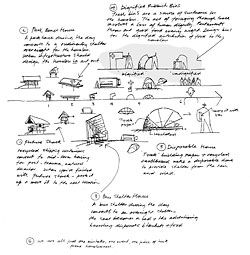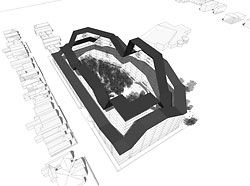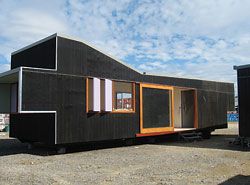 Shaneen Fantin reviews the latest release in the Institute's TAKE journal series, Housing Australia: How architects can make a difference.
For architects, housing is at the forefront of our consciousness: the housing we live in, the housing we design, the housing we audit, the housing we experience in travel, the housing we imagine, the great housing ugliness that drives us mad as we travel to work. During our architectural training, houses are often the first buildings we design and document. When we own or build a house, we tinker with it constantly – an architect's house is rarely complete. From all this observing, thinking, experiencing and tinkering, twenty-one architects have collaborated under the guidance of Professors Geoffrey London and Simon Anderson to create Take 7: Housing Australia: How architects can make a difference.
Take 7 is a collection of essays, ideas and models that challenge existing urban and suburban housing models in Australia. It aims to be "prophetic, provocative and pragmatic" and it is. Take 7 synthesizes the trends in housing that we are observing in Australia, but not yet making sense of as a whole: larger houses on smaller lots, large houses with fewer people occupying them, the emerging diversity of family types and methods of cohabitation, the reduction of the impact of housing on the environment, the marriage of medium density and suburbia without a loss of amenity, and the implications of these issues on lot size, relationship to street, public/private interfaces, urban character and planning controls.
The presentation, layout and organization of Take 7 successfully illustrate interesting and innovative housing ideas in a series of short but clear chapters. Each chapter is supported by plans, sections and/or images. Denser and more analytical essays are juxtaposed with slightly cryptic design proposals. Proposals such as Edmond and Corrigan's "A Dorp" and Jocelyn Chiew, Eli Giannini and Robert McGauran's "Taming the Fringe" are visually enticing, but difficult to comprehend without supporting explanatory text. However, they break up the body of the journal and make it easy to read.
Take 7 encompasses a variety of housing ideas. There are two chapters proposing architectural tactics to make homelessness a safer lifestyle and more integrated into the existing urban condition of street furniture and public car parks (Sean Godsell's "Shelter" and Keith Streames and Barend Meyer's "Social Housing-Urban Opportunities"). And equivalent chapters offer solutions for remote and transportable housing (Donovan Hill's "Post Fab Housing" and Rodrigues Bodycoat Architects' "Eskimo"). These examples focus on prefabricated building systems developed from "everyday" materials, which are easy to transport and erect, rather than on any other constraints such as climate diversity or access to maintenance in remote locations.
Mulloway Studio's "Open Hearth" proposes a staged cooperative development of pods and lightweight structures set on a suburban lot in Adelaide. The tiny drawings are distinctive and I can imagine this idea as a successful model for caravan parks, low-cost housing for acreage lots or on Indigenous out-stations.
Jackson Clements Burrows' "The Loop, the Landscape and the Double Loaded Corridor" is an adventurous part-deconstruction of large, medium-to-high-density multi-residential buildings. It demonstrates how a large development can offer permeable public space (as forest) and be articulated to respond to surrounding urban fabric.
There are many interesting and useful chapters in Take 7, but in my opinion the most noteworthy contributions with the greatest potential impact on Australian suburban housing are those which examine the existing suburban condition of single detached dwellings on quarter-acre blocks and offer innovative interpretations of the model for the future. Chapters I particularly enjoyed include Chapter 17 (Roderick Simpson and Christopher Kelly) and Chapter 13 (NMBW Architecture Studio). Both are surprising and refreshing, because the "Architecture" gives way to environmental, sociological and economic examinations of the suburban housing problem.
Roderick Simpson and Christopher Kelly's chapter "Allowing Adaptation" provides "a sustainable and affordable response to demographic social change" through analyses and proposals for reuse and modification of existing suburban dwellings into houses for "multi-family habitation". The most breathtaking point to this proposal is an environmental one: "Research has shown that the embodied CO2 of adaptation [of standard suburban detached dwellings] can be as little as a third of new build. More importantly, the greater complexity [of modifying existing dwellings] is likely to require more architectural expertise in the construction industry overall, resulting in higher embodied intelligence, rather than higher embodied energy."
Shane Murray, Diego Ramirez-Lovering and Graham Crist's "The Adaptable House" explores similar issues to those examined by Simpson and Kelly, but in a new-build example. The adaptable house demonstrates how the careful social planning of spaces in a dwelling can, with minimal adaptation, accommodate a variety of demographic occupation types over time.
The final chapter of Take 7 is Alex Tzannes' "Redesigning Controls for Sustainable Cities". Tzannes describes a method for changing the planning controls for central Sydney with extraordinary clarity and simplicity. He provides a combination of diagrams and text that revises the existing planning instrument but maintains key characteristics desired in a particular area, such as views, heritage items, parkland, pedestrian access and filtration. Many of the proposals throughout Take 7, such as courtyard housing and zero-lot line housing on multiple boundaries, are dependent on some changes in planning schemes. Tzannes' chapter is innovative because it describes how such changes might be implemented.
My only disappointment in Take 7 is that it largely ignores urban and suburban conditions north of the Tropic of Capricorn in Australia. Australia's northern tropical cities such as Darwin, Weipa, Cairns and Townsville are also growing rapidly and suffering the same urban sprawl problems as other Australian cities. However, the climatic conditions are unique and house design, construction, organization and orientation require different strategies from those suited to milder climates.
Take 7 is an excellent reference document on innovative housing solutions for Australia's future. It is simultaneously theoretical and pragmatic and almost every proposal could be immediately applied to the Australian environment. Take 7 should be presented and distributed to every major planning authority, shire and city council in Australia.

Dr Shaneen Fantin of Edge Architecture, Cairns, is a specialist in socially and culturally responsive housing design and is designing a fully sustainable house in north Queensland.