The Hub Melbourne fitout by Hassell is not the kind of interior that usually graces the pages of design magazines, but it should be. The strength of this project lies not in the gloss of perfectly specified finishes and carefully designed joinery, but in the DNA of the Hub as a working organism, and the role of the designer in facilitating the right props and decision-making pathways to support the organism as it grows and thrives.
Hassell's role in the creation of this interior (an expansion of the smaller original Hub space by Here Studio) has been one of orchestration rather than dictation from on high: the designer is not the high priest in this collaboration, but rather a dance partner who must know how and when to step out of the way and just let things take off. The interior that has resulted from this collaboration, described by Hub CEO Brad Krauskopf as "high-tech meets heritage," is strategic and casual in equal measure.
The Hub's business model is where this story starts. Its stated mission is to facilitate innovation through collaboration, and in this equation the role of the physical space is fundamental. In understanding what this means in practical terms, it is useful to also understand co-working as a phenomenon.
Co-working is an emergent trend. It has been growing globally at a rate of 100 percent per annum for the past four years, spurred on initially by the Global Financial Crisis and the sudden explosion in the number of freelancers operating across industries. Co-working involves the coming together of individuals, who might otherwise be disconnected and working from home, to share a physical space. As Krauskopf says, while people might be free to work from anywhere, they don't actually like to work just anywhere. As such, the Hub is a workspace and a social space, much like any office; however, unlike most offices, it is intentionally intense, dense and diverse. If all goes well, the space itself acts as a crucible for "engineered serendipity." The frisson and connections that the accident of proximity and co-habitation create in the space lead to cross-fertilization of ideas, and hence to innovation.
Of course, the terms "innovation" and "collaboration" are well-worn corporate weasel words, and they run the risk of being stripped of meaning. At Hub Melbourne, these two terms are given a physical and practical expression, one that is supported when you look at the numbers involved. With an idiosyncratic space topping out at about six hundred square metres, Hub Melbourne supports a community of about six hundred individual members who are drawn from across more than fifty different industry disciplines. At a rate of one square metre per community member, the space is working hard. The Hub has supported more than four hundred start-up organizations, about one hundred community organizations, and individuals and small teams from such corporate entities as AMP, Deloitte Australia, RMIT University, NAB and a host of other large businesses. Between one hundred and two hundred people pass through the Hub on any given day. By any measure, that's a mountain of diversity, ripe for collision in such a contained space.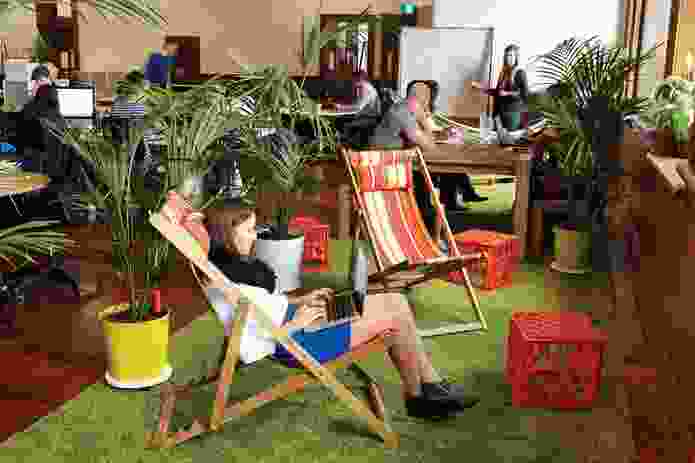 With regard to the space, density and intensity are key factors. As Steve Coster of Hassell said in our interview, while modest in scope, it is the meaning and purpose of the interior that makes Hub Melbourne a significant project. The purpose of this interior is to engineer happenstance through intensity and the sheer diversity of participants, and to foster community. From Hassell's standpoint, the project is like a distillation of what people say they like about workplaces, stripped of all the additional baggage and attachments that seem to be inevitable in most corporate office fitouts. As such, Hub Melbourne is a rare experiment in design.
The experiment entices the designer in a number of ways. At one level Coster is interested in the "permissions" created by the design, where occupants can control and change the environment without seeking the approval of a centralized authority. This is seen in most of the furniture and objects in the Hub, which are on castors, including the potted plants. This expresses that everything is up for grabs and can be moved at will, within the bounds of the community's etiquette. At another level, the experiment is ongoing and dynamic in nature. During my tour, Krauskopf was pointing out to Coster the recent changes in the use of the space, which ranged from the minor to the significant. This is a live interior that is actively reshaped by its users, who were consulted by Hassell at key points during the initial design process.
Other results of the experiment are evident when you visit the space, which may be used for up to ten Hub-community events each week. As Krauskopf explained to me, the individuals and small teams that use the Hub are not coming into the community because they need extra desks. Rather, they are seeking the cultural immersion and social dynamics that characterize the experience of the space. In this way, the Hub is able to support a culture where cross-fertilization may occur, and anecdotally, where innovation does occur. The team at Hassell was skilled enough in its response to the brief to intervene only so much, and then step out of the way, allowing the community to take over.
Products and materials
Flooring

Bentzon loose laid carpet from Rugs Carpet & Design. Hampen rug from IKEA.
Furniture

Hammock and hammock stand from Hammock Heaven. Piuma task chair, Marina table and QED tall boy storage unit from Schiavello. Fatboy beanbag from Hub Furniture. Eames moulded plastic side chair from Herman Miller. Archie chair, Nook sofa, Olba tables and Nash table from Jardan. Deckchair from Ici Et La. Expedit bookcase from IKEA. Recycled and reused crates, chairs, tables, storage tables and picnic tables.
Lighting

Edison pendant lamps from Volker Haug. Lampan table lamp and Brasa floor lamp from IKEA. Iro pendant lamp from ISM.
Credits
Design practice

Hassell Melbourne
Melbourne, Melbourne, Vic, Australia
Project Team

Steve Coster, Ingrid Bakker, Madeleine Joyce
Site details

Location 673 Bourke Street, Melbourne, Vic, Australia
Site type Urban
Category Commercial / public buildings, Interiors
Type Fit-outs, Workplace

Project Details

Status Built
Design, documentation 3 months
Construction 1 months

Source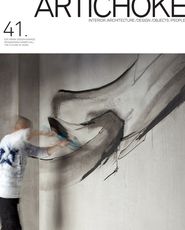 Issue
Artichoke, December 2012
Related topics