The client for Hues Hair came to architect Adriana Hanna with a pragmatic brief and few preconceived ideas of what the space could be. Despite a tight budget and timeframe, the client's trust allowed Hanna to charge forward with her thrilling design.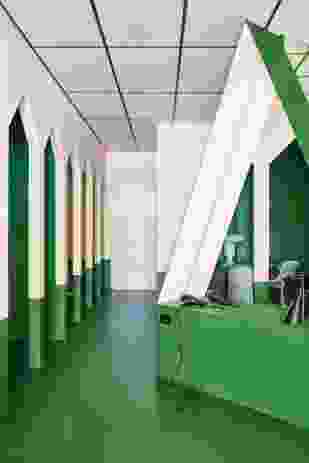 Located in a suburb flooded with competing salons, Hues Hair is unlike any other in the streetscape. In fact, it's unlike a typical Melbourne salon altogether. Keen to avoid the usual salon window tack, where customers are displayed as if they were visual merchandise, Hanna looked to create a much more private and intimate experience.
With the salon's clientele largely garnered by word of mouth rather than passing foot traffic, Hues Hair has an intentionally quiet street presence. Its modest storefront creates a sense of exclusivity – only those in the know would realize that the storefront conceals a hair salon behind its doors.
The hair stations are not visible from the street, but organized across the tenancy as a series of seemingly randomly placed objects. In fact, the three-sided hair stations are located with calculated purpose, positioned to obscure views to and from each station, ensuring a sense of privacy for individual clients.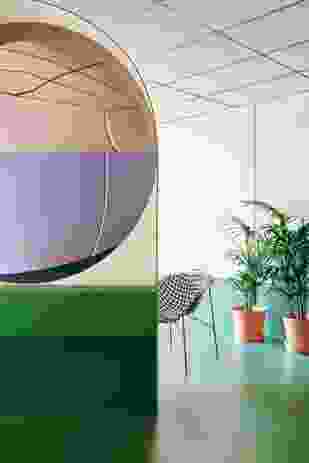 Citing Memphis Group founder Ettore Sottsass and contemporary Melbourne-based artist Emily Floyd as influences, Hanna injected the interior with a playful use of colour and simple geometric forms. Imbued with only two colours, peach (which Hanna's research suggested was the most flattering tone for the complexion) and forest green, the salon's interior gains a sense of order and unity. The two colours are applied with deep consideration, sharpening the geometric forms and clarifying the visual reading of positive and negative space. The ceiling grid was retained due to budget restraints, but its regular and rational geometry is reinforced by green paint over a peach backdrop and maps the warped coordinates of the hair stations beneath it.
The geometric forms appear at varying scales. Narrow pointed archways are overlapped with oversized circles, triangles and arches. When you look at these oversized forms, which are flattened by the use of the peach and forest green, your understanding of scale and depth becomes dislocated. It's only the Paola Navone Eumenes chairs that help you identify how these forms relate to the human scale or suggest the possibility of habitation.
As you traverse from one space to another, the perception of the colours shifts. What looks peach in one room appears white in the next – a visual game reminiscent of James Turrell's work. Mirrors, which are essential to every salon, are also instrumental to the design. Influenced by installation artist Jeppe Hein, Hanna has used mirrors to visually complete geometries of half forms, confusing the eye between the physical and the reflected.
Between the pure geometries, the strict use of colour and the deceptive use of reflection, the interior, riddled with visual games, has a hyper-stylized feel that has more in common with a gallery space or installation than a typical hair salon.
The thrilling visual playground that Hues Hair offers sets it apart from any other salon.
Products and materials
Walls and ceilings

Existing precast concrete walls painted in Porter's Paints 'Green Velvet.' Existing acoustic ceiling tile painted in Dulux 'Unbleached Calico' and Porter's Paints 'Green Velvet.' Mitchell Group EuroMir colour mirror in anthracite and bronze. MDF joinery painted on site in matching colours.
Flooring

Existing concrete slab painted in Porter's Paint 'Green Velvet.'
Lighting

Artemide Lesbo table lamp.Seletti Linea lighting.
Furniture

Euphoria chairs in black and white houndstooth pattern by Eumenes from Cosh Living. Vintage Casalino chairs designed by Alexander Begge for Casala.
Credits
Design practice

Adriana Hanna

Project Team

Adriana Hanna
Consultants

Builder Shane Pierce

Site Details

Location Melbourne, Vic, Australia
Site type Urban

Project Details

Status Built
Completion date 2016
Design, documentation 2 months
Construction 1 months
Category Interiors
Type Retail

Source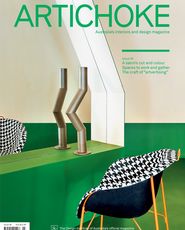 Project
Published online: 4 May 2017
Words: Ella Leoncio
Images: Dan Hocking
Issue
Artichoke, September 2016
Related topics