Landscape architects Spackman Mossop and Michaels (SMM) and Lahznimmo Architects were engaged by the National Capital Authority (NCA) to prepare a development plan for the Humanities and Science Campus in the Parliamentary Triangle in Canberra. The team was also asked to design a new public space between the National Library of Australia and Questacon, known as the Humanities and Science Campus Place. Magdalene Keaney sat down with Michael Spackman and Andrew Nimmo to find out more about the development.
Magdalene Keaney: How does your work in Canberra fit into the broader range of projects you undertake?
Michael Spackman: SMM is interested in the public domain, from a physical design perspective but also from a political, economic and policy perspective. We are strongly of the belief that a healthy public domain and a healthy, functioning society are closely intertwined, including social, economical and environmental benefits. Not surprisingly, our clients tend to be government or government-related organizations. I guess that naturally led us to Canberra.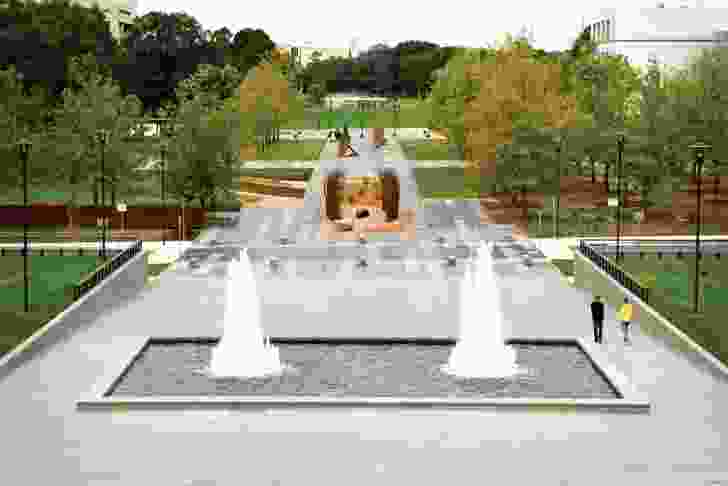 MK: What were your impressions of the Parliamentary Triangle and how did you want your work to develop the zone?
MS: Part of the challenge was to create a place. We had plenty of space but it was fairly undifferentiated and un-programmed.
Andrew Nimmo: Our first impression of the Parliamentary Zone was of a lot of space dotted with modernist objects. While it responded to the scale of the city and the car very well, it was overwhelming for the pedestrian. If our Humanities and Science Campus Place could introduce a pedestrian scale that linked the existing pieces, that would be a good outcome.
MK: Was the proposal developed with Lahznimmo Architects from the outset?
AN: Spackman Mossop and Michaels and Lahznimmo Architects have been collaborating for over ten years. We formed a joint venture in 2001 to address urban design commissions that require the collaborative design skills of both architect and landscape architect.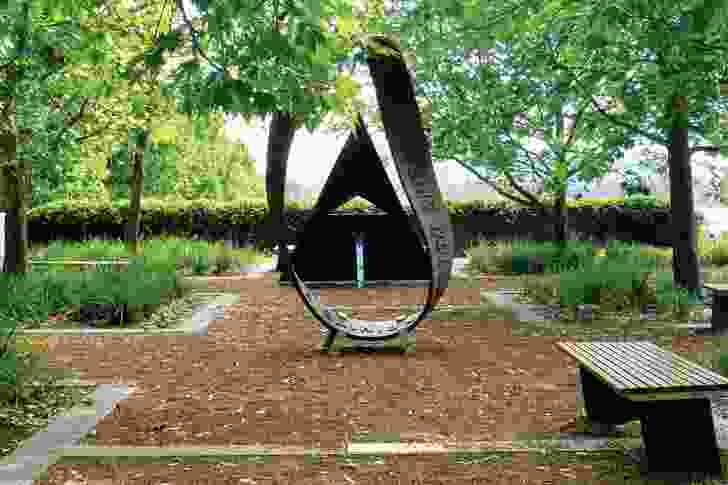 MK: Any work in the Parliamentary Zone seems to attract enormous debate. Once you were selected, how were your ideas received?
AN: The public consultation was not without hiccups. Our original scheme, which was supported by the NCA board, Questacon and the library, involved an elliptical pathway that ramped up to meet each of the entry levels of the adjacent buildings and formed a wide, shallow "dish" of space. It was a bold design that we really liked, but it involved replacement of some mature poplars and major changes to the library forecourt. This was too much for many and we had to redesign.
MS: That first scheme and the response perfectly reflected the tension between the heritage modernists' view of landscape in Canberra and, I guess, our view in creating a place.
MK: Who were the main stakeholders responding to the precinct?
AN: Questacon and the National Library of Australia were the principal stakeholders but when you are working within the Parliamentary Triangle it is probably easier to ask who is not a stakeholder. In Canberra everyone takes an interest and has an opinion. This makes the scrutiny sometimes ruthless, but it also prevents you from producing lazy designs. It keeps you honest.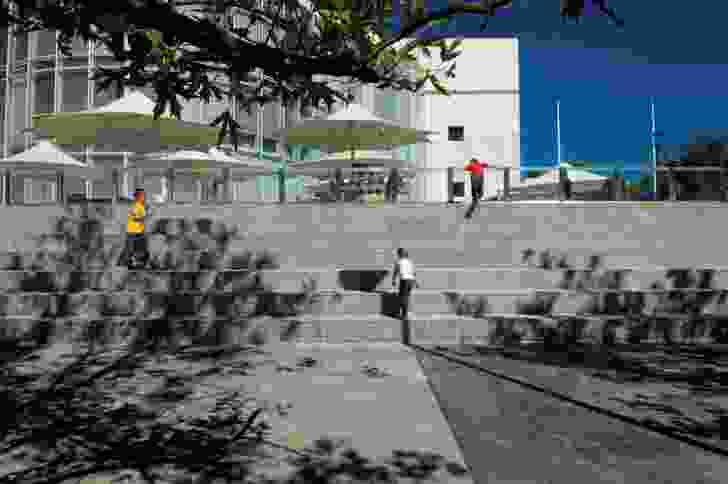 MK: How did the industry's critical response differ from the stakeholder response?
AN: In the end there was not a great difference. Questacon and the library had specific operational issues that needed to be resolved. Other than that it was an issue of emphasis rather than critical differences – for example, everyone was concerned about retention of mature trees, but some saw heritage as the issue while others saw amenity.
MK: What was the philosophy behind the landscaping and your choices for planting?
AN: The existing landscaping was very formal in a modern, Beaux-Arts idiom and most of the planting was manicured lawn or of European origin. However, a small stand of ecologically significant and mature River Red Gums had somehow survived within the dirt car park.
MS: We collected their seeds and propagated new trees from them.
AN: These trees and their random placement were the perfect departure point for us to introduce an indigenous palette that challenges the predominant formalism.
MS: Native grasses always give a fantastic texture. I have often wondered about the extensive use of exotic grasses in Canberra from a sustainability perspective.
AN: The barbecue shelter, built of rough and recycled timber and rusting steel panels, is also a deliberate challenge to the meticulously detailed and sanitized modernism of the existing architecture.
MK: What single thing do you think would improve the experience of living in Canberra?
AN: Fewer surface car parks. More integrated cycle paths. Less un-programmed open space. A greater density of population and development around Civic. A halt on the further expansion of the Canberra Centre, as it is a private shopping centre starting to create an imbalance in the public domain.
MS: The Northbourne Avenue light rail project is a terrific idea.
MK: And then just for fun … What is your favourite place or landscape anywhere in the world?
MS: Fez in Morocco is an amazing urban experience – intense, unlike anything else. Anyone who is interested in how cities have developed should visit Fez. For natural landscapes Tasmania's north-west coast is moody and beautiful.
Credits
Design practice

Spackman Mossop Michaels
Sydney, NSW, Australia
Project Team

Michael Spackman, Chris Houghton, Andrew Nimmo
Consultants

Access and BCA BCA Solutions
Arborist Canopy
Civil and structural engineer Taylor Thomson Whitting
Community consultation Environmentrics
Cost planner Bay Partnership
Electrical engineer Lighting Art and Science
Heritage consultant Godden Mackay Logan
Hydraulic and traffic engineers Cardno Young
Traffic engineers SMEC
Water feature consultant Water Features Australia
Co-masterplanner and architecture lead Lahznimmo Architects

Site Details

Location Parkes, Canberra, ACT, Australia

Project Details

Status Built
Design, documentation 20 months
Construction 17 months
Category Landscape / urban
Type Culture / arts, Outdoor / gardens, Parks

Source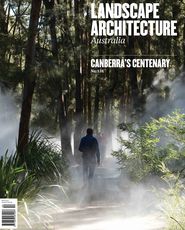 People
Published online: 19 Nov 2013
Words: Magdalene Keaney
Images: Courtesy Spackman Mossop and Michaels, Courtesy Spackman Mossop and Michaels, Vikky Wilkes
Issue
Landscape Architecture Australia, May 2013
Related topics