It's possible to fall in love with a house before you've had time to work out what you really want to do with it. A timber cottage with an adjacent stable building in inner-city Sydney is a rarity, so when the current owners saw Hurlstone House for sale back in 2006, they jumped at the chance. They then set out to discover what their new house might be – by living in it, thinking about it and then asking specialist advice on how to realize their ideas.
The house's recent history was a fairly typical one for an inner-city timber building. After being threatened with demolition by developers in the 1990s, the dwelling was spared and lovingly restored. With the house saved from demolition (ensuring the retention of an important part of the suburb's original "grain") and then its ownership changing hands, the good burghers of the area watched with keen eyes to see what might happen.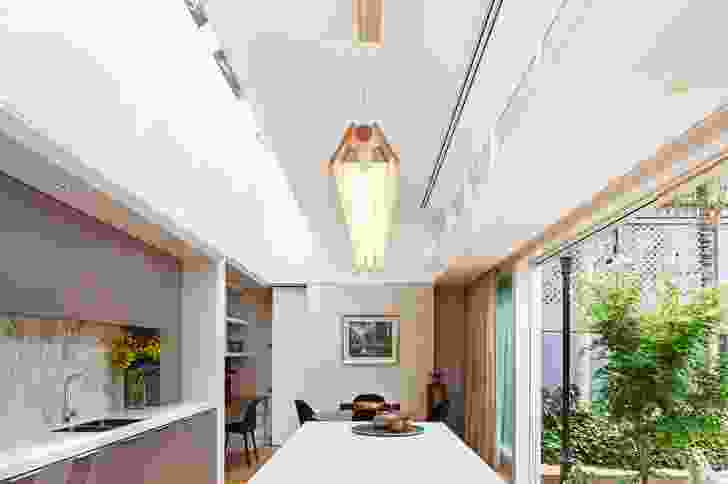 And what happened was … nothing. Not straight away, anyway. The couple that bought the house became a family, and as oft happens they needed to rethink how the house might best serve both them and their two young daughters. They got in touch with John Rose of Tanner Kibble Denton Architects (TKD) to discuss reconfiguring the home to meet their growing needs.
The house was a conglomeration of the main four-room building with attic space, and a series of rear wings that congregated around the rear. An all-too-large bathroom dominated the ground floor. The architects quickly developed a strategy of adjustments to the volume and footprint of the rear wings, which allowed a new, contemporary living space with kitchen, living and dining zones to wrap around the rejuvenated rear courtyard.
TKD's approach was to take back a few of the more ebullient flourishes the previous owners had made in their restoration and pare back the detailing to give the original dwelling some room to be read and allow a new, contemporary palette of materials to realize the clients' brief. The architects moved the original program of the house around to make this happen. Front rooms have been rejuvenated as modern kids' bedrooms. Freestanding bedheads with bright upholstery allow the original front room's French doors to remain in place, providing an extra wall to nudge the bed up against while concealing cleverly detailed storage behind. The often-difficult "elbow" of the L-shaped plan is used to conceal a couple of bathrooms served by discreet light scoops that draw natural light down from above.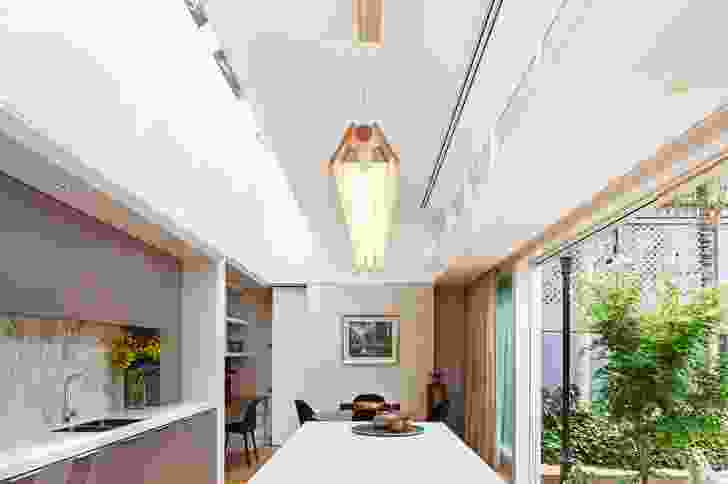 In their material choice, the architects looked to use traditional construction methods in a contemporary way. Painted regency wallboard internal detailing was used to transition from the original, restored detail of the front of the house through to the new living spaces that wrap the courtyard. Timber floorboards, handpainted joinery in muted tones and complementary stone surfaces all fit together as a coherent whole. The large sliding glass doors with painted timber frames allow the public living space to link with the courtyard via wide timber steps. While the courtyard is slightly smaller than before, the re-imagined linkage between it and the new internal spaces has enabled them to work together in a way that simply didn't exist before.
The existing attic space wasn't quite big enough to contain a workable parent's retreat. The architects expanded the available volume of the original hipped gable roof form with a new metal-clad roof portal set discreetly behind the main ridge. This decidedly contemporary new roof form creates the extra floor space required for the house to work without forcing complicated external geometries upon it.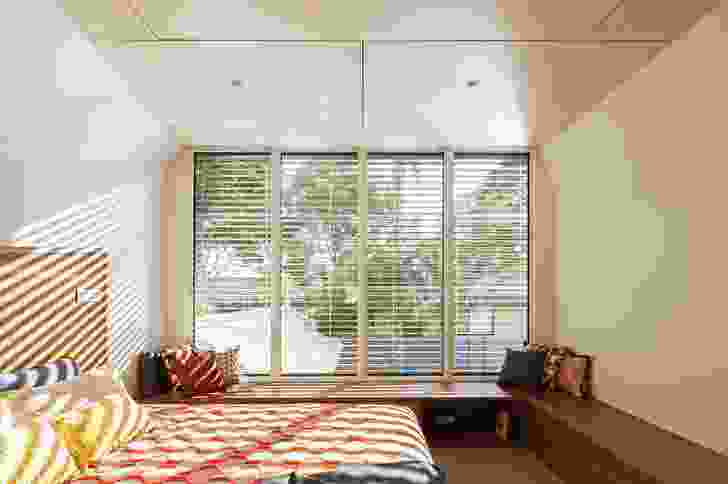 Internally, planes of plywood shape the new space into a gallery at the top of the stairs, which leads on to the new loft bedroom. The gallery is flanked by joinery that on one side conceals a surprisingly big ensuite, and on the other holds generous storage. All the available space has been used in the design of the home. It's easy to max-out the space available in plan, yet it's not so easy to make the built house work spatially. The critical mechanism that enables this to happen in this project is the way the architects have used apertures and openings to ensure these spaces feel light. Revitalized original windows, big new doors that enable the courtyard facades to be slid away, clerestory lights in the kitchen, large vertically proportioned windows protected by external blinds and skylights piercing and folding across volumes all combine to give the rooms a feeling of generosity that good homes have.
TKD has shown that the history of a house shouldn't be seen as a limitation – it is simply a starting point from which to launch a creative response, adding another chapter in the story of Australian city housing.
Products and materials
Roofing

Novelis Falzonal pre-p ainted aluminium in Zinkgrau; Lysaght Custom Orb in Colorbond 'Windspray'.
External walls

Timber weatherboards in Dulux 'Ghosting'.
Internal walls

Timber Regency boards in Dulux 'Ghosting Quarter'.
Windows and doors

Stockwells Joinery cedar custom sliding doors in painted finish; Breezway louvres in powdercoat; Halliday Baillie flush pulls in nickle.
Flooring

Blackwattle Hardwood Floors in 'Golden Oak'; Cavalier Bremworth Tussore carpet in 'Cutch'.
Lighting

LA Lounge downlights; Torremato Ram pendant (dining area); About Space Bundle pendant (near bath); Occhio Divo pendants (above basin); Astro Digit recessed downlights.
Kitchen

Caesarstone benchtop in 'Organic White'; CDK Stone Turko Argento splashback; cupboard doors in Dulux 'Bear Suit'; Regency board in Dulux 'Ghosting'; Blanco gas cooktop; Qasair concealed rangehood; Asko integrated dishwasher; Vintec wine fridge; Electrolux refrigerator; Methven Minimalist kitchen mixer; Oliveri Sonetto undermount sink.
Bathroom

Hammercraft custom joinery stained 'Black Japan' and stained blackbutt; Astra Walker Icon tapware in chrome; Falper Scoop basin in Cristalplant; Caesarstone benchtop in 'Bianco Drift'; Stone Italiana Jaipur composite stone benchtop in 'Vanilla'; Par-ker tiles in 'Roble Boston'.
Heating and cooling

Markilux Kinder Cocoon awning; Horiso Specialty Venetian Blind external louvres; Captiva and Heatseeker gas fireplaces by Real Flame.
External elements

Tallowwood decking; Eco Stone Bluestone paving.
Other

Curtains and bedding from Decorating Recycled; furnishings from Blu Dot, Planet Furniture, Hub Furniture, Spence & Lyda, Emily Ziz Style Studio and Stylecraft.
Credits
Architect

TKD Architects
Australia
Project Team

John Rose, Jose Serrao, Emma Lee, Giselle Watts, Theresa Pan, Sean Williams
Consultants

Builder Boon Building
Engineer James Taylor and Associates
Joinery Hammercraft
Landscaping Spirit Level Designs

Site Details

Location Sydney, NSW, Australia
Site type Suburban
Site area 317 m2
Building area 287 m2

Project Details

Status Built
Design, documentation 12 months
Construction 12 months
Category Residential
Type Alts and adds, New houses

Source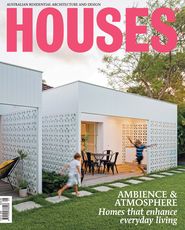 Issue
Houses, October 2015
Related topics