Ian Strange turns condemned suburban house into temporary gallery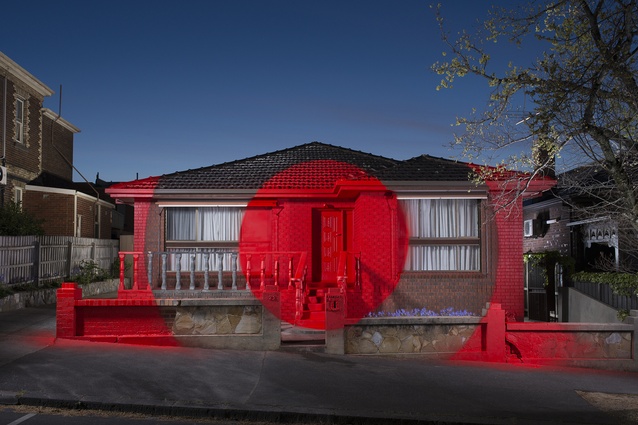 For just two days, New York-based Australian artist Ian Strange will convert a suburban brick house in Melbourne's Richmond into a gallery exhibiting his recent works.
Open Home is a site-specific intervention on the exterior of the house, which is painted with a red circle onto the street facade.
The red marking invokes the notion of a house targeted for demolition. The work is a continuation of Strange's previous projects with foreclosed and condemned homes.
Inside, the house has been left in its found condition, with 1970s-era beige carpets and mission brown laminates. The crimson exterior casts a neon glow on the interior spaces. 
It creates a palpable tension between the masking of its external suburban character and the raw domestic banality of its interior.
In a first for Ian Strange, the house will become a gallery exhibiting four photographic works, two video works and two sculptures. Most of the works exhibited are previously unseen by a Melbourne audience.
The intervention will also become photographic work titled Twenty-Five, a companion work to Forty-Eight from the Target series, which will be exhibited alongside each other in the front bedroom of the home.
The dramatic lighting of the photographic work casts the house in a state that is simultaneously unspecific while also retain hints of its original context. "The work comes to be considered as a 'universal house'; the idealized and imagined home," said Strange in a statement.
The exhibition will also include works from Strange's photographic and video works from the Shadow series, created in Western Australia between 2015 and 2016, which was also exhibited in Sydney in March 2017. The series included interventions of five red-brick homes was intended to question our connection to "home" and its position as a symbol of stability. Two of the photographs, One Hundred and Ten Watkins and Three Hundred and Nine Wanneroo, will be exhibited in the bedrooms while two video works, Shadow and 71 Langley, can be seen in the bathroom and living room.
In the kitchen, two sculptures – Elliot Terrace from the 2013 "Destruction" series and the new Framework (Kenyon 3), made in 2017 – represent Strange's earliest and latest works.
Ian Strange is a multidisciplinary artist whose work predominantly examines architecture, ideas of home and notions of suburbia. "The suburbs have informed so much of our national identity but seems to undermine a deeper understanding of history and landscape in this country. This work is a reaction to that."
Strange's work and career is the subject of a six-part series produced by the ABC. His work with houses has led him to carry out projects at a number of international locations, including the Fukushima nuclear exclusion zone and post-earthquake Christchurch. In Australia, Strange has produced full-scale installations of homes in the Art Gallery of South Australia and the National Gallery of Victoria. 
Open Home is on show at 25 Clifton Street, Richmond from 7 to 8 October 2017. For more information, click here.