In October 2012, the architectural spotlight homed in on a Redfern laneway in Sydney, where industry luminaries gathered for the opening of Icons By Icons. Studio Becker's converted warehouse showroom played host to this understated but important exhibition of singular houses designed by pre-eminent practices.
The line-up included McBride Charles Ryan, Denton Corker Marshall, John Wardle Architects and Sean Godsell Architects from Victoria; Popov Bass Architects, Durbach Block Jaggers, Glenn Murcutt, Ian Moore Architects, Luigi Rosselli Architects and Peter Stutchbury Architecture from New South Wales; and Clare Design and Donovan Hill (now BVN Donovan Hill) from Queensland.
Curator Dale Jones-Evans developed the exhibition from the simple idea of inviting twelve "iconic" architecture practices to exhibit two projects each: one they deemed their most "iconic" built work to date, and another currently in development, in construction or recently realized. Juxtaposing a seminal project with one of their latest gave each practice an opportunity to draw out the consistencies in their design vocabulary and the evolution of their research into increasingly mature responses to the client brief and site dictates.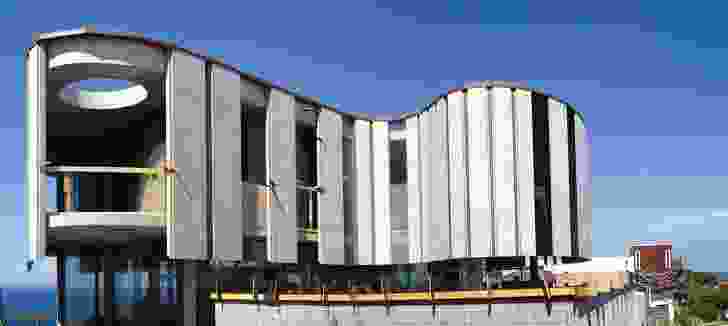 At first glance, the installation is reminiscent of A1 pin-ups and scale models by architecture students, but the calibre of practitioners sets the benchmark high. According to Dale, Australian architects design exemplary, world-class houses. "For most Australian architects, designing a house is often where experimentation is at its highest. Many architects hone, conceptualize and leverage their practice off these moments," he says.
McBride Charles Ryan's (MCR) Dome House in the Melbourne suburb of Hawthorn encapsulates this sentiment. The brief for a flexible home led MCR to explore ways in which the pure form of a copper sphere could be partially buried, eroded, subtracted and subdivided to resemble an incomplete 3-D puzzle whose components link dramatically to the garden. The result is a building in which everything is subservient to an all-encompassing idea. It is a house that resolutely announces that it is the antithesis of monotony.
In Peter Stutchbury's practice, Springwater epitomizes his definition of an "essential" building of fewer means and no waste, expressed in an architecture that strives to provide a junction between comfort and consideration, place and perception. Peter's Light House gives an artistic and organic twist to that expression, creating a coastal cliff-top residence capable of enduring the elements while playfully alternating between open and closed, exposed and sheltered and still being anchored to its garden site.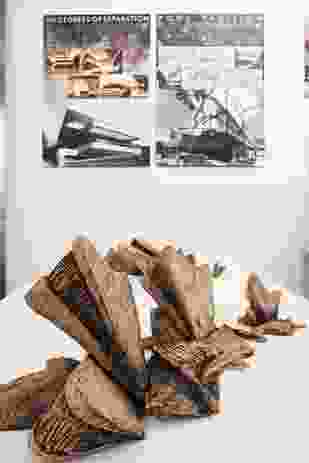 Luigi Rosselli Architects' sculptural models capture the robust materiality and dynamic programming of its Six Degrees of Separation. This three-level residence atop Sydney's Gordons Bay features exposed concrete and the muscular form of cantilevered terraces that pivot six degrees from a central double-height stairwell gallery.
For more than a decade, Sean Godsell Architects has stretched the imagination of an Australian architecture for the Asian region. St Andrews Beach House and other freestanding properties derive their form by abstracting elements of the outback homestead. The sunroom, breezeway and sleep-out become abstracted verandahs that protect their occupants while deliberately leaving inside and outside spaces ambiguous.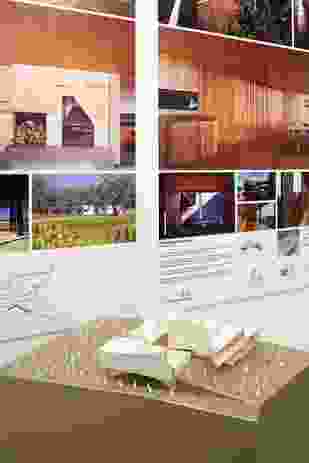 Clients with desires for exemplary rural and beach escapes have also provided opportunities for John Wardle Architects to explore the nature of site-expressive architecture. Vineyard Residence plays on the analogy of grafting new vines onto old rootstock in the programming of the building and framing of verandahs as well as the conscious siting of the house in alignment with the vines. There is determined craftsmanship in the assembly of rammed earth, steel structural elements and timber detailing that coalesce with the palette of the landscape. In keeping with that vocabulary, Fairhaven House is also scripted by the character of its site. According to John, the pristine coastal landscape, sharply falling topography and panoramic ocean views became the drivers for the conceptual framework for habitation.
As Luigi notes, one of the keys to iconic architecture is finding the spirit of the place and locating it in the building. "Any art has a certain lyrical quality and poetic tension. This is what creates great buildings," he says.
Far from being an end-point definition, Icons by Icons has established a format for surveying a broad range of responses to the call for a new house. Dale plans to tour the exhibition in 2013 and curate a sequel called New Icons by New Icons.
Icons by Icons
22 February – 29 March 2013
Tusculum, Sydney
Source
Issue
Houses, February 2013
Related topics