"Great spaces are indispensable for great creative cultures. They encourage connections between people, ideas and entire fields of thought. As interior design professionals, our knowledge enables us to form spaces that respond to human needs. These human spaces are the domain of our competence, our passion and our work."
– Extract from IFI DFIE Interiors Declaration, New York City, February 2011.
The international peak body for interior design, the International Federation of Interior Architects/Designers (IFI) held an important global symposium, Design Frontiers – The Interiors Entity, in New York City in February to reach consensus on the definition of our profession.
Regional variations and inconsistencies in the title, definition and regulation of the profession have troubled the IFI for many years. Concern that these variations result in an identity crisis for interior design gave rise to the IFI Roundtables of 2006 and 2007, which respectively debated the state of the interior design profession and interior design education at a global level. Neither event reached consensus on the issues of identity or definition. Current IFI president Shashi Caan, who has been a long-term and passionate advocate for the need for clear and regionally consistent territory, definition and title, took the opportunity afforded by her presidency to convene this latest and most effective symposium.
One hundred selected delegates from thirty countries were invited to participate in the symposium, including leading practitioners, academics and related industry representatives. The four invited delegates from Australia were: Madeline Lester AM, LFDIA past president of IFI; Suzie Attiwill MDIA associate professor of interior architecture at RMIT and chair of the Interior Design/Interior Architecture Educators Association (IDEA); Alf Lester MDIA; and myself.
An inspiring keynote address at the Museum of Arts and Design by The Power of Design author Dr Richard Farson set an expansive tone for the symposium. Delegates then convened at Steelcase's head-quarters to work on specific issues. In groups that were predetermined to ensure a cultural and professional mix, delegates discussed issues of value, relevance, responsibility, culture, business, knowledge and identity. Prior to the symposium, IFI undertook extensive consultation with its member nations through regional think tanks, questionnaires and an online survey to collect responses to questions concerning these issues for the interior design profession. Informed by preliminary results of the global consultation, the seven-delegate groups collaborated for a day and a half at the symposium to arrive at consensus on the issues and provide the basis for a final declaration document that would describe the basic pillars of the interior design profession. Group discussion was respectful of regional differences in the practice, title and regulation of the profession, and groups worked hard to raise the level of their discussions to address social and environmental responsibilities and the future role of the profession.
On the final day, group contributions were collated by a DFIE Outcomes Declaration Committee, chaired by John Fly, vice president of strategic planning at Milliken, as well as DIA member Alf Lester, into a document that is already being referred to as the New York Declaration. It is an unprecedented and potentially historic document that will guide the future of interior design. In the coming months, IFI will disseminate the outcomes in a comprehensive publication that can be used in each region to further its cause, pressure governments and design policies, identify interior design within creative and design industry initiatives, influence the business sector and assist us to communicate the value of our profession to society.
The IFI Global Symposium: Design Frontiers – The Interiors Entity New York City, ran 17–18 February 2011.
Source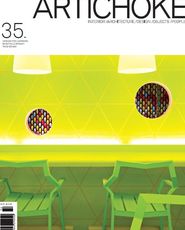 Review
Published online: 4 Jul 2011
Words: Joanne Cys
Images: Dennis Rainaldi Photography
Issue
Artichoke, June 2011
Related topics