Melbourne practice Wowowa Architecture has a way with colour and texture and this home is proof of that. Working with a brief that called for a light-filled, flexible space with plenty of storage, the Wowowa team has produced a jewel of whimsy and surprise in the heart of Melbourne's Carlton North. "We love creating colourful forever homes for people who know life's too short for boring spaces," director Monique Woodward explains. "And we want to celebrate an optimistic Australian culture and daffy colloquialism by translating them into something that's architecturally ambitious."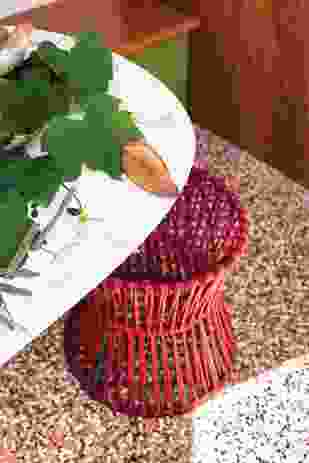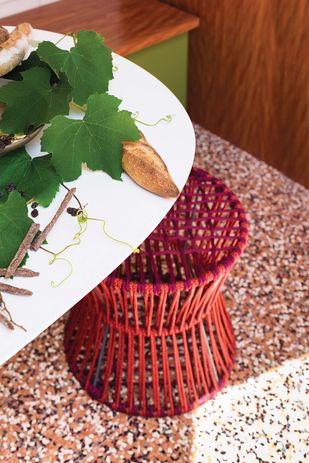 The Victorian worker's cottage had undergone a postwar DIY renovation that left it with a faceted, vaulted ceiling and an affectionate nickname that's since stuck, Il Duomo. Highly ornate tiles also contributed to the home's newly Italian flavour, as did the pink, white and green grid of the Florentine facade. So, when it came to renovating the interiors, the architects took unabashed inspiration from the home's lively Mediterranean theme and weren't shy about inflecting a contemporary twist on it.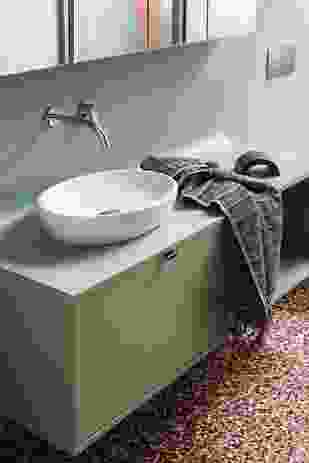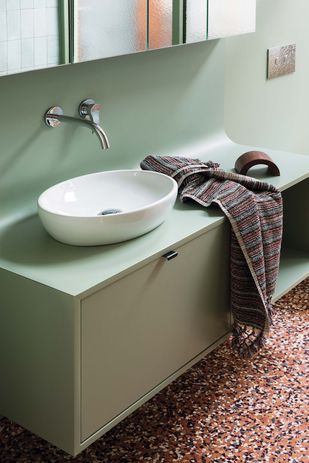 Pink, black and green terrazzo extends underfoot from the living area's newly created, terrarium-like courtyard to the interior, optimizing a sense of spatiality in what is a small, urban site. The furnishings, in rich burgundy and lush green, are juxtaposed with the speckled floor and work in well with the kitchen's joinery – a fun mix of caramel timber and muted green laminate. This is a particularly diminutive space, but the architects have been judicious in their planning to ensure everything is at an appropriate scale. The island bench, for example, extends from the wall and, while it appears much shorter than most, it is functional and well suited to the space. Meanwhile, the banquette-like seat is likewise built-in and compact, also serving as a storage unit. An acoustic panel-filled waffle ceiling is, perhaps, the proverbial icing on the cake; the way it synergizes with the courtyard's geometry is one of many lovely vignettes to be found throughout this reinvigorated cottage.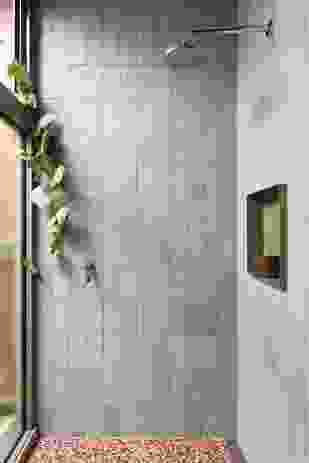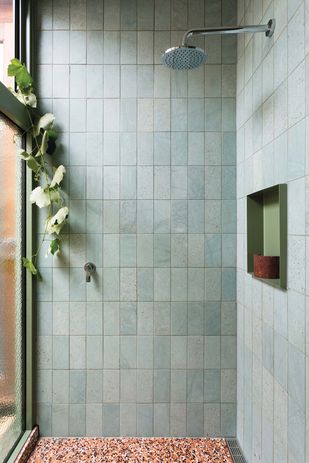 There's an element of bespoke craftsmanship to this renovation and it's especially evident in the bathroom. With the terrazzo flooring as a backdrop, the vanity unit's dusty green finish melds beautifully with the shower niche's custom powdercoated steel frame and pale-mint-coloured tiles, each with its own seemingly unique pattern.
The architects' fine attention to detail has enabled them to successfully mitigate the cottage's constraints, delivering a home of indisputable charm and appeal.
Products and materials
Internal walls (bathroom)

Byzantine Design stone tiles in 'Verde Campo'; wall painted in Dulux 'Herbalist'
Flooring (bathroom)

Signorino terrazzo tiles with Mapei Ultracolor Plus Terra di Siena grout; in-slab hydronic heating with Nest thermostat
Joinery (bathroom)

Laminex laminate laundry cupboard and vanity with coved backing, both in 'Bay Leaf'; Momo Ferrara Lip Pull Handles in black from Furnware Group
Lighting (bathroom)

Flos Mini Glo-Ball lights by Jasper Morrison from Euroluce; Brightgreen downlights
Tapware and fittings (bathroom)

Rogerseller Lissoni tapware
Sanitaryware (bathroom)

Vitra Water Jewel basin and Zentrum toilet from Rogerseller
Doors and windows (bathroom)

Aluminium window frame in Dulux 'Pale Eucalypt'
Other (bathroom)

Custom powdercoated steel shower niche in Dulux 'Pale Eucalypt'
Internal walls (kitchen)

Austral Bricks La Paloma bricks in 'Miro'
Flooring (kitchen)

Signorino terrazzo tiles with Mapei Ultracolor Plus Terra di Siena grout
Joinery (kitchen)

Marble benchtop from New York Marble; Paperock benchtop in 'Dark Green'; Ventech Architectural Panel Products Brush Box veneer; Laminex laminate in 'Sphinx'
Lighting (kitchen)

Rich Brilliant Willing Crisp White sconce; Brightgreen D900 S and D900 SH Curve LED downlights
Sinks and tapware (kitchen)

Franke undermount sink; Fantini kitchen sink mixer
Appliances (kitchen)

Asko cooktop and oven; Bosch Slimline dishwasher; Fisher and Paykel integrated fridge
Doors and windows (kitchen)

Timber doors and windows
Furniture (kitchen)

Jardan Andy couch in 'Fern' Elk velvet; Ross Didier Gelava chair and Canuli ottoman in tan leather; Saba Italia Ziggy stools by Emilio Nanni; Southwood pot plant pedestal
Other (kitchen)

Custom dining bench seat made with Ventech Architectural Panel Products Brush Box veneer and Laminex laminate in 'Sphinx'
Credits
Architect

Zoe Diacolabrianos, Isabelle Jooste, Nikita Bhopti, Scott Woodward, Monique Woodward, Wowowa Architecture
Architect

Wowowa Architecture
Melbourne, Vic, Australia
Consultants

Builder Latrobe Building Service
Joiner Colonial Cabinets

Site Details

Location Melbourne, Vic, Australia

Project Details

Status Built
Completion date 2018
Category Interiors, Residential
Type Alts and adds, Bathrooms, Kitchens

Source
Issue
Houses: Kitchens + Bathrooms, February 2014
Related topics