In psychology, the Real is that which each of us is continually approaching but never reaches. It is too dangerous to be in or of the Real but it is also a spatial condition to which we inevitably gravitate. The Real, however, is not reality. As architects, we are often working Icarus-like, moving towards yet being absorbed by the pursuit of a real, an authenticity, within our designs and contexts, that ultimately brings us back to the ground and gravity's pull. It is the very nature of the ground, as a surface and material, that structures the real, but it is authenticity that shapes it.
A real or real-ness in architectural design has long been a register of contrasting temporal conditions beyond those of a completed edifice. Authenticity appears later, an epilogue to a building's design. The primary difference between the authentic and the real is time, and the frames through which we experience, critique and use architecture. The real and the authentic must therefore be regarded as coeval, each working contemporaneously to further the experience of space through material.
In today's architectural design and practice, interrogations of authenticity have become part of a broader debate on cutting-edge materials. Invoking the problems inherent in ecological discourse has wrought a bifurcated discipline in which one practises parallel to, but often not in concert with, the environment. Arguments remain elusive by suggesting that one design or experience is more real than another. Plotting a line across a page or screen locates an instance of a real, while authenticity becomes undone by successive critique and revision. Materiality provides recourse to the function and meaning of authenticity in an increasingly mediated world.
Notions of the real and authentic also come to the fore when novel forms of technology appear. This is especially true with advances in the capacity of materials to become something else. Experience, whether it is embodied through vision or haptic faculties, ultimately distinguishes the fabrication of the real and its counterpart, memory. So, too, do we find ourselves asking when architecture is real, furthering its authentic expression in form, beyond that of image. To answer to this is to observe architecture's capacity for and embodiment of transparency.
Three aspects of transparency among recent examples of global architecture are situated between the gravity that establishes the real of architecture and those multiple temporalities informed by the representation of material's function. The use of glass, as both a tool and medium, provides an elegant solution to providing surfaces of contextual reflexivity and historical inscription. Each of the examples oscillates between the image of material and the material of image. Within notions of grounding, one finds links across histories of the landscape as a means to locate transparency in and of time. From such grounds, the very surface upon which architecture is founded, a suspension – of time, of form – offers architects innumerable modes by which to challenge the visible. Consequently, architecture constructs a disciplinary practice in which spaces are challenged by transparency, caught between the hyper-visibility of (social) media and the truth of its materiality.
Grounding
Aboriginal peoples speak of tjukurrpa, or stories that link countries to people. We rarely hear of a grounding in and of architecture – rather, abstractions such as "place," "region" and "site" are used to consolidate meaning. To move beyond these terms, surfaces in architecture potentially embody and reframe a ground, be it social, historical or cultural.
A number of recent works in Australia confront such narratives of repair. Kavellaris Urban Design's (KUD) Perforated House (2008) in Melbourne is an example that shows how the identity of Australian architecture is flexible. Glass has been used to close the distance between inside and out, old and new. An external perimeter identifies the terrace house as "house"; the glass facade transgresses conventional boundaries of closure. Inscribed on its adjustable facade, the interior of the home is revealed when open – history's agents are inscribed linearly along the surface – and is momentarily erased to reveal a conventional interior. The former facade, while reduced to a historical sign, is the hinge upon which present and past converge.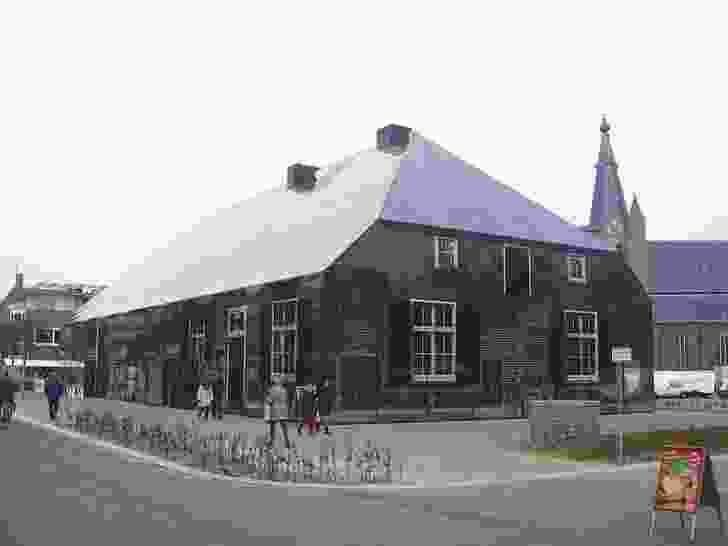 Suspensions
Contemporary architecture sits suspended between the autonomy of a real and that of a culturally informed authenticity. Through its multiple scales and contexts, transparency furthers spatial dialogues that would otherwise be impossible.
Invoking the contradictions of preservation as a visual and spatial condition, Netherlands practice MVRDV reinterprets transparency in its 1600-square-metre multipurpose Glass Farm building in the small town of Schijndel, where partner Winy Maas was raised. Having lobbied the local government since the 1980s to fill in a gap caused by World War II destruction in the main square, Maas and MVRDV won the competition to rebuild the town centre. While embodying the politics of local histories, the site, and by extension the new building's intangible character, are problematized by the nature of glass itself. It is the only material that is simultaneously opaque and transparent. Maas realizes a project that is as much a part of the locale as it is a disappearing act.
Encompassing the external volume of local farmhouses, the entire structure is exaggerated in scale but not necessarily visibly discordant with its neighbours. Having collected a number of photographs documenting regional farmhouses with a Dutch artist, the architects crafted a collage of images that was then applied to all exterior surfaces through a fritting technique that printed the images directly on the glass. The printed glass thus becomes both image and material. The structure's actual doors and windows, however, because of their exaggeration in dimension and view, do not match the images of the facade. Entrances appear to pass through solid walls and windows float around corners. This mismatch, between vision and experience, is disorienting and ultimately unbuilds the spaces of memory. The public function of transparency has been undone by the materiality of the images printed on and in the glass. Consequently, glass is both subject and object; an arbiter of site, history and loss.
Limits
In early October 2012, as part of an effort to reduce expenditures and standardize new educational facilities, the UK government with Education Secretary Michael Gove approved "baseline" template designs that effectively abolish "curves or 'faceted' curves." He is in favour of "simple, orthogonal forms," and proposed that buildings should have "minimal indents, 'dog legs' and notches in the plan shapes" and be clad in nothing more expensive than render or metal panels above head height, and that ceilings should remain bare. The measures also require that buildings have "no glazed curtain walling or ETFE roofs." In effect, glass and steel buildings such as Zaha Hadid's Stirling Prize-winning Evelyn Grace Academy (2010), the reflective facades of Mossbourne Community Academy of Rogers Stirk Harbour and Partners (2004), and the glazed perimeter of All Saints' Academy by Nicholas Hare Architects (2011) are no longer allowed.
Despite the contraction in global economies, such actions demand questions such as: What are the limits of transparency? Let us then begin here to question the unstable logic of authenticity via the nature of vision. Vigilant pursuits of a real in architecture are inevitably weighted, if not determined, by the nascent borders we fix in order to maintain and preserve our identity.
Source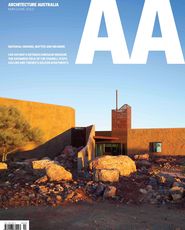 Discussion
Published online: 30 Oct 2013
Words: Sean Anderson
Images: Harry Harkema
Issue
Architecture Australia, May 2013
Related topics