<b>REVIEW</b> JENNIE OFFICER <b>PHOTOGRAPHY</b> ROBERT FRITH, DES SMITH
Review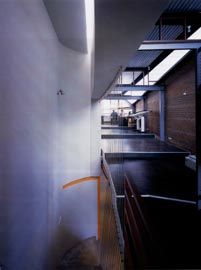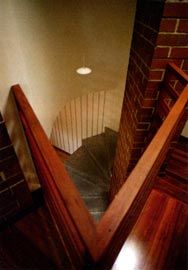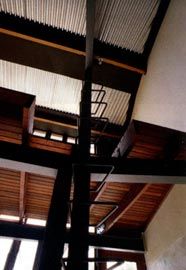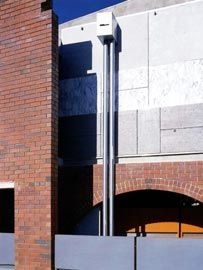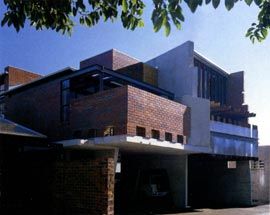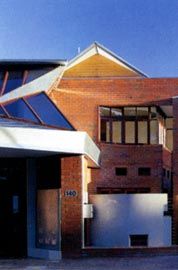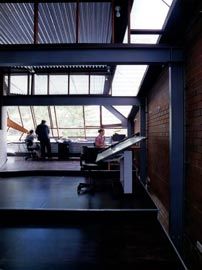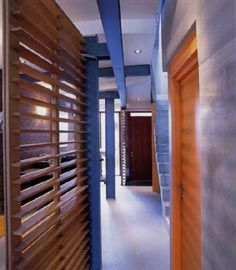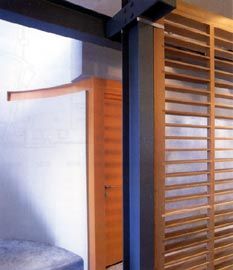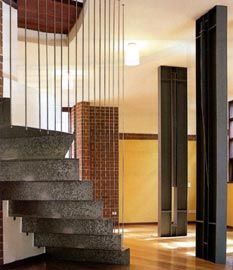 SHENTON PARK, FIVE kilometres west of the Perth CBD, is a "middle city suburb" – somewhere between the CBD and the outer suburbs in a city which struggles to affirm an inner city reputation. Characterised by single residential houses, attenuated shopping strips and plenty of parks, and peppered in the last thirty years with blocks of flats and groups of units, the suburb's growing affluence in recent years has seen an increase in backyard extensions and grouped dwellings and new townhouses. These are set alongside an intriguing debate about "heritage" and "character". Into this context Blacket Smith, in association with Daniela Simon Design Studio, have inserted a mixed-use building. Containing residential and commercial components, the building is a remarkable repository of the architectural middle ground.
The notion of middle ground implies a rhetorical contract with a foreground and a background. In this instance, however, the architecture is not bound by this binary relationship, but traverses the two contemporaneously. The middle ground, then, is the fertile interval between parts of the building that are held off each other – between the heaviness of material made pliant with lightness of gesture, in an architecture perceived at mid-zoom; between overscaled detailing and precise resolution; between the spaces claimed for occupation; between an aggregation of sources; between the interior and exterior and their registration of each other; between this building and the suburb around it; between plastic pressures exerted upon a rigid frame.
At 140 Onslow Road, a shared office, commercial front and two dwellings have been gathered together and straddle a north/south block between a road and a right of way. They mediate the gap between a row of backyards and a row of Iwan Iwanoff shops, heeding the established march of dividing walls and shopfront canopies. Under a substantial canopy, the commercial is given the big glazed front on street level, where it needs it. The upper-storey office is pushed back, from across the street, or from a car, it reads like an articulated windshield – popping in asymmetrically at the edges where the pressure gets too much, leaving its roof drainage back in the line where it is supposed to be. The awning deflects as well and its fascia registers this by compressing three-dimensionally to form a horizontal pleat. Meanwhile the domestic shies back, depressing itself into a front court that is both a spot of garden and a tightly controlled piece of geometry. The domestic is revealed by a gable from the middle distance. Yet this is no open-ended vase for living in – that horizontal extrusion of space capped by a gable and characterised by the notion of "openness" that has become such a seductive model of living in Western Australia. It is an altogether more viscous proposition.
This is a project that unabashedly eschews Modernist efficiencies. There is no single idealised ground plane, but rather a stepping residential field that threatens to slip its plinth, a set of suspended platforms to work in, and an inclined entry. The ceilingscape in the residences – replete with geometries that work to individualize spaces, yet are not geometries of that space (groin vault, carved internal soffit shelves and nooks) – deny the horizontal datum of Modernism. As does the inclining enviropanel roof/ceiling of the office, with its overblown black cornice tracing a new, or remembered, spatial configuration. Materials are mostly prosaic, occasionally luxurious and often used indulgently. Steel and timber framing is exposed as structure and constructed ornamentation, plasterboard is malleable, metal is bent into a continuous cranking stair. Extensive jarrah surface and tracery, in frames, edges, shelves and skirtings, is extra-ordinary. Face brickwork reminds us of the craft, tradition and, ultimately, labour of bricklaying. It has various inflections and cranks – it works hard to be a continuous surface, provides its own lintels and sills, and wraps and slips where it needs to. Joints are composed into a flush and raked stratification, providing a richness of pattern, shadow and texture alongside a certainty that this has been individually designed and executed. There are many "bits" to this building, and each is detailed to retain its own identity and to encourage a roving eye.
The office is an enclosed exterior, a squashed alleyway in between shops and houses. It is a buffer for the residences, which relax somewhat and provide an agglomeration of spaces for the pleasure of living. These are supple white spaces that provide their own geometry, inserted into a brick skin that is similarly autonomous. The eye and the imagination hover in the spaces of negotiation between the two. Internal separation is realised by this subtle lag between post- or pre- modern geometries, by level changes, and by careful placement of objects such as brick piers that step out from the wall they belonged to and over thresholds, and paired steel columns separated by a plate held in expectation, like huge musical instruments. The two residences lap in the middle, in a moment of pause, keyed into each other with courtyard gardens made private by the brick skin which shifts and pulls where it needs to in order to contain lines of sight.
The dividing wall between programmes is a thick curve which cups the domestic and radiates the offices asymmetrically. It is a dominant planometric gesture, allowing for a change in the way each side is treated. The section is more complex. Certain office elements (stair, bathroom, court) punch through the wall and find themselves setting up responses on the other side, as their counterpart has to wrap, bulge or deflect to accommodate them. Despite its vitality, this wall does not have the formal significance it purports to in plan. Instead, its potency lies in the way it dictates a method of viewing the compiled space of the commercial. Circulation puts the body close to the wall, and this closeness in turn sets up expectation, as the long distance is continually blocked, and views become tangential and middle distance – through spaces rather than along them. The curve expands the ends of the offices and in doing so disrupts perspectival space. Arrival on the second, more dense, level of office is at the apex of this curve, a point from which it disappears behind you, beyond peripheral vision, on both sides. The stairway admits the occupant through the wall, and registers this seam by a strip of skylight keeping the alley and its interstitial circulation apart.
From the point of arrival here, in the middle of the plan and the middle of the section, depth becomes blurred by cognition of scale, which is ambiguous, as magnitude is not necessarily relative. Timber and steel sections seem bigger than they need to be, but in being so make themselves perceptible at distance. An expansion joint in the stairwell is blown up to become a wall recess. A skylight that holds the roof off the wall becomes wider where it should recede. The focal depth of field is extended and the eye led further.
To the south, four working platforms step up through the space. These are supported by steel sections, which hold them off both walls, leaving an all-important gap. The steel supports the brick wall, yet it is held off it by the very ties that support it.
The points at which the steel meets the wall correspond to the pattern of stratification, as if the wall has been scarified as it admits the structure. The working platforms and their choreographed views outside, to a fantastic band of trees, are framed by steel column meeting beam, taking on the role of proscenium arch. Yet the frames do not line up with the steps, and the joints between column and beam are articulated so that one does not carry more import than the other. Column and beam sizes change so that the relationship between the two is never constant. The architecture deliberately avoids hierarchy, responding to a brief for an architects office where both the collective and the individual were encouraged, where a tenant would never feel alone but could work alone. The rigour with which this is adhered to encounters inevitable compromises in acoustic and visual privacy, circulation and servicing. It also allows for generous dialogue, shared resources and mutual support.
To the north, descending from transience onto solid ground, across a bridge at the apex of compression is the kitchen, conceived as a temple for cooking, eating and talking. However, its refusal to be separated and its obligation as a passage means that it is also a place of unlikely encounters.
Beyond is a stable place where space expands and northern light floods in, eroding the edges of frames as it enters. Being caught in the web of the middle distance, looking with expectation simultaneously beyond and from where you have come repeatedly begs the question "have we got there yet?" Here, perhaps, one has finally arrived, in the awareness of a pithy middle ground that is not middle-of-the-road, but an amplification of the site where architecture is made.
JENNIE OFFICER IS A PERTH-BASED ARCHITECTURAL GRADUATE.
Project Credits
140 ONSLOW ROAD, SHENTON PARK
Architects Blacket Smith Architects in association with Daniela Simon (SODAA)—project team Des Smith, Sophie Giles, Hazel Porter, Rosanna Blacket (Blacket Smith) and Daniela Simon, Martin Neilan, Jill Birt (SODAA). Engineer Van Der Meer Consulting—Andrew Van der Meer, GBH/GDD—Bill Walker. Builder Keytown Constructions— Eddie Bullen. Supervisor Andrew Westbury. Building surveyor Ray Scarce.