"The energy crisis has been solved." This is the opening premise of New Order: Energy, Economy and Art in a Post-Carbon World , an exhibition that looked beyond the limited confines of the sustainability debate to explore a new relationship to energy, economy and art in a post-carbon world. Curated by Australian architect Rory Hyde and Estonian artist Katja Novitskova, the show presented six large-scale installations, each representing a speculation on the future of our planet and society.
Taking the "canary in the coalmine" as a starting point, London-based Australian architect Liam Young introduced forty live canaries into the gallery for his work Singing Sentinels . During a performance, Young increased the level of CO2 in the gallery to the projected level of the year 2100, causing the canaries — which are very sensitive to changes in atmosphere — to stop singing. This rather pessimistic forecast was offset by Young's fictional guidebook to bioengineered species, which exploit our altered atmosphere with new talents such as file-sharing or detecting infrared signals.
Hyde and Novitskova's installation Meet Your Energy Avatar visualized the energy use of a modern human, which, as physicist Geoffrey West states, "is more than a blue whale." The work offered an opportunity to meet the glowing halo that hovers above all of us, to give it a name and an identity of its own.
The exhibition also featured works by Dus Architects, Sascha Pohflepp, Martti Kalliala, Chris Lee and Femke Herregraven. Each explored energy not merely as electrical power, but as a fundamental principle of our society.
New Order: Energy, Economy and Art in a Post-Carbon World was at Media Fabriek in Amsterdam 24 February to 1 July, 2012.
Source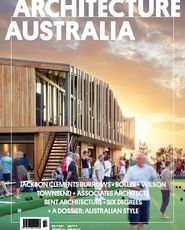 Discussion
Published online: 9 Aug 2012
Images: Hans Vermeulen, Rory Hyde, Simone Schoutens
Issue
Architecture Australia, July 2012
Related topics