Lawrence Nield and Partners Australia merged with Bligh Voller Architects in 1997 to form Bligh Voller Nield (BVN). The practice, which in those days consisted of 133 people, has now grown to a team of three hundred, including thirteen principals, and undertakes projects all over Australia as well as internationally. Lawrence brought to BVN not just a powerful portfolio of work dating from 1975 but also a culture of architectural inquiry, design critique and most importantly aspiration for excellence. Over eleven years in the collegiate environment of BVN's studios he contributed with gusto to the rigours of the debate, discussion, argument and collaboration that mark the contemporary studio-led model of practice.
Together with his colleagues, Lawrence has contributed many memorable buildings to the BVN portfolio and to the canon of Australian architecture – buildings that are scattered throughout many of the Australian states and a range of countries. There are considerable writings on Lawrence's work, as well as writings by Lawrence, and depending on which side of his critical side you sit those writings can be erudite, enlightening and amusing, or not.
Perhaps the less understood side of Lawrence is his support and encouragement of the younger architects with whom he collaborates. Lawrence is at his best when sitting in the midst of a collective of architects and clients collaborating on the full gamut of a project, from the vastness of the 2000 Sydney Olympic Games masterplan to the minutiae of detailing. There are many people who have participated in those hothouses of architectural firmament – Frank Stanisic, Peter Tonkin, Annabel Lahz, Neil Hansen, Sarita Chand, Elizabeth Mossop, Bill Dowzer, Andrew Cortese and more recently Matthew Bennett and Marcus Trimble, to name a few.
Often Lawrence will extract from some inner cavity of his memory a literary reference that is extraordinarily relevant to a particular project, usually from William Blake, John Ruskin or T. S. Eliot. However, for this very Australian of awards I've chosen an Australian poem that is reminiscent of the library at the University of the Sunshine Coast – Lawrence and colleagues worked with John Mainwaring in Queensland to make this highly acclaimed building, which won the 1997 Sir Zelman Cowen Award for excellence in architecture. It wonderfully evokes spirit, memory and materiality and vigorously seeks a new expression for Queensland public architecture.
Extract from "Louvres" (1986) by Les Murray:
In the banana zone, in the poinciana tropics
Reality is stacked on handsbreadth shelving,
Open and shut, it is ruled across with lines
As in a gleaming gritty exercise book.
The world is seen through a cranked or levered
Weatherboarding of explosive glass
Angled floor-to-ceiling. Horizons which metre
The dazzling outdoors into green-edged couplets.
Source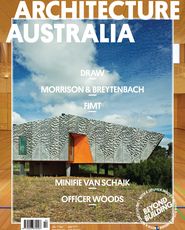 Discourse
Published online: 20 Mar 2012
Images: Max Dupain
Issue
Architecture Australia, March 2012
Related topics