Marston Architects is one of those much-admired practices where the team members are like family. The camaraderie and genuine delight they take in working alongside each other is palpable, as is the respect they share for principal Vivianne Marston, who established the studio in 1985. Her daughter Pip Marston joined the practice four years ago, alongside university friends Matt Argent and Pouwel Wind, with Kate Irwin Faulks the most recent recruit. The Sydney-based studio's day-to-day operations are characterized by a sense of positivity and playfulness, grounded in processes as rigorous as they are collaborative, the motivation to create intelligent multi-functional design outcomes and a strong commitment to sustainability.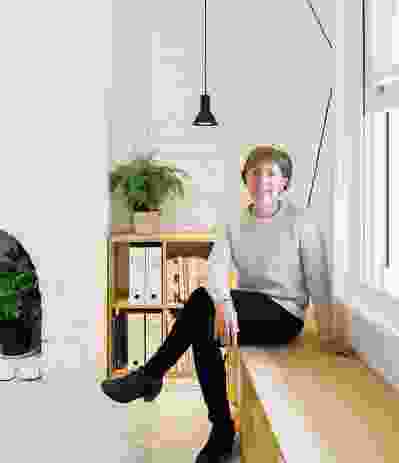 "We try to fulfil the client's brief in an unexpected way by challenging preconceptions of how they might use their home. It's still about realizing what they want from the building, but doing it in a way they would never have considered and this is the value we bring to a job , " explains Pouwel. While the practice continually pushes conceptual, social and environmental boundaries, it put its manifesto to the ultimate test in Vivianne's own home, one of the A&M Houses (see Fairlight Houses in Houses 108), in order to show future clients what's viable within a compact site. The result is a fine example of small-footprint urban living made possible through an unorthodox north–south subdivision that captures ocean views to the south and maximizes a northerly orientation in Fairlight.
Each house is only 4.6 metres wide yet feels so much bigger and this is due to efficient spatial planning. The design also owes its success to a series of distinct strategies that extends and expands the internal living areas. A central courtyard opens up the dining room with limestone flooring continuing throughout, the north–facing skylights visually elevate the already generous ceiling heights and a sliding timber screen that hides the kitchen makes circulation paths seem wider. The pared-back material palette, featuring seductively tactile waxed stucco walls, adds to the Japanese-inspired minimalism of the scheme, while also keeping maintenance requirements low. "Often we'll look at the final outcome and say, 'That's so obvious, how did we not arrive at it sooner?,'" reflects Vivianne. "But our process involves exploring lots of options to ensure the solution looks simple, even though it's actually made up of complex strategies."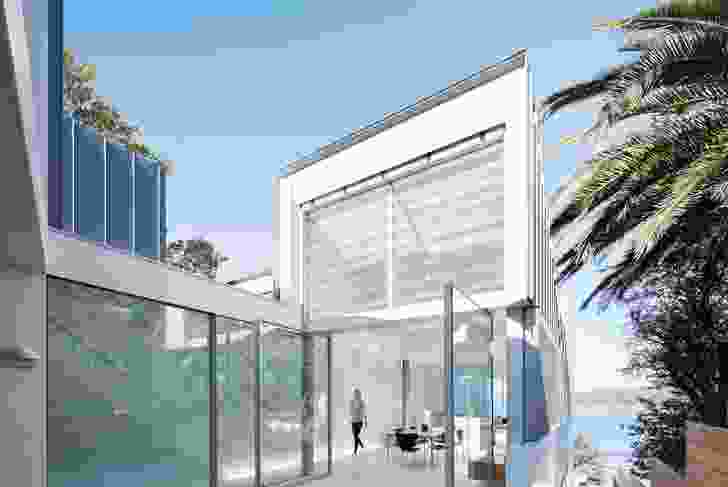 K Apartment's effortlessly chic aesthetic certainly belies the challenges inherent in transforming a typically dark Art Deco apartment in Woollahra into a light-filled dwelling that feels more like a large house than a small unit. Raising the height of openings between rooms immediately opened up the volume and using mirrors at the end of vistas to reflect light and views gives the impression that the apartment continues beyond its footprint and has no neighbours. This project also exemplifies Marston Architects' use of precise detailing to deliver good-quality projects that will stand the test of time. The emphasis on longevity informs the practice's approach to sustainability and prioritizes future-proofing along with the incorporation of passive design principles.
"During the design process, we try to think beyond how a home is going to be used today and what the clients' current needs are, to how it might be used in five or ten years' time," says Matt, who was K Apartment's project architect and has recently left the practice after working there for eight years. "We want it to still be a good home for them in twenty years' time and that's a conversation we have with all of our clients."
One of Marston Architects' most timeless designs belongs to its emblematic D House (see Houses 116), a semi-detached house in a heritage conservation area within Queens Park. Like all of the practice's residential projects, this one has a strong connection to the outdoors, enhanced by the transitional zone or breezeway that joins the existing house with the new split-level addition. This splicing effect is critical in bringing natural light indoors, as is the skylight adjacent the northern party wall. Large glass pivot doors further connect inside to out, as do the upstairs highlight windows. These still allow privacy in the bedrooms, which is a common concern that the practice repeatedly faces because it is so often designing for dense urban environments.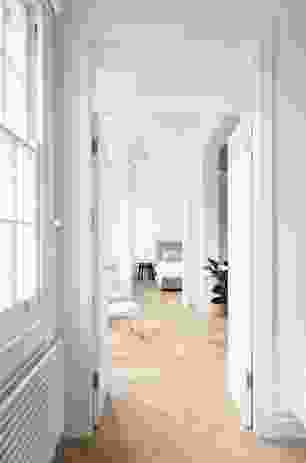 It's an issue resolved in Middle Cove's H House by inversing the plan, positioning the living areas at the top and the bedrooms on the floor below, with the garage at street level; a perfect outcome for clients who want to live among the gum trees. It allows the seamless transition between inside and outside to be emphasized too, with every space connecting to the garden, including the front balcony cantilevering into a tree canopy and the main bedroom having its own garden deck. "We're not telling clients how to live their lives. We're just trying to understand how they want to live, because it's their home, not ours," explains Vivianne, highlighting Marston Architects' highly collaborative, solution-focused work relationships.
Many of the practice's signature strategies are further refined in the recently completed V House in Mosman, from judiciously positioned skylights to an uncomplicated layout and reductionist scheme. The panoramic view looking into the rear garden is especially compelling, framed as it is by the angled edge of the upper-level soffit and geometric shapes of the stone flooring. Like all the homes in Marston Architects' extensive residential portfolio it reads as light and airy, comfortably liveable and responsive to site.
Optimizing a project's natural surrounds is something the practice excels in and this is crucial considering its work is based in Sydney, where a relationship with the outdoors is prioritized as much for lifestyle purposes as for investment value. In doing so, the carefully nuanced shifts between inside and outside serve to enhance the design's other features, creating an overall sense of harmony and balance. And, as always, the clients are the focus because they're the ones who will benefit. "It's important to create a home they can live their best life in," notes Pip. "If we can achieve this, then we've succeeded."
Source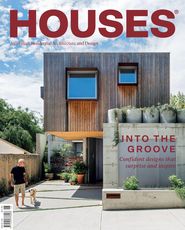 Issue
Houses, December 2018