Inbetween Places: Koji Tsutsui interviewed by Timothy Moore
Architecture Australia editor Timothy Moore interviews Koji Tsutsui, a speaker at the 2012 National Architecture Conference.
Seventeen years ago, architect Koji Tsutsui began his career by working with Tadao Ando on the reconstruction of Kobe, Japan, after the Great Hanshin earthquake. This formative experience of working on a project to house one thousand families resonates in Tsutsui's work today – including in his pro bono work in Haiti and Uganda, and other projects by his own practice, which he founded in 2004. Tsutsui, who makes no distinction between his approach to pro bono and private work, focuses on a spatial programming concerned with collecting the social spirit of individuals.
On the eve of the National Architecture Conference, Koji Tsutsui and Architecture Australia editor Timothy Moore had a conversation about the InBetween House, a project that won the villa category at the 2011 World Architecture Festival Awards.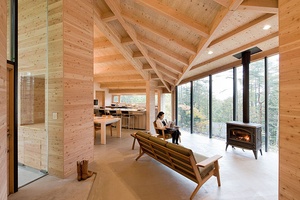 Timothy Moore: InBetween House received several accolades in 2011, including recognition from the World Architecture Festival, Architectural Review and Architectural Record. This project was impressive because it showed that a villa could be a site of experimentation on many levels – from its materiality and construction to its social and spatial experimentation. The project pushes boundaries to a point where its complexity or internal logic is hidden in its beautifully simple materialization of form. Even the complex connection of the taruki [rafters] looks easy. What were the main forces driving this project?
Koji Tsutsui: The main force driving InBetween House was the concept of the house as an expandable architecture that could adjust to the changing environment, for example if the family constellation changes. It is influenced by an earlier project that I undertook in Uganda, but also integrates traditional Japanese construction methods and those of modern architectural design.
TM: InBetween House consists of five rooms, or "small mountain cottages," that are set at thirty-degree angles – like a fan – on the site. The leftover spaces form the shared space and create a series of pathways, like lanes in a village. As you say, the approach to planning the house has origins in your Ugandan project, which houses children with HIV. What intrigues you about this typology?
KT: The typology that emerged in Uganda (and also in a church I designed in Haiti) intrigues me because it's not about individual buildings. Rather, it's about developing communities. Using this typology allows buildings to grow and change with the community and surrounding environment by establishing simple parameters of design, which I call a new architectural order.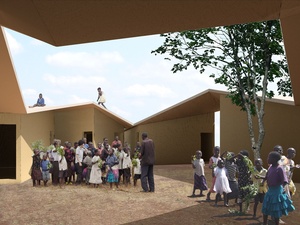 TM: How does this new architectural order create a typology that differs in form and space from an actual Ugandan village, while maintaining the cultural nuances?
KT: It's different because the plan is a cluster of huts around a courtyard. Other buildings in Ugandan villages are often scattered all over the place due to the lack of zoning in the area. But the buildings themselves are the same as the others in the area due to limited construction methods and materials, which helped to maintain the cultural nuances. The idea for the School and Home for HIV Orphans in Uganda came to me when I saw a photo of children sitting and studying in the shade around a tree. I wanted to keep this tradition alive so it was natural for me to design a cluster of huts around a central courtyard that included a tree. I made a computer-generated image of this courtyard, which became the key image in developing the project. The children will experience the central courtyard by studying under the tree or climbing up it. Shade from the tree, breeze through the gaps of the huts, and the smell of the earth are all elements that create a sense of place. I think this sense of place is what makes it more than just a visually attractive space.
TM: The work in Uganda was undertaken pro bono (without a fee). How is this work important to your practice?
KT: Volunteer work is very important to me because it helps me to clarify what is truly essential to architecture. In modern cities, complicated zoning laws and building codes often make a design very complex, and ideas about space and community get diluted or lost in a design process. But in Uganda or Haiti, there is a limited availability of resources, construction methods and materials, so I can really focus on how to design architecture for the community.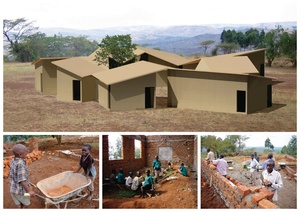 TM: You have offices in San Francisco and Tokyo, have studied at the Bartlett School of Architecture in London and have worked on projects in dispersed locations. How does this affect the task of finding a sense of place?
KT: I also lived for a year in Dijon, France, after graduating from the Bartlett. I saw a lot of old castles and residences. There were many other important essences, which are hard to find in an urban environment such as Tokyo, my birthplace, because of its complexity and hugeness.
TM: When I think of your birthplace, Tokyo, the colour white is prevalent in residential design. One also sees it in the facade of the Yutenji House, which has an asymmetric but unified composition. In Australian architecture, white is less prevalent. My question is a simple one: why is white important in the context of Tokyo?
KT: I think the colour white is the symbolic abstract colour of artificial objects and that's why it is so prevalent in Tokyo. Nature is full of colours, but white can only be seen in artificial objects.
TM: The National Architecture Conference in Australia sets out to question the idea of beauty, or moving beyond the artificial. Every aesthetic judgement has a political and ethical decision tied to it – so I have no problem with a surface discussion. There are decisions that have to be made, such as whether to use the colour white. Do you argue for beauty with your client? Or do you argue on more rational, pragmatic and ethical lines?
KT: I don't use the word "beauty," but I do talk about materiality, colour, composition, proportion and scale to the clients so they understand that for a project to be attractive, all these aspects need to be in harmony.
TM: One last question, which I cannot avoid asking: what do you carry from working with Tadao Ando in your formative years?
KT: My master, Tadao Ando, is not just a great designer. While I learned a lot of the architectural vocabularies and methods, I also gained great experience. I worked for him on the reconstruction project in Japan after the Kobe Earthquake seventeen years ago, which was my first experience in architectural practice. As an architect, Tadao Ando believed in the power of architecture. I, too, believe that we can change and influence society in positive ways by creating thoughtful architecture.
Koji Tsutsui will speak at the Australian Institute of Architects conference in Brisbane on 11 May.
Read an article about the judging of the Villa and House categories of the 2011 World Architecture Festival awards, in which Koji Tsutsui's Inbetween House won the Villa category.