Architect Kevin O'Brien, a principal at BVN, has designed a freshly completed pavilion that will be used to present a suite of aural works by Aboriginal artists on the history and future of Sydney's Barangaroo Reserve.
The Blak Box, commissioned by Urban Theatre Projects, comprises a translucent polycarbonate shell over an aluminium frame. The simple exterior form of the box contains an interior viewing space with curved walls and can hold roughly 30 people.
O'Brien, who is of Kaurereg and Meriam descent, said that this juxtaposition in the floor plan was inspired by an oval lounge in Erik Gunnar Asplund's Villa Snellman, a home built in 1917-1918 in the Djursholm neighbourhood of Stockholm.
O'Brien explained that the "the sense of the overall external classical form of the building counterpoised with a free form internal room speaks directly to my long standing interest in the positive tension that can be found in the presence of difference.
"Ergo, Blak Box's eternal and internal forms [represent] a political view of European Australia and Aboriginal Australia respectively rendered as an architectural condition."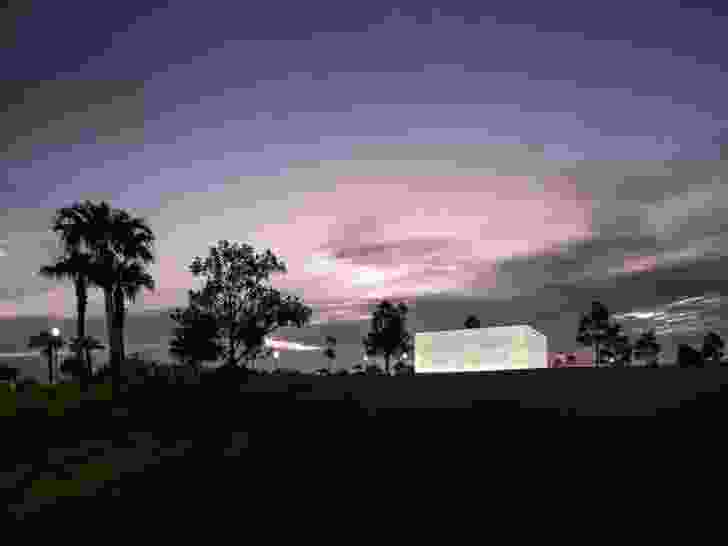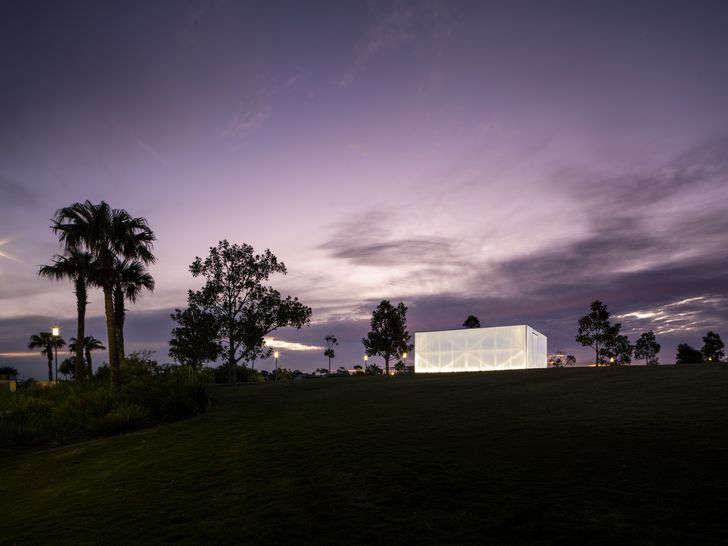 He also noted that the oval lounge in Villa Snellman also represented an example of good acoustic design
"In Villa Snellman, the first floor lounge was rumoured to be the perfect room for conversation due to its irregular form avoiding sound reverberation. In directly referencing this internal form […] the idea is both stolen from the last century and made my own in this century."
In terms of engaging with the artistic mission of the project overall, O'Brien said, "The architecture of the Blak Box endeavours to locate an idea of Aboriginality as an interdependent condition with global connections. It stands in direct opposition to the anthropological pursuits that historically isolate concepts of Aboriginality as being separate from the modern world, thus affecting a false sense of purity in the past prior to contact.
"Think of the question 'how Aboriginal are you?' and you get my drift. Blak Box is modern and through the light, sound and experience [it can] share a deeper and broader understanding of contemporary Aboriginality in 2018."
Daniel Browning, a commentator on Indigenous art and broadcaster for ABC Radio National, curated the sound works that will be played in the Blak Box. The first program of works is titled Humechochorus (pronounced hum-echo-chorus) and comprises a commissioned work that includes oral histories of the harbour headland before 1788, informal interviews and spoken word performances. These performative pieces will be accompanied by more than 15 separate commissioned sound pieces comprising original music and hydrophone field recordings taken from underwater at the site.
The lighting design has been completed by Karen Norris, a theatrical lighting designer who has worked across Australia and abroad.
Barangaroo Reserve is a six-hectare park, designed by Peter Walker in collaboration with Johnson Pilton Walker, that retraces the pre-colonial, pre-industrial shoreline of a former shipyard in Sydney Harbour.
Blak Box will be open from 2 to 24 June, after which the pavilion will be toured across the country.
Related topics