Australasia is recognized internationally for implementing innovative learning environments. This is cause for celebration, particularly as successful innovation is more than a cut-and-paste collage of good ideas but rather the result of rich conversations between designers and educators negotiating across their discipline boundaries. But not all new spaces are succeeding. This article introduces key issues, along with some cautionary tales for both designers and educators.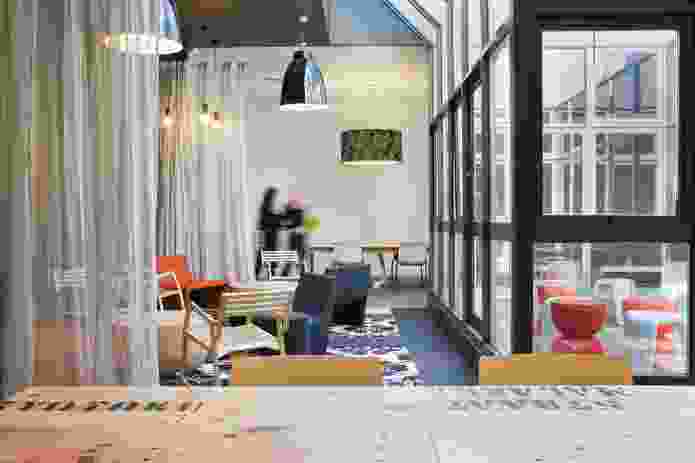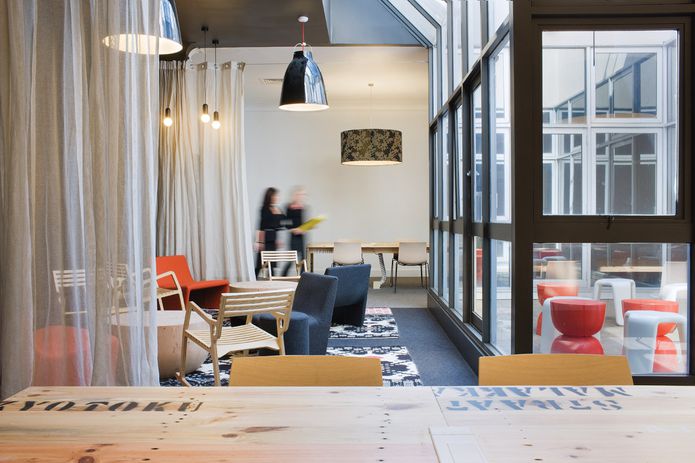 Lecture theatres, seminar spaces and classrooms have been largely accepted as the core spaces of learning since the nineteenth century. Classrooms have been so ubiquitous that educators have, until recently, tended to ignore the influence that space can have on learning. As an architect, I find it curious that learning spaces are rarely mentioned within education discourse. Dr Susan Wilks, an education colleague, suggests that teachers have tended to perceive learning environments as being primarily inside the heads of their students. But this is changing as educators begin to appreciate the ways that learning settings can support twenty-first-century pedagogies and designers realize that success in school innovation requires a fine-grain approach at the scale of fitout and furniture layout rather than simply the provision of flexible but generic spaces.
As students become adept at gathering web-based information, the role of a teacher is shifting from that of information provider to that of learning facilitator. Concurrently, there is increased societal demand for graduates to have the skills to resolve complex interdisciplinary problems. Benjamin Bloom's lower-level tasks such as remembering and understanding are well supported in theatres and classrooms, but the higher-level tasks of analysing, synthesizing, creating and evaluating require a range of settings. We are observing a quiet revolution occurring at tertiary level. Budgets and briefs are increasingly emphasizing the in-between spaces and developing student-only lounges supporting informal learning, while encouraging a rich campus experience. These informal learning and social spaces are respectful of student cultures. At the Berwick Technical Education Centre street art is brought inside, while the Faculty of Arts Graduate School at the University of Melbourne combines the intimacy of home with cafe buzz.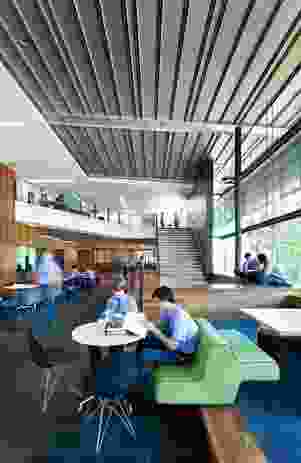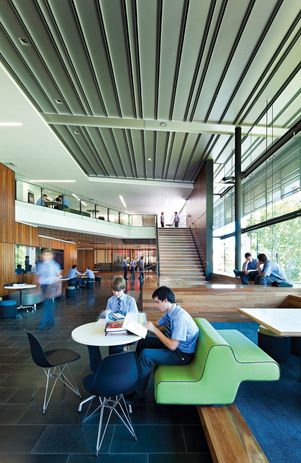 Within schools we see parallel changes as classrooms morph into more fluid spaces that accommodate a range of learning settings. As designer Mary Featherston notes, learning environments that are "purposefully" planned to support different types of learners and different ways of learning will help students stay "in the flow" of learning. The Lilley Centre, celebrated by students, teachers and the broader community, is viewed by architect Hamilton Wilson as the culmination of years of collaboration with educators. While this level of collaboration is ideal, it was not possible for new buildings funded by the federal government as part of the "Building the Education Revolution" initiative because of economic imperatives. In Victoria, the education department chose design templates with clearly defined classrooms but with walls that could be slid open to blur boundaries into collaborative shared spaces. As researchers, we were interested to observe students and teachers as they moved into these hybrid spaces. Even after a month of occupation, there was a noticeable shift in use as teachers and students "relaxed" into the larger spaces, leaving doors open and enabling more team teaching, and giving students a choice of different learning locations. Our cautious prediction is that the widespread use of these template spaces will result in teachers becoming more aware of the limitations of traditional classrooms as effective learning environments. In schools there are other key changes occurring. Toilets and locker areas, long recognized as potential bullying zones, are being distributed into smaller clusters throughout new spaces. Outdoor spaces for learning are being provided with good indoor-outdoor connections. Computer laboratories are outdated and networked computers are now more seamlessly located throughout. In Australasia we are building stronger links with communities and sharing facilities. This contrasts with both the UK and the USA, where schools have high boundaries for security.
Not all innovative learning environments are succeeding. In some cases, the learning neighbourhoods are being divided (informally with bookshelves or formally with operable walls) back into classrooms. We are seeing tutors avoid studios with flat screens and computers because they want the flexibility to shift tables around or undertake messy activities without fear of damaging equipment. We hear of acoustic treatments being omitted from specifications to save costs, even though we remember the poor acoustics of some of the open-plan environments built in the 1970s. We are also finding that many schools and tertiary institutions are underestimating the importance of furniture choice and layout to help construct behavioural settings.
So what factors enable new successful learning spaces? Change is difficult. Successful innovation in design and occupation requires alignment of many factors. We have been fortunate to have governments investing in tertiary and school environments after decades of neglect. Education departments in most states have been proactive supporters of innovation, bringing experts to Australia and developing local expertise. At school level, a shared vision of education is needed, along with principals supporting teachers, encouraging professional development, and providing time for curriculum review and space to collaborate. A rigid timetable and subject-based teaching can hinder innovation. At tertiary level, this is partially addressed by new interdisciplinary subjects and research centres. As academics move into innovative teaching spaces with cutting-edge computer hardware, they need professional development to ensure effective use of virtual and physical spaces. Finally, innovative spaces are enabled by designers who are able to integrate complex and conflicting briefs into finely resolved behavioural settings, which support new constructivist modes of learning.
Source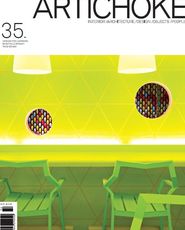 Issue
Artichoke, June 2011
Related topics