Photographs David Sandison.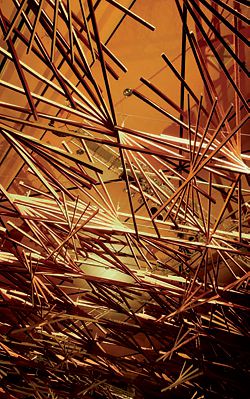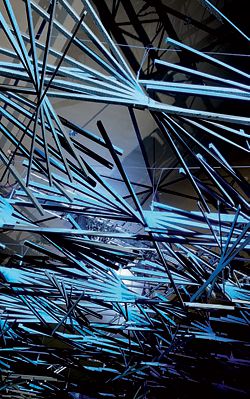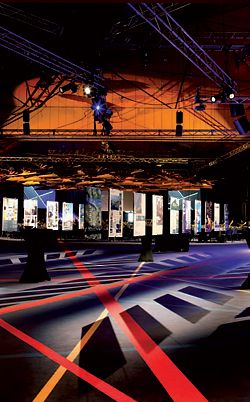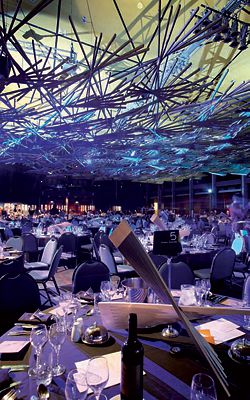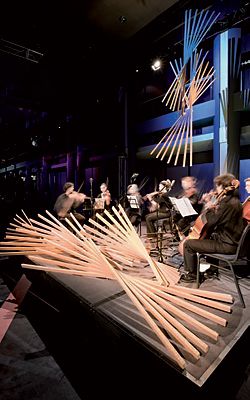 Peter Skinner delights in the installation for the Queensland State Awards, a collaboration between Cox Rayner and Christina Waterson.

They do things differently in Queensland. In this most decentralized of states, RAIA awards judging starts in February and regional awards presentations are conducted in Toowoomba, Rockhampton, Noosa, Townsville, Brisbane, Cairns and Surfers Paradise in advance of the state awards in August. Almost 200 projects were visited across the state this year, and the regional awards were occasions of professional camaraderie and local celebration, ranging from an emotional final farewell to the legendary Cairns Yacht Club to a "stirred, not shaken" martini evening at the Gold Coast's sparkling Q1. Some even attribute the breaking of the drought to Arkhefield's Noah's Ark styling for the Brisbane regional celebrations.
After the fun, the formal function. Memories of Hassell's stunningly designed setting for the 2006 State Awards night were still fresh, and it was with considerable bravery that Cox Rayner volunteered for the creative direction role in 2007. Design of the Queensland Awards Night installations became a creative collaboration between Cox Rayner Architects and artist and architectural graduate Christina Waterson. Michael Rayner provided the spatial conceptualization, Kim Richards was project manager and Jenni Gillard undertook the lighting. In the three weeks leading up to the event, rumours circulated of an army of Cox Rayner staff volunteering evenings and weekends for a secret project. Three days prior to the event, Richards and Waterson disappeared from sight to assemble and finetune the installation.
The Brisbane Convention and Exhibition Centre was designed by Cox Rayner in 1995, and the ballroom has been the venue for the state awards for many years. When the doors opened on the first Friday in August, guests were offered drinks in parallel avenues of illuminated awards panels leading diagonally towards a side stage for the Queensland Symphony Octet. The musicians' stage was framed by sculpted swirls of radiating battens, self-supporting arabesques of interlocking fingers. These dynamic sculptures were washed in blue, purple and lilac light, in hues from moody to electric. In the distance, smaller, spiky, spiralling table centrepieces were arrayed in precisely parallel alignment beneath a suspended blue ceiling cloud. The strong spatial diagonal and the sensuous forms created from linear elements resonated conceptually with the key geometries of the BCEC building, whose gently curving hyperbolic paraboloid roof forms intersect along trussed diagonals. One wag suggested that a foresighted Rayner had this event in mind 12 years earlier when designing the building, the only plausible explanation for the bold diagonal carpet stripes.
As guests were called to the table for the first of four courses and the commencement of the celebrations, the lighting shifted to rich golden oranges and yellows. On approach, the hovering ceiling mass revealed itself as a complex, intricate and open interwoven structure. Large and small "bursts" of helically radiating wands interlocked to form a dizzying three-dimensional grid. Over a thousand long, lightweight battens of recycled and recyclable corrugated card hung on a fine suspension grid, itself reusable. Thorough design synthesis and responsible material use were fundamental premises for the creative team. The geometric elaboration of simple materials into light and richly interconnected structures is a recurrent tactic in Waterson's art practice. Rest, 2002, and Fall, 2007, explore similar themes in amazingly delicate repeating meshes of tiny industrial ties, while the Near Far series employs contact friction to stabilize rising, twisting assemblies of sticks. The awards ceiling installation executed with Cox Rayner, however, was of an entirely different order. At 600 square metres by one metre deep, it was virtually a building within a building, brought together for one night only.
The independence of the geometric design ideas from scalar constraint was also evident in the second variant of the burst geometry, a hyperbolically twisting interlacing of two comb-like elements. Forty-five graceful Komodo Form table centrepieces were constructed of ply faced with Colorbond in recognition of BlueScope Steel's sponsorship. The 450 Komodo Form brooches, a far tinier fractal, were handmade by the artist as a personal gift for each attendee. Each precious little construction was recycled from a scrap of cardboard waste from the architects' office. Seventeen precise slices are needed to produce two small combs and a deft interleaving locks the distinctive brooch form, seemingly as delicate as butterfly bones.
The skeletal simile is a conceit, but the insect's life span is not an inappropriate analogy for the installation as a whole. Grub-ordinary materials metamorphose in the creative directors' cocoon and take wing to catch the rainbow's lights for an ephemeral night of romance. The morning after, drained of colour, they fall to earth and are swept away as compost for future life. Asked to reflect on the transience of the installation, Waterson instead directed discussion to its more enduring impacts. It was her hope for an experience "… that would inspire and challenge the creativity of the audience to make meaningful places in the coming year, and to value the way materials are used."
A butterfly flaps its wings …

Peter Skinner is associate professor of architecture at the University of Queensland, and would-be wag. He thoroughly enjoyed his experience as 2007 Queensland Awards Jury Director.
RAIA Qld Architecture Awards 2007
Creative team
Cox Rayner Architects and Christina Waterson in collaboration—artist Christina Waterson; spatial conceptualization Michael Rayner; project manager Kim Richards; graphic design Katrina Pollock and Misha Lamb; graphic animation Megan MacKenzie.
RAIA awards and events manager
Ailsa Brown.
Lighting
Illuminating Engineers Society—Jenni Gillard (Australian Glow), Steve Johnson (Webb Australia).
Rigging and event management
Brisbane Convention and Exhibition Centre.
Construction and assembly
Cox Rayner Architects—staff volunteers Lisa Britzman, Hamish Brown, Richard Coulson, Prue Exelby, Brendan Kenny, Alana Kowlayzyk, Misha Lamb, Megan MacKenzie, Anne-Louise Meeking, Bryony Milner, Michelle Mitchell, Aidan Murphy, Max Navius, Phillip Pappas, Katrina Pollock, Ralphie Power, Neng Sapporah, Karine Sehn, Akiko Spencer, Tara Walker, Madeleine Webb.