WHO CONTROLS THE PUBLIC REALM? WHO CAN USE IT, WHEN AND HOW? SHEONA THOMSON REVIEWS ART + ARCH INFINITE, A COLLABORATIVE PROJECT RESULTING IN EPHEMERAL INSTALLATIONS ACROSS BRISBANE.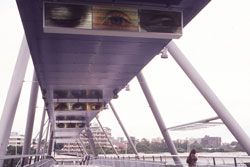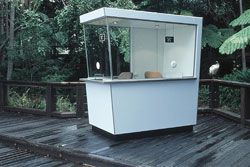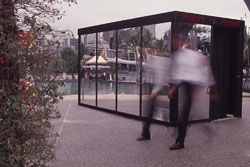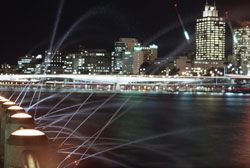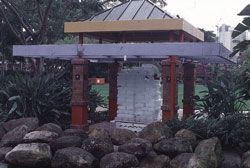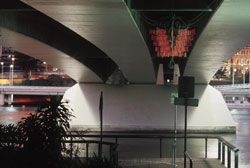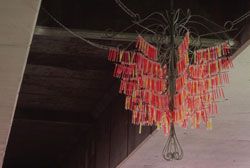 THE PUBLIC REALM, as Maarten Hajer and Arnold Reijndorp suggest in In Search of New Public Domain, is "that place where we come face to face with the proverbial 'other'".
For them, the urban realm is inevitably a "domain of surprise and reflection", a framework for encounter, experiment, adventure. Surely the potential of the space of the public realm – space that supposedly belongs to us all, collectively – to enable encounters that enlarge our understanding of who, where and how we are is innate. But as Hajer and Reijndorp also identify, our experiences of the contemporary city often show us that the potential for encounter – the city as meeting place – is very much at odds with "the exclusion, implicit or explicit, of certain groups who are considered marginal". Most obviously, this exclusion is achieved through the way public space is watched over and, indeed, effectively privatized.
In proposing the collaborative ephemeral art project ART + ARCH infinite, Professor Steffen Lehmann of QUT sought to engage with ideas about the place of the public realm – to bring to mind, through the constructed outcomes of collaborations between artists and designers, the potential of our experience of the city to provoke encounter. Firstly, it required the collaborative encounter between artists and designers from the built environment professions and also, one supposes, encounter between artist/designer/curator and those institutions and bodies that seek to control activity in our city. Then the public is invited to encounter the work itself and do with it what they will, in individual and collective interpretation, understanding and experience.
Participant teams were selected after an open call for entries which outlined the broad themes of the project: people and public space, mobility and the river, the subtropical climate, crossovers and collaborations. The ART + ARCH infinite exhibition consists of eleven constructed works; one unrealized work (a large-scale intervention into the public space of City Hall and King George Square, represented in model form for the exhibition); and one performance piece, yet to happen at the time of writing.
By associating with the biennial Brisbane Festival, ART + ARCH infinite also seeks to formalize a place for collaborative art in the landscape of urban ephemera. This is an interesting proposition with great potential. As many have previously explored, the constituent materials of "temporary urbanism" (see, for example, Bonnemaison and Macy) have a great capacity to connect people with each other and the city in novel, playful and revelatory ways.
And at festival time, people actively seek the exciting, transient experience and are possibly more receptive to the forms and ideas presented by ephemeral urban art.
A few of the pieces offer a kind of metanarrative for contemporary urban experience.
This is because they can only be partially understood but are reinforced by more specific understanding of the actual facts of our contemporary city experience. These works allow you to see aspects of city life from the outside, as it were, and in so doing, reveal something about the reality we experience daily. I am thinking in particular of Surveillance and Ticket Booth, both of which invite reflection on the privatization and control of public space. The issues at stake in Surveillance, by Cida de Aragon, Christine McCombe and Phil Heywood, are made self-evident by its title. Yet the experience of the work is considerably more benign than that of the mechanisms which actually observe our uses and abuses of so-called public space.
Similarly, Ticket Booth, by Michael Littler and Michelle Wright, mutely transmits an idea about the economic control of public space – an idea that may or may not be picked up by the hundreds of people who will stroll by it along the corporately administered riverfront promenade. Some may react to its Hopperian solitude, particularly in the evening as it lights up from within.
Other works are more directly playful in intention and/or outcome. Picture Perfect (Emma Termont-Schenk, Sarah Nesbit, Amie Batalibasi) very elaborately presents a [nobr]faked-up[/nobr] view of a part of the city as perfectly symmetrical down to the movement of its inhabitants. It summons a memory of its distant relative, nineteenth-century stereoscopic amusements.
Scribble, by Marian Drew and Simon Laws, also located along the Southbank riverfront promenade, is a tangle of nylex garden hoses (complete with the little orange tap connecters) choreographed by the influence of breeze and movement on the river's surface, spraying arcs of river water pumped up from below. While founded on an idea about the residential occupation of certain "forgotten" spaces by the homeless, the accelerated fading glory of Dining Room, by Simone Eisler and Andrew Steen, offers a delicate and engaging image of the city as a place which could be furnished and decorated as you would a domestic interior.
Negotiations are underway to have ART + ARCH infinite included as a key event within future Brisbane Festivals. Lehmann's enthusiasm for the potential of the project to transform our urban experience is infectious and subsequent iterations, if met with greater financial support, could see, if only for a few weeks, our city more densely inhabited by provocative, engaging works of ephemeral art.
SHEONA THOMSON IS A LECTURER IN ARCHITECTURE AT QUEENSLAND UNIVERSITY OF TECHNOLOGY.
ABSOLUTELY PUBLIC
, A COMMENTARY PARTNER PUBLICATION, EDITED BY STEFFEN LEHMANN, WILL BE LAUNCHED LATER IN THE YEAR.