First built in the 1970s as a sixteen-storey office block , this building on the corner of Hay and King Streets in Perth has undergone two major transformations in its lifetime. In 1997 the bright blue office building was converted into a 4.5-star 245-room hotel under the Rydges banner. In 2016, that hotel closed for a major overhaul and in 2017 it reopened as the Intercontinental, a five-star 240-room hotel with a penthouse suite designed by Woods Bagot and Chada.
The project was overseen by Eva Sue, associate principal at Woods Bagot, who remembers the distinctive blue building from her childhood. Along with her team, she has injected a new level of sophistication and glamour with a distinctly Western Australian flavour, following twelve years spent working on hotel and resort projects in London and Europe.
"This was an iconic building and we were pleased it was being saved and not pulled down," Sue says. "With Perth changing – Kings and Yagan Squares recently opened – King Street is becoming a popular thoroughfare again. It's a pleasant street thanks to the impressive trees, yet many people didn't know about it. It feels a little bit European in scale … and the buildings across the street connect to arcades and back lanes, so we saw this as an opportunity to strengthen the cityscape that's reconnecting King Street opening to Northbridge."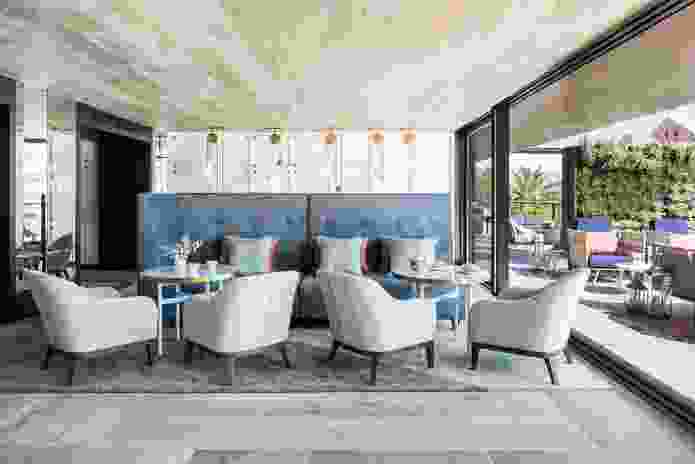 In its first reincarnation, the building's first floor was extended toward the street to create a bar and bistro – the hotel's only food and beverage offerings – but in this latest project, the entire ground floor has been opened up to host several independent cafes and restaurants, including the hole-in-the-wall coffee spot Graffiti – with retractable floor-to-ceiling doors. Designed by specialist food and beverage designers EDG, these tenancies on the busy corner deliberately take advantage of generous footpaths to draw in a passing parade of foot traffic.
As the first hotel in Perth to offer a club suite, the Intercontinental is highly service driven, and that approach is evident throughout. Public spaces, including the first-floor function space and bar and top-floor club Suite, are situated on the northern and western elevations where they overlook Hay Street's Victorian and Art Deco facades and the Edwardian Baroque detailing of the adjacent His Majesty's Theatre.
The hotel's proximity to the theatre and its relationship to that beloved institution was a driving factor in the design, which includes a curtain-like gold metallic screen that wraps around the podium on both street frontages to impart a new gravitas to the building's main entry.
Inside, the new stair that connects the ground and first floors echoes the grand staircases of the theatre in a more understated way. "This is a public space, not just a hotel-only space. People come here for meetings and to meet their friends," Sue says. "We fought hard to install the stair instead of just a lift, which would have made it challenging to make the space feel relaxed, and the front doors – which are not a standard product – required extra engineering to make them work.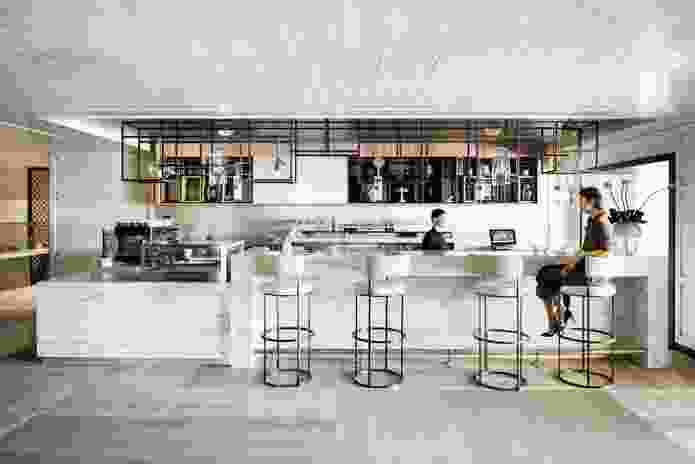 "We feel vindicated because all those key decisions ended up delivering a much better experience, because they are all bespoke and designed to suit this project."
Woods Bagot undertook the early concept for the interior design with Chada, and the main challenge was to contend with the rigid structure of the existing base building. The design overcomes those limitations to create comfortable and inviting spaces that maximize luxury in a relatively compact footprint. For example, in the bedrooms, efficient custom-designed open joinery incorporates hanging racks, luggage storage and drawers for the mini-bar, safe, and tea and coffee facilities in an unobtrusive way. In the bathrooms, the use of glass walls helps to maximize usable space and diffuse natural light, while floor-to-ceiling shelving provides sufficient storage for guests without making the space feel cramped.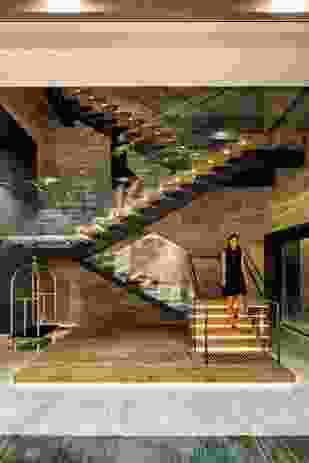 Western Australia's mineral riches inspired the colour palette of soft neutrals with highlights of rust and warm metallics. An extensive collection of art commissioned in conjunction with Perth-based Linton and Kay Galleries graces each floor; there are three pieces in each room. Special attention has been paid to styling throughout the building, with a curated collection of three thousand books displayed throughout to impart a feeling of hominess.
The building's distinctive bubble windows are represented internally as a motif, while the themes of nature and flora are evident in the artwork, including an installation in the main lobby jointly developed by Sue and glass artisan Gerry Reilly, called Forest Drift, which comprises seventy-six hand-blown glass leaves.
"The level of delicacy in some of the pieces came as a surprise," Sue says. "Every stone is hand chiselled. There is a high level of workmanship and craftsmanship in the project. You can 3D print anything now, if you want to, but we wanted to go back to an analogue feel."
Intercontinental is part of a recent hotel boom in the west, one that includes the introduction of the unique Alex Hotel and more recently Tribe and The Westin. Perth has added more than 1,800 rooms since 2012, with a further two international chains due to open new venues by 2020. With its focus on what makes Western Australia unique, the Intercontinental has set a high design benchmark and demonstrates that Perth's existing buildings can be given new life under careful design stewardship.
Products and materials
Walls and ceilings

Timber plank feature ceilings by Havwoods and Glosswood. Hand-carved split face limestone lobby walls with feature metal trim. Bespoke square portal feature with custom corner brass. Feature wall finish by Axolotl. General various textured wallcoverings by Baresque, Eurowalls and The Textile Company. Green walls to terrace.
Windows and doors

Custom-designed bespoke blinds and curtains supplied and installed by Focal Pacific. Custom retractable bifold glazed doors to ground-floor restaurant and bars.
Flooring

Timber floor parquetry and wall panelling from Havwoods and Woodpecker Flooring. Timber Tech porcelain floor tiles from Stoneworld. Stone floor in public areas from Santa Caterina Travertine. Engineered stone in guest rooms from Smartstone. Custom-designed carpet manufactured and installed by Brintons. Custom-designed rugs by Tappeti.
Lighting

Bespoke lighting designed by CHADA, manufactured by Light Force and Aglo Systems. Polar wall light by Ross Gardam from Stylecraft. Multi Lite pendant by Gubi. Plass table lamp by Foscarini. Secto wall lamp.
Furniture

Bespoke furniture designed by CHADA, manufactured by Fairmont Designs. Bathroom: Envy and Ellisse taps, mixers and accessories from Parisi.
Other

Lobby feature stair is in reclaimed timber with integrated lighting, formed custom brass handrails and fittings, frameless glass.
Credits
Design practice
Project Team

Woods Bagot: Linda Randall, Eva Sue, Charl Testa, Yow Voon Choong, John Liddiard, Rowan Gilbert, Camila Giacoia, CHADA: Juliette Ashworth, Rick Whalley
Design practice

Chada
Sydney, NSW, Australia
Consultants
Site details

Location Perth, WA, Australia
Site type Urban
Category Commercial / public buildings
Type Hotels, Refurbishment

Project Details

Status Built
Completion date 2017
Design, documentation 19 months
Construction 14 months

Source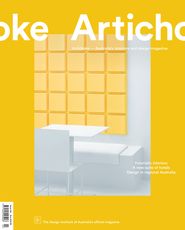 Issue
Artichoke, September 2018
Related topics