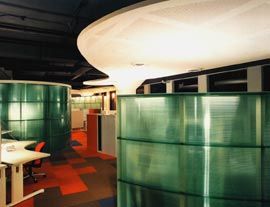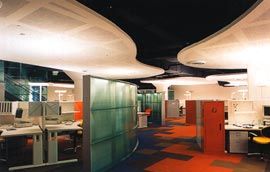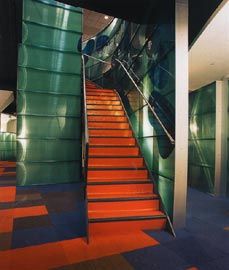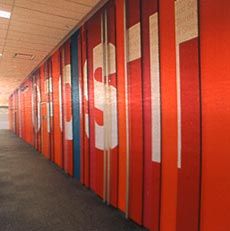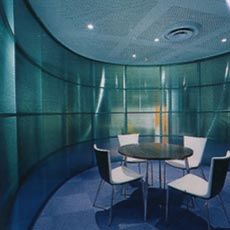 The plan of H2o Architects' recent office fitout for Australia Post is densely packed with fragmented mosaic patterns, and richly embroidered with sinuous lines. But the sections are almost featureless. Compared to the sparse slot of space described in section, the planar organisation has an exaggerated, almost ornamental, complexity. Reading these drawings together is surprising. How can so much information about the project be contained in one dimension and not the other? How is it that the interest lies almost exclusively in the horizontal plane?
But this surprise quickly subsides. The almost exclusive investment in the plan – and relative neglect of the section – has typified almost all generic office space, ever since structural and servicing technology enabled spaces distant from the building envelope to be conceived for human occupation. The first highrise buildings in nineteenth-century Chicago and New York – steel framed, served by elevators, and mechanically ventilated – allowed office work to uproot itself from naturally ventilated building edges and take up residence in everdeeper spaces within the building volume.
This process began to effectively "lobotomise" architecture, as Koolhaas once put it. The traditional relationship between a building's internal functions and its external expression was gradually severed as interiors became more and more voluminous. This lobotomised state heightened the sense of interiority within the building, and with it, engendered a new sense of freedom. Single floors now presented vast internal frontiers to be explored. Everyday office life roamed across infinitely repeatable floor plates producing novel spatial formations in the process. Surely, it is this horizontal expansiveness that accounts for the sharp dichotomy between plan and section at Australia Post's new premises.
But the lobotomy performed on this office space for Australia Post is of a very particular kind. Having already added an attic storey to Australia Post's Processing Centre building in 1999, H2o Architects were recently asked to accommodate an additional 150 personnel in the car park basement of the same building.
Not only is this interior space disconnected from the outer edge of the building fabric, the office space is subterranean.
Basements have always been figured as licentious kinds of spaces – from Frankenstein and Freddy Krueger to Freud and Bachelard – in which the unconscious is untethered and where strange experiments take place. H2o have taken advantage of the licence that the basement affords. They have taken the generic story of the "lobotomised" office and exploited its inherent character in a basement experiment of their own. This experiment has produced a set of interconnected spaces that unfold organically with little relation to the order of the external building – the traditional corner office is gone and various strata of staff mingle on the one, seemingly egalitarian, plane. Further experiments are conducted with light. The already complex spaces are animated in intriguingly theatrical ways with subtle patterns of light projected against cloud-like suspended ceilings. Here, in this basement in West Melbourne with its patchwork spaces gathered under subterranean clouds, lurks the germ of an idea that will perhaps find its way back into the story of the generic office space.
Credits
Architect

H2o Architects
Collingwood, Melbourne, Vic, Australia
Project Team

Tim Hurburgh, Mark O'Dwyer, Sofia Anapliotis, Peta Heffernan, Matilda Blazey, Chris Johnston, Ari Indra, Shamus Mulcahy
Consultants

Access consultant Access Consultants
Acoustic engineer Watson Moss Growcott
Building surveyor PLP Building Surveyors & Consultants
Construction Eveready Partitions
Graphics Image Box
Landscape designer Tract Consultants
Project manager Montlaur Project Services
Quantity surveyor WT Partnership
Security consultant Australia Post
Services engineer Kuttner Collins and Partners
Structural engineer Kinhill Engineers

Site Details

Location Rosslyn Street, West Melbourne, Melbourne, Vic, Australia

Project Details

Status Built
Category Commercial, Public / commercial
Type Workplace

Client

Client Australia Post, supply chain and property solutions division.

Source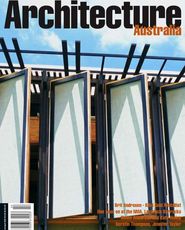 Issue
Architecture Australia, March 2002
Related topics