Photos by Trevor Fox
Review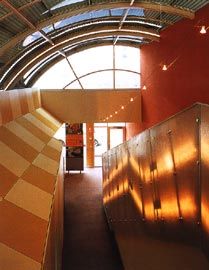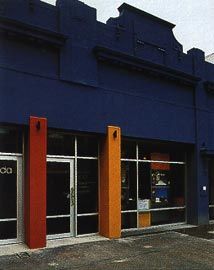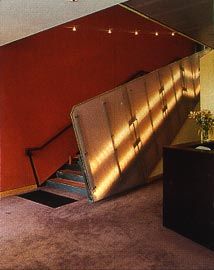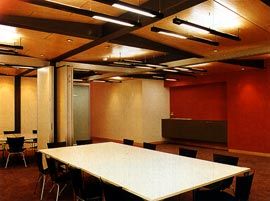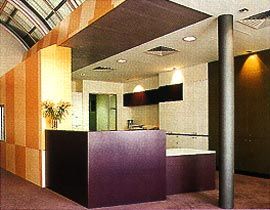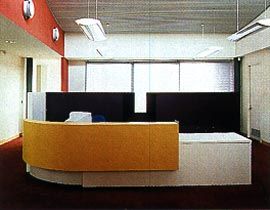 The RAIA's South Australian Chapter office and Archicentre have relocated from the suburbs to the inner city. They now occupy a building refurbished by Phillips/Pilkington at 100 Flinders Street, previously the Fishcaf restaurant. This represents two giant leaps for the profession's public presence in Adelaide. Firstly the refurbishment itself is very impressive, and secondly the new location represents a physical and symbolic move from the periphery of town to its centre. Previously located on the suburb side of the parklands in less than suitable accommodation, the RAIA is now in the midst of an emerging design precinct. This contains many prominent architectural and interior design practices along with several excellent furniture and interior design businesses, all within easy walking distance.
The Archicentre shopfront now has a steady stream of people actually walking past it instead of fronting a deserted stretch of suburban footpath. Hopefully the central location will also work well as a point of contact for prospective corporate and commercial clients, as well as those who want an architect to design their new house.
The refurbishment and interior fitout itself is striking and show cases contemporary building materials, elements and systems, many of which were supplied and installed gratis as part of complicated sponsorship arrangements with industry. The existing building fabric has been largely retained and upgraded, including part of a huge, once-openable, glazed, barrel vaulted roof, part of an earlier refurbishment under which piscatorial delights were served. This vault has been covered with perforated corrugated sheet and polycarbonate to reduce heat load and glare.
To create a separate shopfront tenancy, now occupied by a swish lighting shop, a skewed bisecting wall has been built to divide the original volume, a bold and, from a detailing point of view, tricky thing to do.
This wall, painted in Simpson Desert red, becomes an organising device for the spaces and activities on both sides. At ground floor it creates a visual and circulatory axis between back and front, similar to an inner city laneway. In fact a snippet of laneway elevations, including graffiti, are visible from the entrance, allowing a touch of grit to penetrate the interior. Downstairs, the rear of the building contains toilets, storeroom, a kitchen and a meeting space that can be reconfigured with a system of moveable folding room dividers.
The chapter offices are situated upstairs at the rear of the building under a raised roof with a curved perforated ceiling.
One of the most striking things about this design is its use of intense colour, something that many architects are wary of.
Here it is handled with confidence and creates a vibrant ambience. This is not a "tone on tone" colour scheme. Intense, contrasting and complimentary may be better adjectives to describe the extensive use of both laminate and paint colours throughout the building. In contrast, the lighting shop next door uses a white interior (with the exception of the dividing wall) with splashes of colour created with light fittings.
While I am sure that most architects and interior designers will understand and enjoy the integrity and boldness of the colour scheme, it is difficult to predict what those seeking advice on residential architecture will make of it. There is certainly no attempt to create a "residential" ambience in Archicentre. This must be a relief for those architects who end up with referred clients as, by following this path, these clients have already taken the first bold step towards an architectural outcome for their project. Only time will tell if the hitherto architecturally unwashed, now more likely to come into contact with Archicentre, will also take the plunge.
Clearly one of the aims of this move to the big end of town is to raise the profile of architects and what they do. This will inevitably raise issues with members and non-members alike as to what image of architecture the Institute is presenting to the public. It will be interesting to see if there is a shift in the ratio of members to nonmembers among the architectural community in South Australia as a result of the move to a more commercial and corporate setting. Industry sponsors of the project can only be extremely happy with the result and on balance it must be highly commended. As an academic, it will also be worth watching to see if the Institute now capitalises on its proximity to both Adelaide schools of architecture to offer students more opportunities for involvement in its activities and enticements to become student members. In case any of them have difficulty climbing the elaborate steel and concrete stair to the chapter offices on the first floor, as I did while researching this piece (being on crutches with an injured foot), I suggest that it might be a priority to install a lift into the waiting lift shaft.
Sam Ridgeway is a lecturer in architecture at the University of Adelaide
Project Credits
RAIA SA Chapter Offices
Architect Phillips/Pilkington—project team Michael Pilkington, Susan Phillips, Nigel Miller, Suzanne Hall, Amy Hallett, Darren Kaye, Matt O'Brien Structural Engineer John Bowley Consulting Engineer. Services Engineer Bassett Consulting Engineers with Ashley Hallandal & Associates. Cost Consultant Davis Langdon Australia. Construction Manager Built Environs.