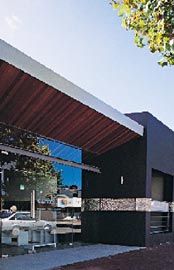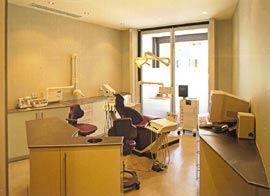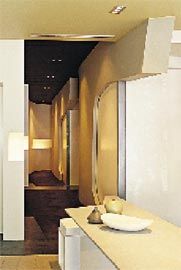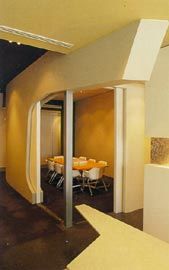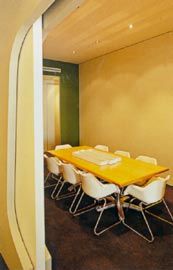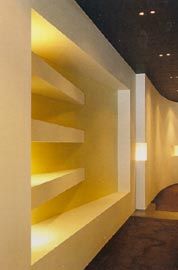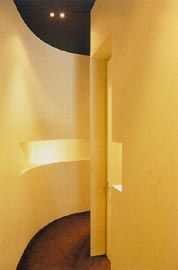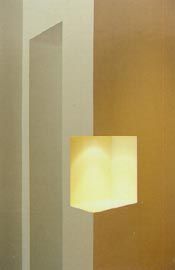 Dentist Hooman Golestani firmly believes ›› that dental surgery is a form of art. He ›› engaged his brother, Hootan Golestani, to ›› materialise this idea – to design his dental ›› surgery as an art gallery. For Hootan this ›› was the kind of ideal commission young ›› architects dream of.
Hooman purchased a single-storey ›› showroom in Subiaco, a relatively ›› cosmopolitan part of Perth. The existing ›› shopfront has been remodelled as a ›› recessed, yet engaging, "art gallery" entry.
Dental profession protocols, like those of the ›› architect, do not allow dentists to ›› "shamelessly" advertise their practice. In ›› other words, the size of business signage ›› has a limit. Here, the sign "dental 359" – ›› lined up with a stripe of stainless steel ›› mosaics – remains "tastefully obscure", ›› while the architecture itself announces this ›› practice's difference.
The "double possibility" of dental surgery ›› and art gallery is achieved by dividing the ›› skinny, deep interior longitudinally, into a ›› sandwich. A slightly curved wall/shelf ›› defines the gallery/corridor zone; the middle ›› zone consists of the reception and two ›› meeting rooms, with sliding doors that can ›› be fully opened to cater for gallery functions;
the dental surgery itself comprises the ›› enclosed third zone. From the enclosed ›› main surgery room, the silhouette of the ›› small, street-front "Zen" garden is visible ›› through the opaque glass.
The chain of "double possibilities", the ›› relationship between dentistry and art ›› developed in this project, may shed some ›› light on an age-old dilemma: is craft a form ›› of art? Hence, architecturally, should a ›› "bicycle shed" also be a work of art.
Incidentally, social anthropologist Alfred Gell ›› writes that the craft virtuosity of a dentist is ›› appreciated in much the same way as that ›› of a good Maori tattoo artist – we go to a ›› dentist for his or her excellence in filling, ›› crowning and bridgework. Gell also ›› recognises that we do not prize a dentist's ›› work in terms of artistic individuality. But is ›› artistic individuality the only measure of the ›› art work? In The Mirror of the Sea, Joseph ›› Conrad offers hope for both dentists and ›› architects. Conrad tells us that, as well as ›› simply "bread-winning", the craftsman's ›› "honour of labour" pushes "skill with ›› attention to the most delicate shades of ›› excellence…. But there is something beyond ›› – a higher point, a subtle and unmistakable ›› touch of love and pride beyond mere skill;
almost an inspiration which gives to all work ›› that finish which is almost art – which is ›› art." If a dental surgery can be an art ›› gallery, any building, despite its specific use, ›› deserves to be made as a work of art. This, ›› however, requires attention to the finest ›› shades in the craft of architectural design.
In the context of the current sober, ›› minimal and yet expensive architectural ›› taste, which is almost a collective legitimacy ›› for architects, Hootan is shy about the ›› symbolic annotations in his design: the ›› tooth-shaped meeting room doorframes, the ›› shining stainless steel mosaic stripes, the ›› interlocking tendency among the elements, ›› and the whiteness. Fortunately, historian and ›› theorist Mark Wigley has reminded us that ›› modernist whiteness, for example, had ›› specific social and political meanings. This ›› dental surgery, once again, has proved that ›› architecture can still be an art of imitation.
After architects have lost their power to ›› engineers, technicians, economists, ›› politicians, developers and owners in ›› shaping cities and buildings, what else can ›› they do, other than stimulate people's ›› imagination.
Hootan's shyness in handling the ›› figurative elements has, intuitively, resulted ›› in a delicate shade between images and ›› architectonics. This entangled nuance is, ›› perhaps, the art of architectural design that ›› is worthy of pursuing. Artistic genius, ›› "purist" Kant warns us, must be tamed with ›› "good taste" in order to avoid producing ›› nonsense.
Dr Xing Ruan is a senior lecturer at Curtin ›› University of Technology ›› Top The enclosed main surgery retains a ›› connection with the outside via the silhouette of ›› the small street garden seen through opaque ›› glass. Above left to right Shelves and niches in ›› the gallery/corridor. Photos James Rogers.