EMIL SODERSTEN AWARD FOR INTERIOR ARCHITECTURE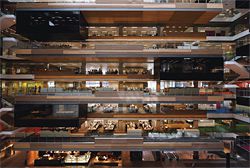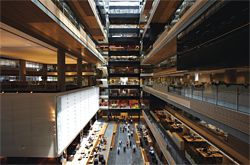 ANZ Centre by Hassell
JURY CITATION
In the ANZ offices we find a vibrant and dynamic workplace and community for 6,000 people at Docklands. From the beginning the architect and client worked together to understand the existing workplace culture and how they could function more effectively in a flexible, connected way. At 83,000 square metres, shared spaces are organized in and around the central atrium and include meeting rooms, breakout spaces and a 250-seat theatre. North- and south-facing office spaces also adjoin the atrium.
Much thought has gone into wayfinding, the creation of destinations and the lengthening, framing and foreshortening of views to achieve human scale in what is otherwise a very large building. Objects and volumes in the atrium and the use of a mixture of materials have aided this outcome. Engineering solutions are impressively integrated into the whole, for example fire and smoke management allowing contiguous atrium and office floors. Floor displacement air is one of a range of initiatives that reduce the building's energy consumption. Water is recycled and stored and renewable energy generated.
The end product is as much an exercise in human relations as it is architecture and the architects have created a flexible building for a business and for work practices that continue to change and adapt to the needs of this ANZ community at Docklands.
Images:  Earl Carter.
NATIONAL AWARD FOR INTERIOR ARCHITECTURE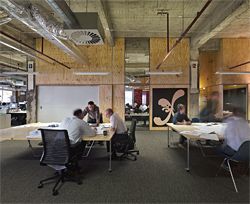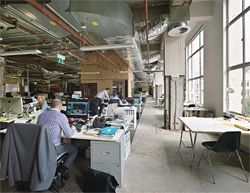 Lyons Architecture Office by NMBW Architecture Studio
JURY CITATION
How does an architect create an environment for their architect client that expresses and fosters the culture of the practice, their stewardship as an employer, the need to nurture the creative process and sustainability?
NMBW worked with their client to understand their workplace needs and the result is a relaxed environment that the practice can inhabit. What is unique about this project is that it begins with an understanding of the potential of the existing building, a former department store with generous floor-to-floor height and large windows in the masonry facade. Ceilings were removed and all services exposed in an unfussy way. Nothing is wasted in this low-budget fitout. Simple plywoodclad meeting rooms, meeting tables with trestle legs and concrete floors all come together to create a raw aesthetic that allows architects equitable access to daylight and spaces to interact, create and comfortably spread out their project workings. Several special pieces of furniture and commissioned artworks act as an elegant counterpoint to this rawness. Dark walls set off an otherwise standard low-cost services aesthetic, while bike racks and bikes in the foyer frame arrival from the lift. A true open-plan design studio, this fitout is a reflection of a strong social agenda by the practice directors. It is a simple, generous, sustainable solution that takes interior architecture to a new edge.
For full coverage see Artichoke 31.
Images: Peter Bennetts.
NATIONAL AWARD FOR INTERIOR ARCHITECTURE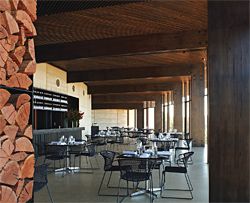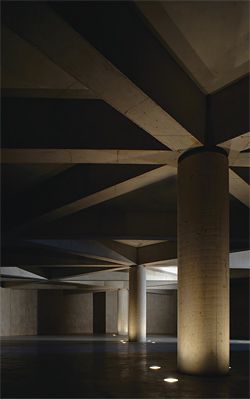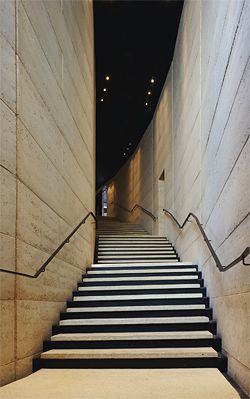 Port Phillip Estate by Wood by Marsh Architecture
JURY CITATION
Port Phillip Estate is a contemporary framing of the traditional European vineyard. Materials are warm and rustic, including exposed aggregate concrete floors and heavy timber portal frames, all designed to entice the visitor to stay a while. There is a sense of mystery on arrival, with high walls concealing what lies beyond. As the building's primary organizing element, walls of rammed limestone screen the car park, aid cellar conditions and combine or contrast with the other materials used in the fitout. Embraced by limestone walls, the restaurant, wine-tasting rooms, accommodation, laboratory, wine bottling and cellaring facilities are oriented to panoramic views of the estate and its surrounds, underscoring the relationship between the structure and the vineyard.
The estate's food, wine, reputation and hospitality are housed within a fine example of high-quality interior architecture that is a valuable addition to the region's tourism offering.
Images: Earl Carter.
Credits
Project Team

Robert Backhouse, Ken Mahar, Bronwyn Pratt, Paul Yousseph, Neil Morrison, Jano Yousseph, Anthny Aguis
Architect

Hassell Melbourne
Melbourne, Melbourne, Vic, Australia
Consultants

Acoustic consultant Marshall Day Acoustics
Builder Lend Lease
Building certifier PLP Building Surveyors & Consultants
Environmental consultant Lend Lease Design
Environmental graphics and wayfinding Fabio Ongarato Design
Fire engineering and mechanical design overview Norman Disney Young
Lighting consultant Lend Lease Design
Mechanical, electrical, security, communications, audiovisual Umow Lai Melbourne
Structural consultant WSP
Workplace advisor DEGW

Site details

Location Docklands, Vic, Australia
Site type Urban
Category Interiors
Type Commercial, Workplace

Project Details

Status Built

Client

Client ANZ
Website http://www.anz.com.au/personal/

Products and materials
Walls and ceilings

C–D grade structural plywood linings. Woven Image Ecopanel pinboard surfaces. Aluminium cladding.
Windows and doors

KDHW stud framing. Lidi custom external blinds. Henderson sliding door tracks and fitting. Sikkens Cetol HLS Ebony stain. Reclaimed Lockwood door furniture.
Flooring

Ontera recycled carpet tiles.
Lighting

Superlux Equipose clamp-on desk lamps. Zumtobel Miral strip lighting. ECC Parallel spot lighting.
Furniture

Custom-designed tables, joinery and bicyle racks by NMBW. Laminex kitchen benchtops. Loose furniture, mobile light fittings and artwork by Carey Lyon and Corbett Lyon.
Related topics