Emil Sodersten Award for Interior Architecture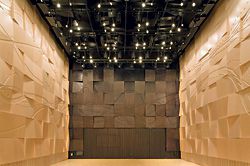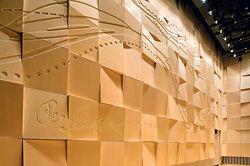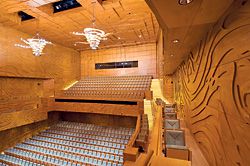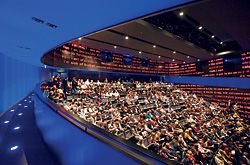 Melbourne Recital Centre and Mtc Theatre Project
Ashton Raggatt McDougall

JURY CITATION
Located across a wide street from the sombre bluestone rear walls of the National Gallery of Victoria, this complex contains the most significant new performing arts venues in Melbourne.
Easy access and effective egress are givens, along with sizeable lobbies and public areas, and a functional back of house. The most important aspect of the development is the performing arts spaces, their adequacy, sightlines and acoustics. All three are effectively boxes within boxes, isolated from the outside world and the ground to minimize noise and vibration transfer.
The grandest of the three spaces is the Elisabeth Murdoch Hall at the MRC, which follows the traditional double-cube volume and intensively modelled walls beloved by performers for the clear rendering of music. Stepped seating provides good sightlines to the artists. The walls and ceiling have a distinctive contoured plywood panelling, floors are of hardwood, and the ceiling can retract and adjust for different effects. Timber chandeliers punctuate the grand volume.
A leading concert pianist has told the jury that the Hall is a delight to play in, particularly suited to chamber groups, string players and anything in the upper register. In essence it was specifically designed to suit quality chamber music and ensemble playing. It is described as having a sparkling acoustic quality, "which obliges the audience to be rapt".
The Salon at the MRC is a fundamentally flat floor box, designed for musical clarity, lined with angled and articulated timber panels and inscribed with words and symbols recalling Melbourne's musical prodigy Percy Grainger.
The interior of the MTC theatre reflects the illusionary nature of theatrical performance. Its perforated perimeter walls can be backlit to graphic effect. The theatre provides first-quality facilities for a prominent theatre company. All three performing arts venues achieve a very high standard of architecture in terms of excellent functionality within distinctive and memorable interiors.

Architect
ARM—project director Ian McDougall; design director Howard Raggatt; design architect Neil Masterton, Andrew Lilleyman; project architect Peter Bickle; interior architect Andrea Wilson; MTC team leader Stephen Davies; MRC team leader Rhonda Mitchell; theatre architect Will Pritchard; site architect Doug Dickson

Acoustic consultant
Arup

Services consultant
Umow Lai

Structural consultant
Bonacci Group

Hydraulic consultant
Rimmington and Associates

Fire engineer
Thomas Nicolas

Landscape
Rush\Wright Associates

Environmental consultant
Irwinconsult

Signage and graphics
Vivid Communications

Lighting consultant
Electrolight

Facade engineer
Connell Wagner

Builder
Bovis Lend Lease

Project manager
Major Projects Victoria

Cost consultant
Rider Levett Bucknall

Building surveyor
McKenzie Group

Planning
Urbis

Photographer
John Gollings


For further coverage see Architecture Australia vol 98 no 2, March/April 2009, and Artichoke 26.
National Award for Interior Architecture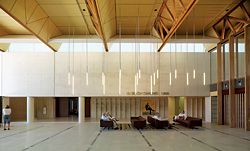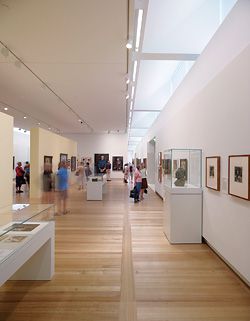 National Portrait Gallery
Johnson Pilton Walker

JURY CITATION
The National Portrait Gallery is an important and worthy addition to the national capital and provides a well-resolved sequence of carefully modulated spaces, well suited to the display of art.
The entry is positioned to capture visitors, both those from King Edward Terrace and those coming across the elevated workway from the National Gallery. A sheltered forecourt, then a low-scaled storm porch, presage the handsome Gordon Darling Hall, with its generous outlook towards the tree-lined Parliamentary Axis. Triangulated roof trusses, raked plywood ceilings and rich timber door frames make the space memorable, but like the whole of the building, an understated calm prevails.
The galleries themselves are relatively plain and lofty spaces – in part, anonymous vehicles for their special contents – but with their ceilings tilting upwards along their edges to admit gentle, tempered light. The playful ceiling forms add visual interest to the galleries and main spaces without distracting from their primary purpose. Other spaces, such as the conference rooms and the cafe, are carefully and neatly resolved. Visitors are unaware of the vast basement, which keeps deliveries, parking and art storage out of sight.
Every major space is interspersed with a transitional interlude, which works in part like a deep wall, while also offering distant glimpses of the park setting.
Given the immediate public interest in and support for the National Portrait Gallery and the constant stream of visitors, the jury noted that the building is already brimful and may require enlargement in the foreseeable future.

Architect
Johnson Pilton Walker—directors in charge Richard Johnson, Graeme Dix; project architect Adrian Yap; project team Mark Berlangieri, Naigel Carusi, Andrew Christie, Andrew Clemenza, Andrew Daly, Monique Clark, Wayne Dickerson, Jorg Hartig, Meiling Honson, Mathew Howard, Dickson Leung, Timothy Osborne, Georg Petzold, Adrian Pilton, Duncan Reed, Roger To, Carlie Waterman

Acoustic, civil, structural and fire engineer
Arup

Electrical, lighting, environmental, mechanical and security consultant
Steensen Varming

Building surveyor
Advance Building Approvals

Communications consultant
Webb Australia

Cost and programming consultant
Provided by Commonwealth

Hydraulic consultant
Warren Smith and Partners

Vertical transport
Norman Disney and Young

Access consultant
Morris Goding

Food and beverage consultant
Sangster Design Group

Builder and construction manager
John Holland Group

Project manager
APP, for Department of Finance and Deregulation

Photographer
Brett Boardman


For further coverage see Architecture Australia vol 98 no 2, March/April 2009.
National Commendation for Interior Architecture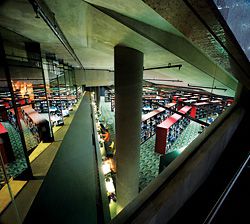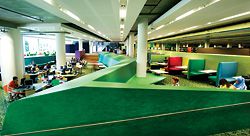 Jane Foss Russell Building
University of Sydney
John Wardle Architects in association with Wilson Architects and ghd

JURY CITATION
The Jane Foss Russell Building and its walkway over City Road are part of the University of Sydney's scheme to upgrade and enhance the artery linking the historic campus and the Darlington campus. This development was seen as an important pivot entity along the route and was the subject of a major competition. In essence, Wardle's winning design featured an active student square along the route, a major library taking up the slope under the square, and an array of university offices overlooking the square. Budget constraints and value management appear to have somewhat compromised the original vision.
The library is the most successful element of the project, a huge undercroft with a sloping terrain of stepped terraces and ramps, the various areas separated by sculptural "hillocks" formed of sheet linoleum in different colours. The ramps ensure disabled access to all areas. At the top edge of the space is an angled window, an eyelidded opening onto City Road. At the lowest level is a generous "valley floor" with an outlook through trees to parkland. Seating is varied and comfortable; bookcases are open and accessible. Meeting rooms and other enclosures edge the volume, separated from the main library space by glass walls, with individual sheets in subtle, muted colours.
The library interior represents a new age of free-form, free-expression study, all at a vast remove from the formal libraries of old, with their galleried rectilinear interiors, secure books and deathly hush. It provides an interesting new model for libraries and one worthy of further review and refinement.

Architect
John Wardle Architects in association with Wilson Architects and GHD—design and project architect John Wardle Architects; consulting architect for construction phase GHD, Sydney; consulting architect for library Wilson Architects

Services and lighting consultant
Lincolne Scott Australia

Lighting consultant
Vision

Environmental consultant
Advanced Environmental Concepts

Facade consultant
Arup Facades

Structural, civil and town planning
GHD

Traffic consultant
Masson Wilson Twiney

Acoustic consultant
PKA Acoustic Consulting

Cost consultant
Davis Langdon Australia

Builder
Abigroup Contractors

Photographer
Patrick Bingham-Hall


For further coverage see Artichoke 26.