HOUSE ON ROCHALIE DRIVE, SINGAPORE
WOHA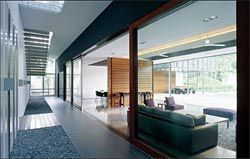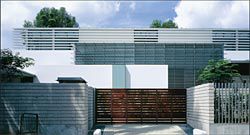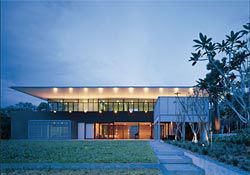 JURY CITATIONThe desire of an old couple to sit in comfort and enjoy the activities of their visiting family at play outside generated a unique programme for this substantial house. The client, an 85-year-old, required the house to provide for his love of natural ventilation, and wanted space enough for large parties.
The concept for the house developed as a huge veranda, closed to the street and open to the lawn and gardens of the site beyond. Beneath a grand cantilevered roof form are two levels of accommodation. The ground floor provides all the client's living requirements, while the upper level is for visitors.
Materials are understated and modest – concrete, plaster, glass and timber. They express the values of a self-made man who, by his own labour, from a poor immigrant's beginnings, accumulated his fortune and supported the creation of this beautifully crafted, 1,000-square-metre house.
The open spatial sequence of one and two stories develops seamless indoor/outdoor relationships, and borrows from the traditional vernacular details that respond to the constant heat and humidity of Singapore. This pavilion of lightness and transparency supports life without airconditioning in a grand colonial manner, and develops a contemporary architecture appropriate to its tropical climate.
It has a distinctive and elegant expression that is born from the historical culture of the place.
HOUSE ON ROCHALIE DRIVE, SINGAPORE
Architect WOHA—project and design architect Richard Hassell, Wong Mun Summ; project team Stephen Sargent, Timothy Tan, Puiphai Khunawat, Punpong Wiwatkul, Tan Chee Sing.
Structural consultant Worley.
Electrical and mechanical consultant WSP Asia. Landscape consultant WOHA.
Cost consultant A. Peter Tan Associates.
Photographer
Tim Griffith.