Green rolling hills and gabions set into roof structures (California Academy of Sciences by Rana Creek Living Architecture), "brown roofs" imitating the nearby industrial brownfield habitat (New Providence Wharf by Skidmore, Owings and Merrill), and green roof structures with integrated photovoltaic systems, gravity-fixed to the roof with the ballast of the vegetation substrate (Etrium Cologne by Benthem Crouwel Architects): the projects presented at the 2009 International Green Roof Congress in Germany showed an impressive range of possibilities and new developments in green roof technology. The extent of research undertaken during the planning and design phase of these projects, as well as the collected data capturing the performance of the constructed green roofs, was remarkable.
One of the outstanding projects presented was the California Academy of Sciences, a collaborative work by Renzo Piano Building Workshop and Rana Creek Living Architecture, which received a Leadership in Energy and Design (LEED) platinum award. A three-year design process, the construction of living roof mock-ups and extensive plant research enabled the realization of the 18,302-square-metre green roof. Four steeply sloped domes replicating the mountainous topography of the area evoke the impression that the surrounding park has been lifted up. The living roof is the largest in the San Francisco area and is planted with a diverse selection of indigenous plants that aspire to enhance the biodiversity and attract wildlife. Publicly accessible, the green roof provides a living exhibit for a museum that educates visitors about urban ecology and green architecture.
As became apparent during the congress, there is more to creating successful green roofs than new technologies, creative design and extensive research. Technical standards, planning regulations and individual green roof policies by local governments have proven essential to advocate green roofs and to ensure long-term performance. The thriving green roof industry in Germany (widely acknowledged as one of the world leaders in green roof construction with experience going back decades) is based on a framework of technical standards, green roof regulations and policies. The German FLL Green Roofing Guideline, presented by Gilbert Lösken, defines minimum quality and work performance standards and can assist in avoiding failures and damages. The guideline covers both construction and vegetation aspects. Product development, academic research and a broad professional discussion are essential to obtain the technical knowledge required. Lösken suggests the green roof debate should include landscape architects, engineering disciplines, product manufacturers, contractors, academics such as horticulturalists and environmental scientists, and industry groups. In this way, the negotiation of the sometimes conflicting interests of the parties involved can ensure a balanced outcome. In Australia, the integration of green roof guidelines into existing standards and national building codes would result in a wider acceptance of the guidelines and increased confidence of clients and contractors in the construction of green roofs.
Proactive involvement of state and local government is another important factor for the success of the green roof movement. As explained by the director of the International Green Roof Association, Wolfgang Ansel, the German Government provides the legal framework for green roof policies by integrating requirements into planning, building and environmental regulations such as the Federal Nature Conservation Act. Therefore local authorities can adapt a variety of different initiatives to establish individual green roof policies, combining both incentive-based and regulatory instruments. Those policies range from start-up grants for the construction of green roofs to legal requirements prescribed in local development plans. The implementation of green roofs can be set as a condition for planning permits, especially for larger industrial and commercial developments. They can play an important role in water management and climate change policies or be part of compensatory measures such as eco accounts. A green roof could also be used as a compensation for habitat loss on the site. For green roofs to be a useful tool as a compensatory measure, the introduction of the technical standards and measurements for the sustainable and ecological value of green roofs are preconditions. Furthermore the integration of green roofs into early planning stages would facilitate a more effective and time-efficient design process as well as avoid the high cost of retrofitting existing buildings with green roofs.
Clever marketing, networking and media communication are further key elements to successful green roof policies. As an example, the City of Copenhagen's local parks and nature department has evolved its strategy to promote green roofs around the UN Climate Change Conference. Taking advantage of the focus on climate change initiatives in the lead-up to the conference, several green roofs have been constructed to kickstart a green roof movement that will hopefully result in an official green roof policy for Copenhagen.
So where does Australia's green roof movement stand? The sustainability and green building movement has generated plenty of media attention for green roofs. Competitions such as Melbourne's Growing Up, the inclusion of green roofs on buildings such as the City of Melbourne's CH2 and the Marine and Freshwater Resource Institute at Queenscliff by Lyons, and local green roof conferences have featured prominently in newspapers and magazines. Research projects at the University of Melbourne and Monash University explore the use of various substrates, the performance of plants on rooftops in our region's unique climate and the efficiency of green roofs in regard to rainwater management and water quality. International suppliers show increased interest in Australia's green roof market and many new products are available locally. While we are still lacking long-term experience and technical knowledge, there is the potential to create a thriving and competitive green roof market as is occurring in Europe and the USA by developing standards that increase the longevity and performance of green roofs. The current public interest in sustainable design and climate change has brought a lot of attention to the green roof movement, but there is still a long way to go to ensure it is not just a temporary fashion.
Source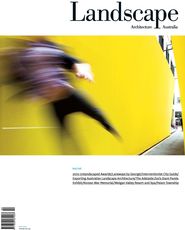 Issue
Landscape Architecture Australia, May 2010
Related topics