International Women's Day Scholarship
Sydney architect Rana Abboud has been awarded the 2013 International Women's Day Scholarship from National Women in Construction (NAWIC).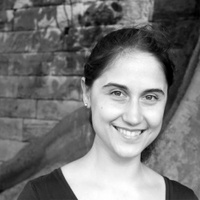 International Women's Day this year is on Friday 8 March. The scholarship, presented at the recent NAWIC International Women's Day breakfast in Sydney in February, offers $10,000 to a woman in the construction industry to develop a research white paper that will, hopefully, lead to change in the sector.
Abboud's research topic is Architecture in an Age of Augmented Reality: AR's Affordances for Design Visualisation, Construction Supervision and Post-Completion Maintenance. It's about merging digital information with real life spaces to show all manner of design propositions.    
"Augmented reality is any system that enhances the surroundings of the user with virtual information – mediating information that you get from computers. It's like a virtual overlay onto existing surroundings in the real world, so it adds context and temporality to what traditional BIM scenarios (which are constructed in isolation in the office) might be showing you," Abboud says.
"A simple example might be that you take your iPad on site and use it to show the client where there might be plumping behind a wall, or how a proposed design or even a suite of furniture might look in the space you're actually in – so you're displaying elements on a site in real time in conjunction with modelling information from BIM."
Abboud will begin by making contact with academics and researchers in Australia and New Zealand, and proceed to a study tour in June/July travelling to the US, Canada, the Netherlands and Switzerland where she'll explore precedents in augmented reality. "It's a new technology that hasn't been used in practice in Australia yet – so I'm looking for case studies overseas that will show how augmented reality can be used here in three specific stages: the design visualization stage; construction, and the post-completion maintenance stage."
Abboud works in the Architectus Sydney studio, currently on commercial buildings in the CBD and Macquarie Park. She started practice in smallish firms workgin mostly on residential projects and "alts & adds".  "I've enjoyed the change of scale from residential to commercial. It was a challenge coming to terms with the lengthier timeframes involved in larger projects, but the reach you get with large projects is immensely satisfying," she says.
The NAWIC is a not-for-profit organization with a mission to raise the profile of women in the construction industry. "It's a great organization, particularly in light of the recent discussion around the gender disparity in salaries – because it renders women in the industry more visible and gives them important opportunities to network."
The scholarship, now in its fifth year, is sponsored by Corporate Culture. This year's submissions were judged by Sheryle Moon (NAWIC CEO), Lisa Dinham (Davenport Campbell), and Laila Mehrpour (2012 scholarship winner).