JØRN UTZON AWARD FOR INTERNATIONAL ARCHITECTURE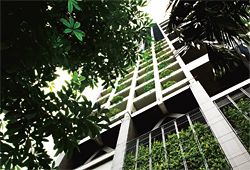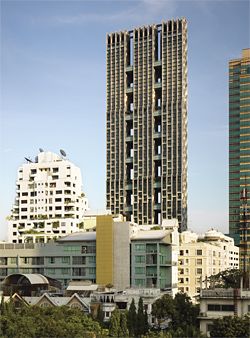 The Met, Bangkok, Thailand by WOHA
JURY CITATION
The Met in Bangkok, Thailand, represents major advances towards a possible future vision of ecologically responsible, highly dense urban housing.
It is often claimed that high-rise buildings, particularly in hot climates, cannot be naturally ventilated, and that if we are to intensify urban density we are therefore doomed to inhabit closed, airconditioned glass boxes. The Met proves that claim wrong by creating tropical houses in the sky, with breezeways, outdoor living areas, planters, gardens and communal facilities on open-air terraces. Innovation and brilliant architectural strategic thinking answer extremely challenging climatic questions. In tropical and subtropical cities and many other urban conditions, high elevation offers more privacy, better views, lower humidity, stronger breezes and less noise and dust than street-level living. In The Met, WOHA has created enjoyable living conditions within an extremely high residential density – a plot ratio of 10:1 – by cleverly staggering the block arrangement to allow all apartments access to light and air on all four sides, enabling living without airconditioning. The sixty-six-storey form, of towers linked by sky terraces at every five storeys, creates a slender, light and porous lattice. Vertical facades are shaded by creeper screens rising up the full height, protecting the apartments and the dramatic yet human-scaled external spaces in the sky. Originality and beauty come together in The Met – a great solution to the issues of density in tropical Asian cities and, excitingly, a model directly translatable to many Australian cities.
Images: Patrick Bingham-Hall (top), Tim Griffith (bottom).
AWARD FOR INTERNATIONAL ARCHITECTURE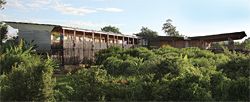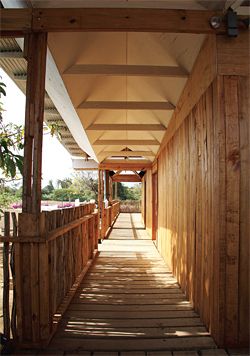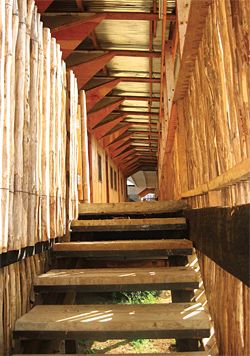 Kesho Leo Children's Home, Sinon, Tanzania by Watson Architecture + Design
JURY CITATION
Kesho Leo, meaning "today, tomorrow" in Kiswahili, is a home and community centre with educational, social and health facilities for eighty women, children and orphans and the wider remote rural community of Sinon in Tanzania. The extremely limited budget and the site configuration required the building footprint and surface area to be contained, retaining as much agricultural land as possible. Other major factors were the challenging tropical climate and the high expense and poor availability of often inferior materials.
As is often the case with good architecture, adversity inspired innovation throughout the project – in planning arrangements, systems such as the unique "kanga" roof system and site precast concrete walkway elements, and processes.
The site had no services at all so the whole complex is totally self-supporting. The building is surrounded by a permaculture farm. Energy is generated on site – electricity from solar, methane gas from an in-ground biodigester. Harvested rainwater is stored in tanks under the building, the surplus going to an artificial aquifer built from old truck tyres. The local community was involved in construction, volunteer builders imparting building knowledge to local subsistence farmers. The architects and the whole team have shown generosity (their work was gratis), vision and ingenuity in intelligently addressing real social problems. Although attractive architecture, this was most certainly not a superficial aesthetic exercise.
This was a project literally conceived and built from the ground up, created from absolutely minimal means in almost impossible conditions. Australian architects have created in Kesho Leo an architecture of great meaning and an international beacon for social and ecological responsibility.
For further coverage see Architecture Australia vol 99 no 5, Sept/Oct 2010.
Images: Liz Halloran.
AWARD FOR INTERNATIONAL ARCHITECTURE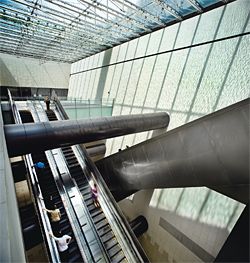 Bras Basah Mass Rapid Transit Station, Singapore by WOHA
JURY CITATION
Bras Basah Mass Rapid Transit Station is the result of WOHA's winning design for an international competition, which elegantly resolves the issues of a very deep station set in the historic district in the heart of Singapore. Their strategy was to create a station roof as skylight and landscape watergarden.
This water-filled glass skylight is a reflection pool when viewed from the surrounding park and buildings, while from the station below it offers visual connection to the exterior and daylight penetration, greatly enhancing the travel experience for commuters.
The watergarden reflects historic buildings, creating a formal civic forecourt to the museum, cathedral and library of the Singapore Management University. As skylight, it provides natural light and views deep into the ground, achieving an ambience not traditionally associated with underground transit. The commuter experience, way-finding and safety are greatly improved. Other technical aspects of the project are similarly well resolved, including ventilation shafts and service elements generally. The combination of watergarden and skylight cleverly reduces thermal transmission without compromising daylight.
This is a contemporary work deftly handled by the architects, with a degree of sensitivity and formality that allows this new transit station to enhance the civic qualities of the historic district. It serves as an exemplar for the retrofitting of public transport infrastructure into existing city fabric.
Image: Patrick Bingham-Hall.
AWARD FOR INTERNATIONAL ARCHITECTURE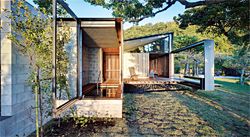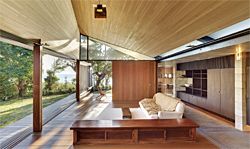 Wall House, Shizuoka, Japan by Peter Stutchbury Architecture with Keiji Ashizawa Design
JURY CITATION
An extraordinary commission to design for one of Japan's most revered designers has resulted in an extraordinary house. In a country with an ancient tradition of exquisite refined landscapes and architecture, it is perhaps surprising that an Australian architect would be asked to add to that culture. The Wall House doesn't disappoint. Rather than enclose or frame the landscape, the house becomes part of it, with large timber sliding doors opening to the shores of the Pacific Ocean. The structure becomes a wall between street and garden, creating a place of tranquillity and contemplation. An elegant frame structure extends well beyond the house, supporting the sliding doors and slatted screens, and emphasizing the range of screening, filtering options. The gently warping twisted shingled roof, the ordered plan, the simple palette of timber and stone, the calm of water and the restrained, consistent detailing combine to produce a house of rare beauty and serenity. Australia's growing international reputation for unique residential architecture that relates to landscape is further enhanced by this simple, elegant house that beautifully demonstrates the richness of cultural fusion.
Images: Michael Nicholson.
COMMENDATION FOR INTERNATIONAL ARCHITECTURE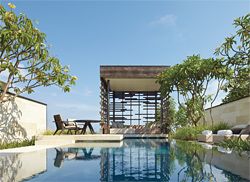 Alila Villas Uluwatu, Bali, Indonesia by WOHA
JURY CITATION
Perched high above the sea on a south-facing limestone outcrop, the Alila Villas in Uluwatu, Bali, Indonesia, comprise a fifty-suite hotel and thirty-five residential villas. In the dry savannah landscape of the Bukit Peninsula, the resort addresses two contemporary architectural concerns. The first is the way architecture might contribute to the development of an emerging luxury hotel genre. Hotels like the Alila Villas cater to design-savvy travellers seeking an ecologically sustainable, socially responsible holiday experience. The significant sustainability initiatives of this project embrace the passive and the active, the material and the social – including large overhangs and cross-ventilation, sewage treatment and sewage water recycling in a grey water system, and locally sourced materials and furnishings created by craftspeople from Java and Bali. The second concern is for the creation of an architecture that is both vernacular and modernist.
Alila Villas has the atmosphere of traditional Balinese pavilion architecture and a reassuring internationalism that derives from a broad church of architectural references.
For further coverage see Architecture Australia vol 99 no 5, Sept/Oct 2010.
Image: Tim Griffith.
COMMENDATION FOR INTERNATIONAL ARCHITECTURE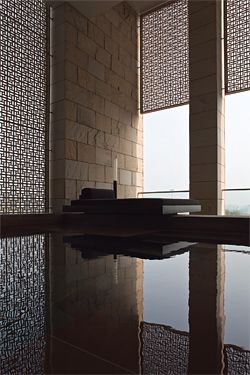 Aman New Delhi, India by Kerry Hill Architects
JURY CITATION
There is a palpable sense that the Aman New Delhi is a haven of tranquillity in the bustling city. This is an urban response to the type. It is the architecture that reconciles public engagement with the city and the discreet experience of a hotel resort. Located near the centre of the city, within the order of Lutyens' Delhi, the hotel's program gathers around an elegant, enclosed courtyard with a lawn, reflection pools and mature trees. The quiet dignity of the resort is hewn from a restrained suite of materials – dark-stained timber panelling, olive-hued Rajasthani Khareda stone and handmade carpet. The principal element is a resolutely rectilinear column, inherent in much Mughal architecture. These columns articulate the mass of the building form, edge the courtyards and circulation spines and frame delicate screens.
Referencing traditional Indian architecture, the screens are interpreted here in glass-reinforced concrete and fixed with stainless steel brackets. These screens are an atmospheric and experiential device – curating sunlight, privacy and views, and animated by daytime shadows and the glow of evening.
For further coverage see Architecture Australia vol 99 no 5, Sept/Oct 2010.
Image: Albert Lim.
Credits
Architect

WOHA
Singapore
Project Team

Wong Mun Summ, Richard Hassell, Sim Choon Heok, Punpong Wiwatkul, Puiphai Khunawat, Jose Nixon Sicat, Alina Yeo, Techit Romraruk, Cheah Boon Kwan
Consultants

Builder Bouygues Thai
Civil and structural consultant WorleyParsons
Cost consultant KPK Quantity Surveyors
Developer Pebble Bay (Thailand)
Environmental consultant Environmental Resources Management Siam
Facade consultant Meinhardt Facade Technology
Landscape consultant Cicada Private Limited
Local architect Tandem Architects
Marketing consultant CBRE CB Richard Ellis (Thailand)
Mechanical and electrical consultant Lincolne Scott Ng

Site Details

Location 129 South Sathorn Road, Bangkok , Thailand
Site type Urban

Project Details

Status Built
Website http://www.met-bangkok.com/
Category Residential
Type Apartments, Multi-residential

Client

Client Hotel Properties Limited

Credits
Architect

Watson Architecture + Design
East Melbourne, Melbourne, Vic, Australia
Project Team

Robert Watson, Dale Simpson
Consultants

Electrical and ESD consultants Mark Cummins and team, Advanced Environmental Concepts, Lincolne Scott
Structural and civil consultant Perrett Simpson

Site Details

Location Sinon, Tanzania, United Republic of
Site type Rural

Project Details

Status Built
Category Education, Health, Public / commercial

Credits
Project Team

Pearl Chee, Dharmaraj Subramaniam, Esther Soh, Pham Sing Yeong, Wong Mun Summ, Richard Hassell, Jose Nixon Sicat,
Architect

WOHA
Singapore
Consultants

Acoustic consultant Acviron Acoustics Consultants
Builder Woh Hup – Shanghai Tunnel Engineering NCC JV
Facade consultant Aurecon Singapore
Landscape consultant Cicada Private Limited
Structural consultant Maunsell Consultants (Singapore), WorleyParsons

Site Details

Location Bras Basah Road, Singapore, Singapore

Project Details

Status Built
Category Commercial, Public / commercial

Credits
Architect

WOHA
Singapore
Project Team

Wong Mun Summ, Richard Hassell, Ranjit Wagh, Mappaudang Ridwan Saleh, Chan Ee Mun, Alan Lau, Lai Soong Hai, Miikka Leppanen, Muhammad Sagitha,
Consultants

Civil and structural consultant WorleyParsons, PT Atelier Enam Struktur
Cost consultant PT Kosprima Sarana Kuantitama
Environmental consultant Sustainable Built Environments
Landscape consultant Cicada Private Limited
Lighting consultant Lighting Planners Associates
Mechanical and electrical engineer PT Makesthi Enggal Engineering

Site Details

Location Bali, Indonesia

Project Details

Status Built
Category Hospitality, Public / commercial

Credits
Architect

Kerry Hill Architects
Fremantle, WA, Australia
Project Team

Kerry Hill, Ross Logie, Patrick Kosky, Justin Hill, Terry Fripp, Paul Semple, Albano Daminato, Sapna Khattar, Debashis Mitra,
Consultants

Acoustic consultant Acviron Acoustics Consultants
Associate architect Design Plus Architecture
Builder Ahluwalia Contracts (India)
Construction manager Archetype Vietnam
Electrical consultant Spectral Services Consultants
Hotel Operator Aman Resorts
Landscape consultant Tierra Design
Lighting consultant Lighting Planners Associates
Project manager Project Systems International
Quantity surveyor Barton Associates
Structural consultant Mahendra Raj Consultants

Site Details

Location Lodhi Road, New Delhi, India
Site type Urban

Project Details

Status Built
Website http://www.amanresorts.com/amannewdelhi/home.aspx
Category Hospitality, Public / commercial

Related topics