After three decades on the periphery of critical architectural debate, hospital and healthcare projects are firmly back in the central arena. The healthcare building has suddenly returned to significance as a type worthy of serious intellectual and design investigation. A new generation of architects, sociologists and academics are now critiquing the old institutionalised models and exploring and redefining the type.
Why this renewed interest in a field that until recently was considered lacking in ambition, was formulaic, and had modest cultural aspirations? Part of the reason can be found in the changing nature of the hospital program. New practices and models of care have combined with rapid advances in technologies to open up a vast array of new possibilities in how hospitals deliver services. Day surgery facilities, ambulatory care clinics and specialist centres-of-excellence are all part of the new service delivery model. These radically changed models of care offer a unique opportunity for architects not only to interrogate the existing type, but also to redefine it. The single hospital type is being transformed into new hybridised architectural representations, overlaid and interconnected, reflecting the complex realities of the new program.
But this is only part of the story. A second and perhaps more significant reason can be found in the changing role of the hospital in our communities. Hospitals are reclaiming their former role as major civic landmarks and signifiers within our suburbs and cities – as places to which we attach symbolic meaning and from which we derive a local sense of place. The impersonal and institutionalised mega-complexes of the 1980s and 90s are giving way to more accessible and contextual buildings which seek to reestablish a meaningful dialogue with patients and visitors and, importantly, with the city.
The new critique is also being driven and promoted by an increasingly aware and active regime of hospital boards, government departments and users. They are demanding that hospitals not only reflect the new modes of healthcare service delivery but also respond appropriately, through their architecture, to the cultural and social needs of the communities which they serve.
Healthcare is a highly competitive business, and notions of identity and branding figure heavily in the minds of hospital managers and owners as they compete for customers across catchment boundaries. The search for differentiation, for identity and image, and for a level of local appropriateness offer enormous scope for the architectural content of the new hospital, not through incremental enhancements to the old models, but through radical innovation reflecting contemporary client and community aspirations.
Parallels can be drawn between this contemporary thinking and the design of hospital buildings in the early and middle part of the twentieth century. The modernist buildings of Arthur Stephenson, Leighton Irwin and others were, and continue to be, significant landmarks in our major cities. These buildings represented postwar aspirations and the desire for a kind of noble civic edifice. They were emblematic of modern medicine and all that it had to offer, including its new technologies, but they also had a strong underlying social purpose. These public hospitals were seen as affirming and comforting places where we went to be cared for – in birth, life and in death.
Notions of patient care and medical practice which prevailed from the 1940s through to the 1960s also aligned with the aspirations, both aesthetic and ideological, of late modernism. Streamlined balconies, strip fenestration and abstracted stuccoed and cream brick facades expressed the optimism of the new era and provided recuperative light, fresh air and – like Aalto's buildings – a place to sit in the sun.
Importantly, the architecture of these buildings recognised the symbolic role that hospitals played in our modern cities. Their civic scale conveyed a generosity of spirit and gave testament to a collective public good. From an urban design perspective they gave something back to the city as a site of speculation and change.
The 1970s and 80s were characterised by rapid advances in medical technologies including the development of new anaesthetics and day surgical procedures. This period also saw the expansion of the healthcare system with new services in primary, secondary and tertiary care delivered under an integrated service delivery model.
Mega-hospital complexes were developed in our cities and suburbs to accommodate this new world of high technology medicine. Complete with electronic medical and diagnostic equipment, these mega-structural buildings were uncompromisingly functionalistic and were planned around the territorial model of the hospital department. These were buildings you were asked to respect. They were there to do a job, not necessarily to be loved. These campus style facilities were also in many cases introverted buildings which failed to engage with their urban or suburban contexts. For the patient, the vast interiorised medical city represented the unknowable world of the specialist medical practitioner, a place where you went to participate in institutionalised science.
The economic imperatives of health service delivery also meant that healthcare models became increasingly process-driven, and for nearly two decades functionality reigned supreme. So pervasive was the search for the perfect functional model that notions of explicit meaning and cultural relevance were lost in the ever-expanding corridors of the public hospital ward. As larger hospital complexes were developed through the late 1990s, all of their constituent parts – processes, departmental structures, and their architecture – reinforced and ultimately codified the public hospital as an impersonal, institutionalised type.
The role of the hospital architect also changed during this period. Hospital architecture became a kind of professional super-specialty where knowing the latest technologies and medical procedures became your ticket to a small and very elite club. These were decades when architects and health planners drew functional diagrams tracking patients and inter-departmental traffic flows. And architects and hospital boards built them.
In the mid 1990s, healthcare providers rediscovered the customer and patient focused care became the new paradigm. The high-rise ward block was challenged and low and medium rise hospitals were developed in centres of high population growth.
During this period architects utilised a range of strategies to challenge the institutionalised models. "De-institutionalisation" became synonymous with domestication and many healthcare facilities of the 1990s employed a residential architectural language – pitched roofs, banded brickwork, timber pergolas "residential" windows and domestic detailing – as an aesthetic strategy to subvert the prevailing language of the public or institutional type. In the private healthcare sector many architects followed the lead of the United States and developed hospitals which utilised the signs and symbols, and decor, of the luxury private hotel.
These were conscious attempts to reconnect the patient and the community with the hospital as an institution within the life of the city. But the institutionalised practices and "public hospital" codes, and the architecture which represented them, proved highly resistant to change and these projects somehow missed the mark. They were not what people expected of a major civic building in their city or community. Perhaps they read too much like home or wore their domestic conceit too openly.
Today, hospitals are being built where people live – in the suburbs, on the periphery of our cities and in our major country towns. Patient-focused care is still in the ascendancy, but the focus now is on wellness and delivering a seamless, team-based health service across a range of disciplines. And hospital boards and service providers are wanting more than ever to reclaim the hospital's sense of civic relevance and community significance.
User groups and project stakeholders are now actively involved as participants in the design process. Nurses, doctors, management, government agencies and community representatives are contributing local knowledge and expertise, reflecting community aspirations through user groups, design reviews and workshops.
With its myriad of outpatient services, complex diagnostic and acute treatment functions, inpatient and recuperative areas, the contemporary hospital is part hotel, part laboratory, part airport lounge, part business centre, part shopping centre and part hospital ward. Each of these types suggests a different way of conceptualising the new hospital for our time – how it might look, or function, or how it might be interpreted and owned by the community.
Healthcare work being undertaken by design practices across Australia suggests that the tide has been stemmed with respect to endless re-presentations of institutionalised functionalist models and that we are witnessing a very conscious attempt by the design profession and healthcare providers to create new, innovative types which are both service effective and culturally connected.
In our recent work, and in the work of our contemporaries, the hospital type has been used as a way of formulating and extending our understanding of the contemporary city, and of exploring our interest in representation.
We approach this both as specialist health planners and as architects and urbanists who are interested in the opportunities offered by hospital and healthcare work.
Source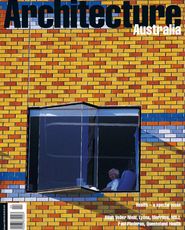 Issue
Architecture Australia, July 2002