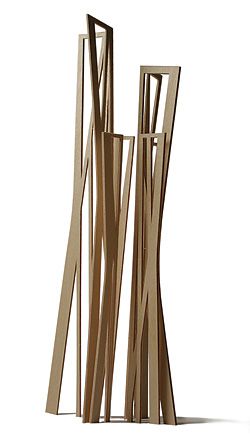 Leanne Zilka talks to Carme Pinós about Melbourne, Barcelona and living in the city.
Carme Pinós has visited Melbourne twice now – firstly in 2006, when she was invited to speak at the Institute's "the future is now!" conference, and now for the University of Melbourne's Dean's Lecture series. I was interested to draw out some opinions on living and practising in Barcelona and on visiting Melbourne.
Impressions of Melbourne
We begin a conversation about Melbourne. After visiting Melbourne twice she has more than just a tourist's point of view. I, on the other hand, have a tourist's view of Barcelona and, it turns out, an overinflated view of what it might be like to live there. I pick up Carme from her hotel in the city and, after a brief visit to jeweller Gallery Funaki, I am surprised to hear her say, "I could live in Melbourne." She explains, "The urban plan of the city is a smarter one than Barcelona's. The grid in Melbourne gives you different hierarchies of streets; there are smaller streets and laneways, where most of the life happens." It is true that Barcelona is the epitome of grid, its chamfered blocks are engrained in most of us, but, Carme points out, "the streets are the same scale, which produces a lot of noise, restricting the livability of the city and creating an equal intensity throughout; there is no escape from the noise and traffic", adding that the chamfered corners of the large city blocks in Barcelona are an inconvenience for pedestrians, designed before traffic lights were invented. Pedestrians are diverted forty metres away from their path along the chamfer, giving priority to the car.
Living in Barcelona
But what about the centre of these city blocks? Don't they provide the relief that is so appealing in the courtyard block? Carme explains that while Cerdà planned the centre of the squares to be a garden or open space, with only parallel sides of the block to be built on, this desired density was not economically viable. The result was that all sides of these blocks were built on, forcing services from the ground floor commercial space into the interior of the courtyard. People living in these blocks not only have their semi-private space destroyed by storage and delivery vehicles, they must also contend with noise as a result. Carme herself lives off one of the diagonals and the main courtyard to her block is filled with storage from the ground floor restaurants. Her apartment is enormous by any standard, totalling 500 square metres. This large space is split equally into office and living space, separated to allow for privacy (although she tells of office paella parties that are often held in her residence). Two three-square-metre courtyards provide light and air but not much else. So, despite its scale, the apartment offers little more than a generous floor plan. Carme points out that Barcelona is trying to clear out these courtyards and reinstate the open/green space, but this is not wide-reaching enough to have an impact on the city.
Perhaps it is this lack of outlook and connection to open space that drives Carme's architecture. Her school and square in Barcelona, and the office tower in Guadalajara, all give the occupants generous connection to open space. Carme believes that architects have a responsibility to think about the city, "not only to make beautiful things but to arrange the social life of the people and give sense to the city". How, then, does she feel about the architecture of the superstore, where the brief and the site do not consider the need for any of these things, which she is so skilled at providing? Her answer is that "these programs exist, so we need to be involved to give a voice to the people, the social life of people is always inside architecture", adding that the market does not take a risk and the only motivation is to make money. "People need more – they need light, outlook – so if architects try to find alternative ways of designing these boxes, then the market might accept them. In order to change the market you must offer an alternative."
On practice in Barcelona
Barcelona has an impressive competition system, which ensures quality architectural design, as projects are selected on merit and peer reviewed before a commission is granted. Carme's practice survives on this system and the quality of her work is evidence of its success. So again I find myself feeling envious of the young practices that emerge every day in Barcelona, because they have a real chance of winning a substantial brief. Carme agrees that this is a good policy, and we discuss the differences in gaining a commission in Melbourne versus Barcelona. I explain that the vast majority of housing is not designed by architects but that consumers select a "project home" from a range of floor plans that do not relate to site. She is surprised to hear this and explains that despite Spain joining the EU (resulting in the increase in regulations that has made Carme partner with an engineering firm on most large projects), most buildings, including housing, are designed by architects.
I could go on asking Carme questions, as there are few boundaries, but unfortunately our time is up and she would like to visit Victoria Market, believing that there are many things to learn about a city from its markets. I could tell her that most people don't shop in this way but use chain stores and supermarkets; however, the Victoria Market does express the diverse cultures of Melbourne and it's obvious that she knows how Melburnians live.

Leanne Zilka is an architect in practice and a lecturer in architecture at RMIT University.