ANDREW NIMMO TALKS TO DAVID NELSON OF FOSTER AND PARTNERS ABOUT THEIR SYDNEY PROJECTS, PRACTICE STRUCTURE, AND PROCESSES FOR WORKING ACROSS THE WORLD.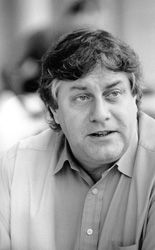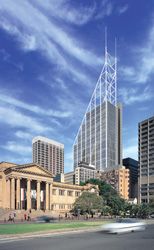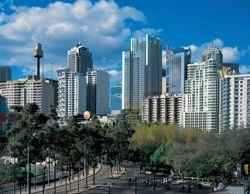 Foster and Partners have been awarded their second high-rise building in Sydney city, a residential project on the old Regent Theatre site in George Street, which they are completing in association with PTW Architects. The project consists of a main 48-storey tower of residential apartments and a second 33-storey tower of serviced apartments. This follows on from the office development at 126 Phillip Street they are completing in association with Hassell.
David Nelson is the partner in charge of these projects.
Nelson joined Foster Associates in 1976, and has worked on many of Foster and Partners' most famous projects, including the Sainsbury Centre, the Hong Kong Shanghai Bank, the new German parliament in the Reichstag in Berlin, and the Bilbao Metro in Spain. He became a partner at Foster and Partners in 1991. Andrew Nimmo spoke with David Nelson at the "W" Hotel in Wooloomooloo, Sydney, on 1 April. This is an edited transcript of the conversation.
ANDREW NIMMO The first project by Foster and Partners in Sydney is the future home of Deutsche Bank at 126 Phillip Street in the city. There was quite a lot of media interest a few years ago when it was announced, but the start was delayed. It is now under construction. Can you tell me a little about the project and how it is progressing?
DAVID NELSON It has had a long gestation period and has changed along its course. We are on to our third or fourth client. It did gain permission from the City, but there was a complication in the actual application in regard to areas, which justified an objection from another group and the client at the time felt that the objection would be upheld. It was a tiny little thing – an error in the City's own calculation of balcony spaces – but it meant the whole thing was abandoned. That coincided with changes in the client body, so the project was on hold for quite a while. Then Principal Global Investors got focused on it again and we did a revised proposal.
There is a wonderful ground floor space – the public realm at the bottom of the tower, which you can now see as they have taken away the scaffolding. It is fifteen metres high and covers the whole footprint of the building. The site is very narrow which led quite quickly to an offset core. A remote core (not even offset) is an unusual thing to do, but all the other versions that we tried years ago, with the core in more conventional positions in the middle of the plan, left the floor plate very broken up.
As a diagram, the offset core gave a very flexible floor space, and by working with the engineers at Bovis Lend Lease we were able to span the twenty metres to get a free plan. There was a lot of fine-tuning – to have an open floor as one continuous floor plate seems very obvious but if you do something different, everyone is bound to get a bit nervous. Through the project's long gestation many people tested out the floor plate and, surprise surprise, it is very flexible – just slightly unorthodox. With an offset core there is inevitably a premium on the structure and the external walls as the core is not a fundamental part of the structural system, but when we analyzed it that premium was actually very small. Some surveys indicate that tenants can take thirty percent less area in this building than they currently have because it is free and efficient space. The project is due for completion towards the end of next year.
AN You have had a couple of associations with Hassell in Australia, on the Deutsche Bank building and on the recent Faculty of Law competition for the University of Sydney. Is there a particular relationship between the firms? Are there other associations under consideration that you can tell me about?
DN Rodney Uren (ex-Foster, now with Hassell in Melbourne) worked closely with me on the Hong Kong Shanghai Bank through to projects like the Bilbao Metro and we got on very well. There was a potential project for a Japanese-funded Zen-based university in Australia which we all got very excited about – they wanted some interesting and wild things. We looked at it for a while but it fell apart – very intriguing at the time.
Through Rodney we got to know Ken Maher and there was a good affinity. With Hassell, we were one of the competitors for the National Gallery of Victoria, which Mario Bellini won. Then we were contacted directly by Bankers Trust for the site at 126 Phillip Street and we made a shortlist of architects to work with. We already had a relationship with Ken Maher and Hassell, and Bankers Trust found that very appealing. It seems that former staff who move back to Australia often end up working with Hassell.
AN Within the Foster and Partners office in London there is a strong emphasis on an open plan studio layout. How do you think this contributes to the design process within the office?
DN The way the office has evolved was influenced by Norman's experience at Yale as a student and it has always had a studio quality. There were a number of steps, for example, when we moved from Fitzroy Street to Great Portland Street we abandoned the screen furniture-based system to work on open flat desks. That led to a very open configuration and the furniture we designed for Great Portland Street was developed further for the Renault project, and became the Tecno Nomos system.
From there we set up an office in Hong Kong (for the Hong Kong Shanghai Bank), where we had to expand rapidly. We were spread over three floors – we couldn't expand above or below and moving is difficult when you are on the run with a major project, so the office became very dense. We took the drawing boards and positioned them back to back and facing each other because this was the tightest possible plan and created these long tables that were independent drawing boards. Amazing things happened – people stopped writing memos, communication improved.
When we came back from Hong Kong we decided to build fixed long tables, huge long desks. Our particular flexibility was that the people were going to move, not the furniture – and that has now served us well for twelve to thirteen years. Everyone was in that one space: model-makers, secretaries, me, Norman, everybody. However, as we have expanded we now occupy other buildings as well.
AN The marketing of recent residential developments in Australia is starting to read like Hollywood film credits, where the architects have top billing. Assuming that the name Foster and Partners is being used heavily to market commercial projects, how do you protect your reputation against overzealous or associative marketing?
DN Design copyright remains with us and there has been a tremendous debate about that in the last five years – you never used to hear about it but the issue arises on almost every project now. If there is a relationship with a client, inevitably an element of promotion is required – but there are good ways and bad ways to do that. There are various clauses that we use, but architecture is changing – if you get exploited in one place you will learn the next time. But you have to be careful to find the right balance.
AN Foster and Partners are one of the most international of architectural offices – working in remarkably different cultural and regional settings throughout the world. What sort of research does Foster and Partners do when you are looking to design in a new place? What is the practice's philosophy with regard to Internationalism versus Regionalism?
DN Every project begins with a blank sheet of paper – each project has its moment in history, its budget, its client, its set of relationships, its climate and so on. We focus on all those parameters to achieve something unique to a set of circumstances. In other words, if you had exactly the same brief but were building on another site, or in another country, you could end up with a radically different building. The sense of place should be very strong – the project should fit in, particularly in cities. There are also universal truths – for example, office space. Though there are cultural differences, there are many similarities from country to country. Both Regionalism and Internationalism are valid. But if the International Style, as it was, was plastered all over the world, like early versions of British Colonial architecture were, it is clearly wrong. Fresh eyes and good ears on a project can bring forward new understanding of a local condition.
AN I think I can say with confidence that no other architectural practice of the size of Foster and Partners maintains such a consistent quality of built work.
How is this managed and controlled across all the offices, all the projects?
DN We are slightly under 600 people worldwide, about 550 to 560 in London – we don't have a lot of people abroad. We have no offices outside London other than those specifically established for projects. You have to be flexible – sometimes all the work has to be done in a particular place and we build a team, the core people will come out from London and we will recruit locally. When the project is finished everyone comes back to London, including many people who have joined us locally.
Currently, all the projects in the office come under the direction of the three or four partners like myself – Norman obviously is head of the company, but the other partners have been working with Norman for many years and we have been involved in every aspect of the office. But right at this moment we are going through a restructuring process which will create a number of groups with group leaders. This new structure will give a greater project focus and also a new identity, particularly for young people coming into the office. It will also divest responsibility to people who are more than capable of taking it – a lot of the day-to-day running of the projects will revert to the group leaders. Specific project teams will continue to be clearly identified. If we do the contract documents, which we do in most projects, the team naturally expands, but the core group remains. There is a huge amount of debate within the office about how we work. You should always question the way you work.
AN Norman Foster the man looms as an enormous singular presence in the world of architecture. Many large offices reach a stage where they develop a more generic brand name, which means that the reputation of the firm is less tied to a particular person, but more a body of work. Other firms tend to live and die in a generation. I assume that one day Norman Foster will retire – what will be the future of Foster and Partners when that happens?
DN We are unique in that Norman is who he is and he is clearly our figurehead. But with 600 people who have often been working together for a long time, there are shared objectives. We have many individuals with a lot of talent – it would be impossible for the quantity of projects to come out of just one man. Our process of reorganization will result in a structure that allows for a transition beyond Norman, beyond me, and beyond others. We are very committed to what we have created and Norman in particular would want to see the studio carry on.
I think it will be quite a while before Norman retires – he will probably outlive us all. Every year he does the ski marathon in St Moritz, which is 45 kilometres of cross-country skiing and he does the racing version, so he is a tremendously fit character. With his temperament I can't see him retiring, he enjoys it too much.
AN The Regent Redevelopment site was the subject of a City of Sydney Design Excellence competition. Is this a good way to procure architecture? Do you think it pushes developers and their architects a little harder?
DN Any competitive element lifts standards. Any competition process can also be abused, but it's a well-tried way for public authorities to have an above-board selection process. Sydney's design excellence process is a good example of this approach.
However, a competition is usually not economically the best way of selecting from the client's or architect's point of view – and a project might get selected that the client doesn't want and then they are stuck with the result.
The best system from our perspective is one that the Americans use quite a lot.
It is not necessarily a public projects process, more private clients. They tend to get advice from various quarters, like the American Institute of Architects, and draw up a shortlist of architects. They then contact those architects and say, "are you interested in our project", and then ask them to submit an RFQ (Request for Qualifications). The expectation is that the architects will go and see the site, meet the people involved, know the conditions of the project. Then the best clients will fly to you, see you in your natural habitat, see your buildings and talk to your references. Then you go back for an interview and either do a scheme or present your knowledge of their project – there is no formal competition. It's a lot cheaper for both parties, and quicker, and it says to the architect, these people are serious about the project.
We rarely do open competitions these days because it is such a lottery and the costs can be enormous. When we entered for the Reichstag we were invited along with a number of foreign architects and it was open to all German architects. In parallel they did a totally open masterplan competition, which we felt we should also enter. For the Reichstag building there were 80 entries, and we went on to win. In the open competition there were 800 entries – we were eliminated at about round three. They had a huge exhibition of all the entries, it was like something out of Kafka. There was room after room of entries – it took three of us half an hour to find ours.
AN The Regent Theatre site carries a lot of cultural and historical baggage – for Sydney it has become an urban sore and a symbol of deception by politicians and developers. For you it is an empty site, whose previous history is not of your making. How does the memory of the site's previous life influence your approach to designing a new building on this site? Do you think this is something that an architect has a responsibility to acknowledge?
DN Any architect has to establish the priorities that will lead to a design solution. With that site there was an eight-storey hole – the previous building had gone. There was an existing planning application and the competition documents made it clear that that was the envelope to be worked within. The other thing that was important to the City was that the residential building would be overlooking the central part of the city – there was a lot of concern about exposed balconies, barbecues, bicycles and what else being visible. I think that concern was very sensible. So we had a strong feeling that the project should be a very simple building, quieter – almost more office-like. Probably the City would have preferred offices in that location, but there was a previous application for residential and that is what the developer wanted to build.
So it's a simple and elegant building – it's not Bilbao comes to Sydney, that is not appropriate for that site. Our idea was to break up the mass of the building with deep incisions so that it reads as a cluster of fine elegant towers.
Unlike a conventional residential building, the balcony spaces are glazed-in wintergardens, which can slide open. Most residential buildings tend to be a mixture of glass and solid – the balconies are permanently open slots. This rhythm and pattern has become a typology, which we felt was not appropriate here. So, glazing in the balconies and projecting the fins as far as we can, the deep incisions that create shadow, and then the modulation of horizontal members, glazing transoms, will all give a richness within strong simple lines. The building also floats above the historic base and we were very keen that, whatever we did in terms of elevations, the plinth tied in with the existing in terms of materials and colouration.
The challenge is to create a quality of life within and around buildings. One of the things that I find interesting is the design of public space. Cities evolve over a long period of time, yet today we have to create space that is new and instantly happening.
Unless it is done very carefully it can be a disaster and not give the qualities that everyone is looking for. It's a challenge and we have to think about the public realm and what constitutes the nature of the design of public space – it is not just chairs and benches and the landscaping, but it is the cross routes and sometimes the minor things can make a massive difference.
ANDREW NIMMO IS A PRINCIPAL OF LAHZ NIMMO ARCHITECTS AND A REGULAR CONTRIBUTOR TO THE ARCHITECTURAL PRESS.