Landscape Architecture Australia: What do you see as the particular values of the public garden?
Anton James: The particular value of the public garden lies in its ability to bring to scrutiny the extent to which the "garden" and "nature" are concepts full of cultural expectations and preconceptions that define a set of relations (often binary) vis-a-vis identity, nature, culture, representation, abstraction, artificiality, naturalism, art, craft, exotic and native, for example. The absence of an agreed society-wide definition for these terms further expands the possibility for scrutiny, collision and paradox in the public garden. Interestingly, the gardens that take on the guise of "natural" also have the potential for the highest "art"-ifice.
LAA: What particular contemporary stories/ideas of place, local nature and/or culture do you want to tell in your public gardens and how do you approach telling these?
AJ: The vexed question of Australianness and the repeated attempts to make an Australian Garden is an important aspect of the public garden; I believe that the question of identity is far too complex and dynamic to represent or distil into an image. The idea of conclusively representing Australia in landscape holds no interest for me. Rather, I am drawn to approaches such as that of Imants Tillers, in which a complex set of influences and identities is explored and juxtaposed to allow for a continuous formation and redefinition of identity.
My response to this approach is to enter into a dialogue with the particularities of the site and of the garden. I look for a particular mood or experience that disrupts the cohesion of site and garden, one that intrigues or surprises, and I seek to enable and nurture that atmosphere, preserve it, give it a voice, save it from the attempts to tidy it up and neatly smother it with a single narrative. I find the breaks and ruptures in a site intriguing. I am suspicious of the neat story, with its conclusive interpretation, that can embalm a site and banish the illogical and contradictory.
LAA: Do you reference the creative or scientific works of others in your design work and if so, who, what and how?
AJ: My influences are eclectic and comprise many artists, films and a few architects and landscape architects. I am particularly taken by the quotidian, the seemingly illogical and the at times surprising and unplanned outcomes of simple pragmatic interventions into landscape. I look to others to trigger an idea, to test my own or for an approach rather than a formal characteristic.
LAA: Do you see the process of public garden-making as artistic (or creative) practice and why?
AJ: I don't particularly like the word "artistic," it too often comes with the idea that art has by its very nature a higher merit than other activities. I like approaches that work towards seeing a site slightly differently in order to tease out something other than the expected, irrespective of whether or not it is art.
LAA: Do you think there are major ideas or approaches that distinguish contemporary public garden-making from historic garden-making (particularly botanic gardens) and if so, what are the distinguishing factors?
AJ: Public gardens are increasingly seen as a form of entertainment – the current uproar about the proposed changes to the Royal Botanic Gardens, Sydney highlights the shifting approach to botanic gardens. Botanic gardens are increasingly required to generate an ever-greater share of their operating costs, which is seeing them borrow the theme park design techniques of attraction and spectacle to bolster their commercialization. The measure of their success is increasingly seen through the metrics of visitation and revenue.
LAA: How many public garden projects have you designed (or carried out masterplans for) and what/where are these?
AJ: Mt Penang Gardens in Kariong and Erina Fair Garden in Erina, both on the New South Wales Central Coast.
Read Sueanne Ware's review of the Mt Penang Gardents here.
Source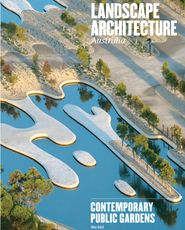 Issue
Landscape Architecture Australia, August 2014
Related topics