What makes the work of Spanish designer Jaime Hayón so distinctive? We posit some theories after meeting him in Milan.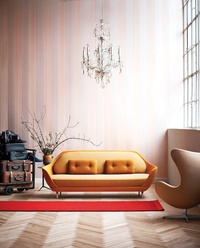 The particular character of Jaime Hayón's work comes, to a certain extent, from his wonderful drawings. Rich and round, they are more cartoonish than architectural and sometimes even include cartoon-like characters. Or maybe it is his particular "energy," as he describes it, that makes his work – sofas, lighting, oversized mosaics, vases and one-off pieces – so magical. This year in Milan, Spazio Rossana Orlandi held an exhibition of Hayón's work, which featured a complete furniture collection for Sé, including a sofa, table and two chairs, and a series of lighting for Metalarte. Also part of the exhibition was a beautiful new ceramics collection for Choemon that combined Hayón's characteristic illustrations with the blue-and-white tradition of Japanese ceramics. Elsewhere, Hayón's sofa Favn, for Fritz Hansen, is the perfect companion piece to the well-known Egg and Swan chairs. "Fritz Hansen is the best in the world at making shells," says Hayón. "I was really inspired by the technique and used it to create the sofa. It's a really honest design because I made what I wanted to have – I didn't follow a brief, I followed my energy."
Jaime Hayón has also designed products for brands including Bisazza, Magis, Camper, Lladró, Moooi and Baccarat.