Catherin Bull: What do you see as the particular values of the public garden?
Perry Lethlean: I think we all enjoy the opportunity to immerse ourselves in the beauty of a public garden, a chance for some time off from our frenetic urban life. Yet I find myself drawn to public gardens for other reasons – not as a place to commune with nature but instead as a civic place, a place to meet and catch up, interact, learn, be inspired and recreate. Contemporary public gardens are therefore, for me, social places, settings where family and friends, and the broader community can enjoy each other's company within the theatre of public life.
Most recently Taylor Cullity Lethlean has been interested in the design of public gardens and reflecting ideas expressed in what a number of social and urban geographers are terming the New Civic – an understanding of public space that privileges flexibility, spontaneity and unpredictability. The New Civic allows for diversity and accommodates changes in mobility due to new technologies of communication.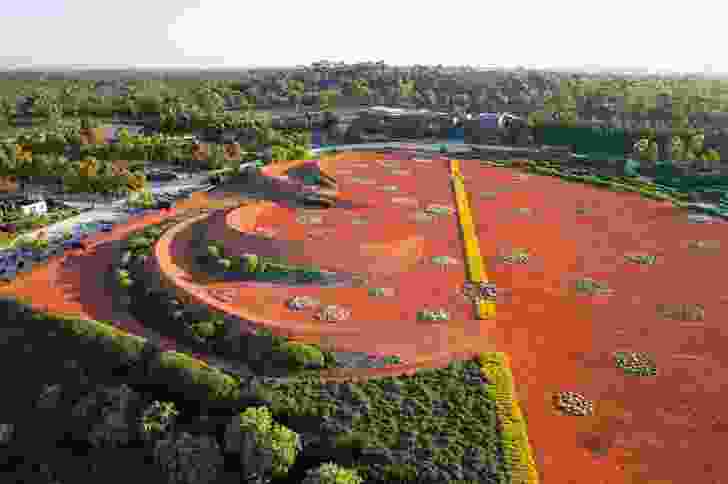 CB: What particular contemporary stories/ideas of place, local nature and/or culture do you want to tell in your public gardens and how do you approach telling these?
PL: In contrast to the seductive momentum of globalization, with its resultant smudging of urban and landscape distinctiveness, we are interested in how contemporary design processes can connect to a site's context, its specificity and nuances, including its cultural and environmental qualities.
We like to use narrative as a way of working into a garden design, as well as eliciting meaning and an immersive and interpretive experience for the public. The story of place varies according to the project, as does the way it might be told.
We are very conscious that concepts of site, place and context are moving feasts and are difficult to pin down. Equally our personal and collective readings of sites and the design choices that emerge are subjective and we make a multitude of choices along the way that informs a design outcome. Our work is not a science. It is a result of designers interpreting place.
CB: Do you reference the creative or scientific works of others in your design work and if so, who, what and how?
PL: An open-ended collaborative and creative process allows many voices, references and conversations to find a presence in a design. There is never a conscious intent at the outset to reference anybody or anything in particular, but through conversations, reflections, doodles and debates, a range of muses often emerge.
Some examples include: John Olsen's calligraphic and spontaneous paintings inspired parterre patterns for a botanic garden at Bowral; botanical illustration and plant morphology informed forest patterns at the National Arboretum Canberra; Fred Williams's spare and graphic abstraction was instrumental in our design approach for the Australian Garden at the Royal Botanic Gardens, Cranbourne; and the Aboriginal practice of fire-stick farming is reflected in the amorphic forms of the garden beds for the Mosaic Garden in Victoria Square, Adelaide.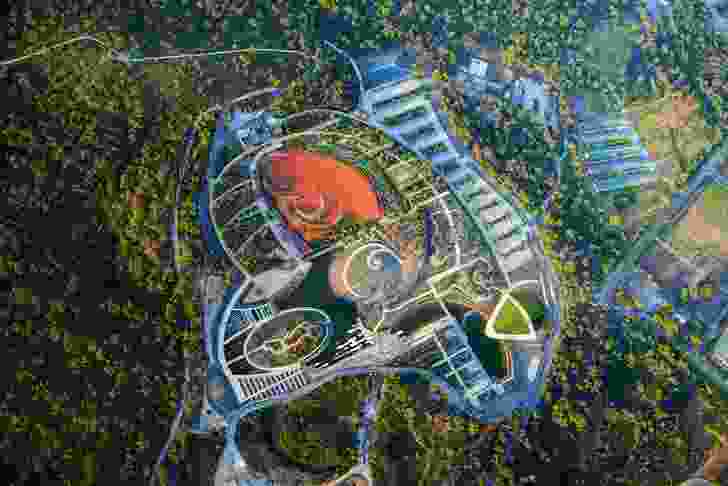 CB: Do you see the process of public garden-making as artistic (or creative) practice and why?
PL: I would hope that all contemporary public gardens are conceived through a design proposition and creative process. Bringing a garden to fruition is inherently creative. It requires landscape architects to generate a compelling idea or set of interrelated ideas, ones that not only interpret a brief but also integrate community aspirations, stakeholder needs, environmental complexities, consultant expertise and programmatic requirements. It requires landscape architects and our collaborators to laterally connect across disciplines, to distil information and ideas that coalesce into a creative whole.
CB: What characteristics differentiate public garden-making from private in your view?
PL: Private gardens have the luxury of meeting a singular client ambition. Public gardens have the privilege of meeting many ambitions of many publics over many years.
CB: Do you think there are major ideas or approaches that distinguish contemporary public garden-making from historic (particularly botanic gardens) and if so, what are the distinguishing factors?
PL: Traditionally botanic gardens were a site of research, botanical display and taxonomy. They were often also valued in Australian cities as a refuge from the urban condition.
Contemporary botanic gardens have an increasingly civic role in the city. They are not conceived in opposition to urban life, but instead are informed by and are an integral part of the fabric and life of the city.
Botanic gardens now have many additional roles that foster research, taxonomy and allow visitors to explore plant collections but they also provide settings where we hope to be inspired, meet, play, be nourished and be entertained.
CB: How many public garden projects have you designed (or carried out masterplans for) and what/where are these?
PL: We have designed some thirty public garden projects across Australia, New Zealand and Asia.
Source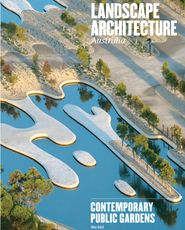 People
Published online: 11 Nov 2014
Words: Catherin Bull
Images: John Gollings, Ramesh Ayyar (courtesy of RMIT School of Architecture and Design).
Issue
Landscape Architecture Australia, August 2014
Related topics