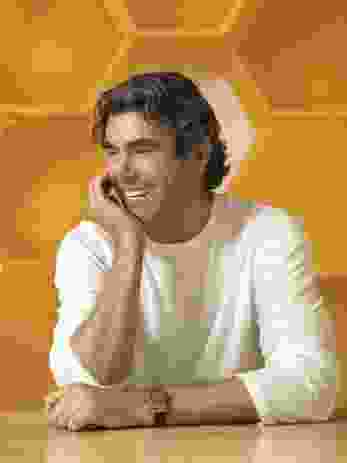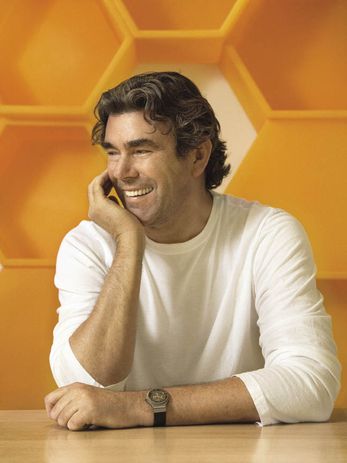 The corporate landscape of the future is here. At One Shelley Street, Macquarie Group's new Sydney headquarters, impersonal office cubicles, endless corridors and contract furniture have given way to a reinvented office environment, one that is almost certainly going to revolutionize our established notions about the traditional workplace.
One Shelley Street is architect Clive Wilkinson's latest contribution to a decade of pioneering design. An LA-based architect, Wilkinson has spent the last twelve years investigating the way we work and developing design strategies to engender improved productivity in the workplace. He is the brain behind some of the most talked-about office interiors of the last decade, including new environments for Google, TBWA/Chiat/Day, and the Fashion Institute of Design and Merchandizing.
"I think of a work environment as a distinctive human community," says Wilkinson. "Through the design process, my aim is to support and extend these relationships, empowering organizations to higher productivity levels. I work programmatically, striving to gain a deeper understanding of a company's needs and their vision. Design is a powerful and essential tool in changing the way that people feel and perform." As a result, Wilkinson's palette doesn't include dedicated desks or homogenous cubicles but spatial urban components like "streets," "plazas" and "pods."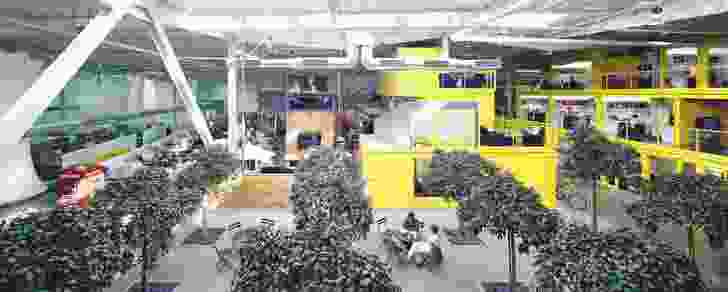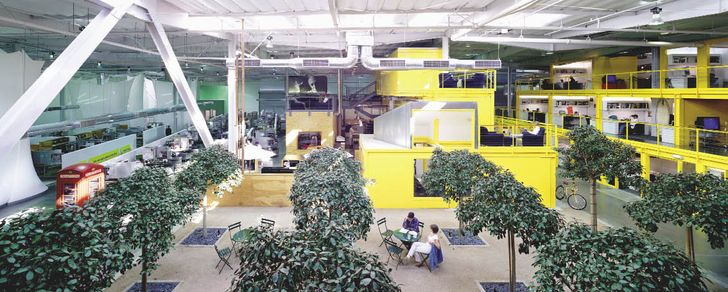 His first breakthrough scheme – and arguably still one of the most influential corporate interiors today – is a twelve-thousand-square-metre design for global advertising agency TBWA/Chiat/Day in LA. "Integral to the brief," says Wilkinson, "was to create a united space, a 'creative community' that would amalgamate the company into one environment." The concept was hinged on the idea of an "advertising city," a village that would provide a variety of work and lifestyle experiences for the staff and clientele. Wilkinson extended the brief to the exterior, creating a gatehouse and circulation tube that links the reception area and forecourt to the inner creative domain. This idea was supported by a series of animated urban elements that characterize the space. "We incorporated a main street, central park and work neighbourhoods into the layout," says Wilkinson. "Functional in nature, and innovative in design terms, they reinforce and encourage creative energy in the agency." Wilkinson's components are bold, bright and slightly wacky. The standout features are the canary yellow steel "nest" workstations. Despite their presence, the feeling is one of openness and transparency, a key constituent of the agency's work culture.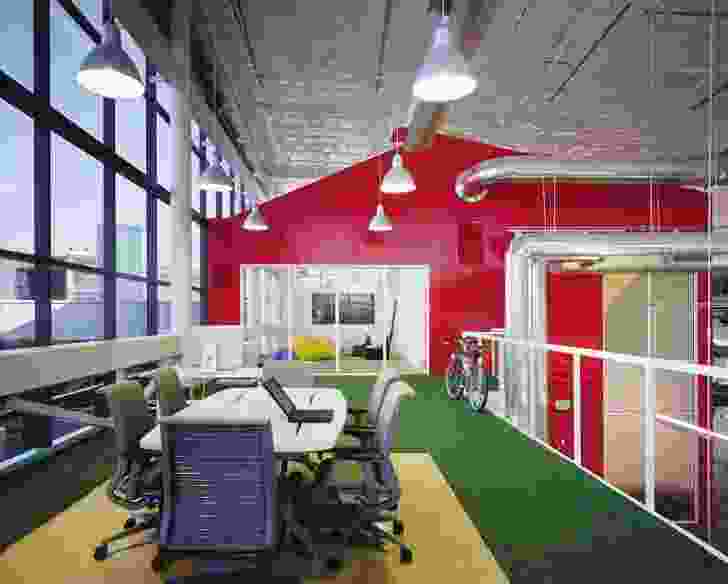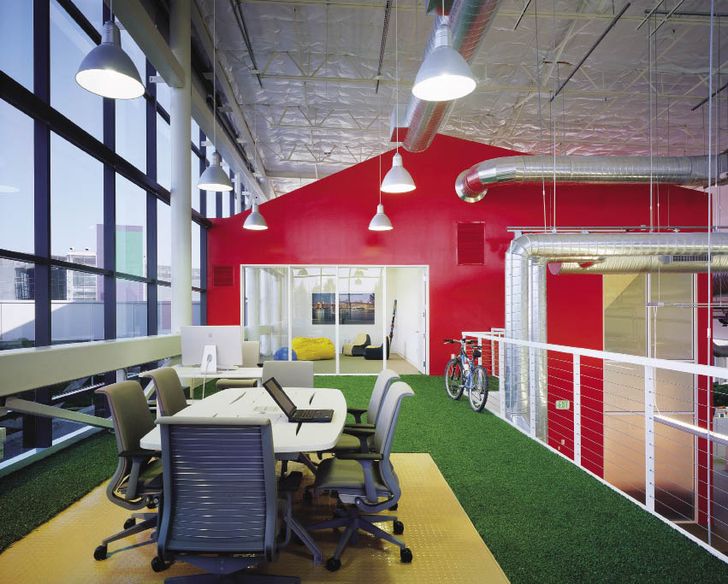 One cannot talk about Wilkinson's work without mention of internet giant Google's corporate campus. Adopting spatial and programmatic principles from the TWBA scheme, the Googleplex was defined by flexible neighbourhoods and shared public spaces divided into thirteen unique zones, each supporting a particular kind of work or social activity. Private offices and meetings have their place, but are conceived as "demountable igloos" and sound-absorbent glass "tents" that eliminate the need for hierarchy and enclosure. The result is a constantly buzzing, highly creative atmosphere that has garnered the practice great acclaim. Aside from the creation of an energy-efficient, highly sustainable work environment, Wilkinson's design possesses an inherent flexibility that also allows for the company's rapid expansion.
"We don't design for design's sake," says Wilkinson. "I first seek to understand how a business works and what supports it best. I then look to design to provide the necessary sustainable, energetic and flexible platforms to achieve our targets. Over the years, by working with some of the world's most creative companies, we have amassed a comprehensive base of ideas and strategies for future projects."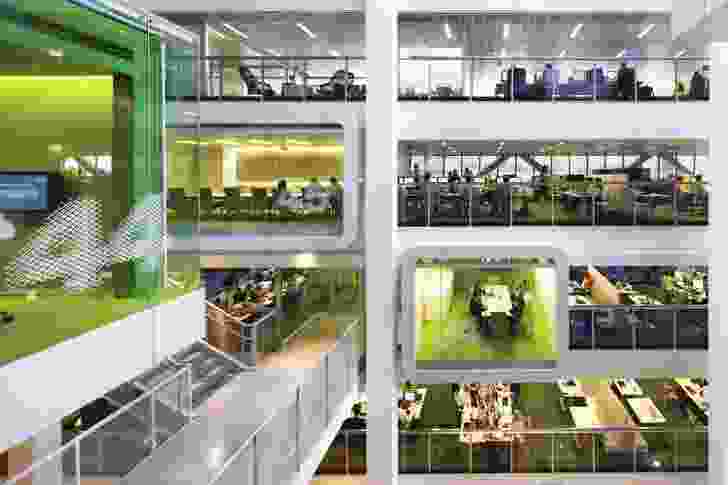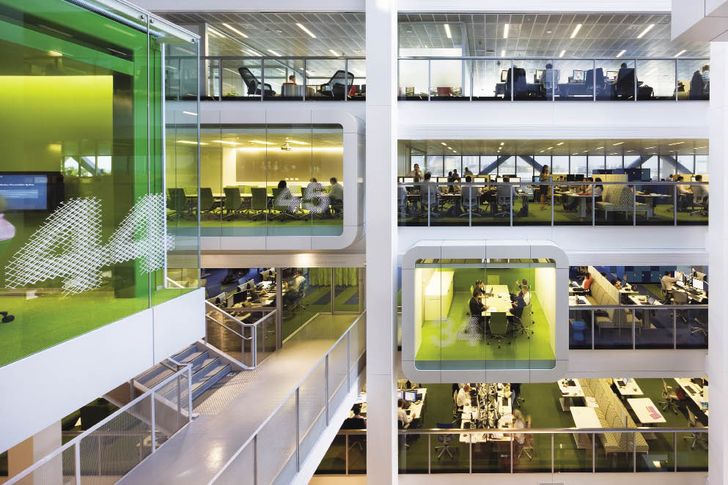 Armed with this knowledge, Wilkinson approached the Macquarie Group interior with a particular bias. "Fortunately, there were many great ideas and systems in place from the get go," says Wilkinson. Firstly, the client had established a very proactive and forward-thinking user group which informed many of our decisions. They had also enlisted the services of Dutch consultant Veldhoen and Co., the inventors of a flexible work platform called ABW or activity-based working." The principle behind ABW is to offer employees a variety of tailored spaces and tools with which to work. Fundamental to the functioning of the system is a technological framework, allowing users to be completely mobile and to occupy a variety of work settings dependent on the task required. The desired result is a more economical use of space, a reduction in energy expenditure and increased productivity. "ABW is a way to future-proof work environments," adds Wilkinson. "By incorporating this strategy into the design, the interior also became a symbol for the client's forward-thinking vision."
Asked about his experience working in Australia and our place in the worldwide corporate design arena, Wilkinson is full of praise, citing his experience here as the most radical and successful thus far. "I was deeply impressed with the client's commitment to their vision to create a world-leading office culture. In the US, most decisions in our projects fall to operations departments. In this case, the project was 100 percent collaborative, with everyone having a say in the outcome."
Source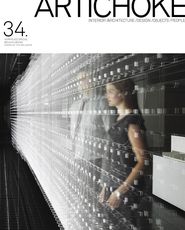 Issue
Artichoke, March 2011
Related topics