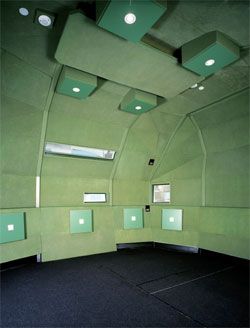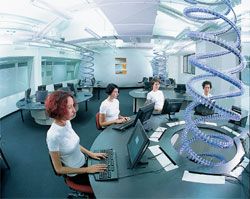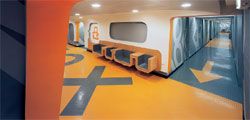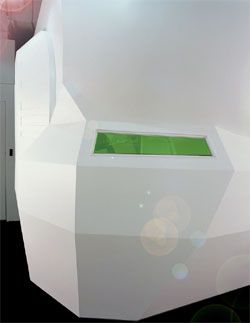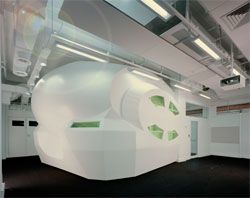 Paul Morgan's Style was already emerging by the eighties and early nineties. His sports centre design exhibited in Form, Fact, Function in 1987 expanded the canted front roadside stores found along country highways to create a simple but effective monumental form.1 This was a direct means of giving presence to a small, basic building that used few if any of the materials normally associated with the monumental. Its force was in projected movement and the way Morgan gathered up earlier allusions. Part of an emerging expressive tendency, it also carried an array of quickly recognizable forms encountered in Australian popular culture. A commitment to this fusion of the expressive and the recognizable marks his later designs, first in a partnership with Michael McKenna as Morgan McKenna, and now as Paul Morgan Architects.
Generally, the expressive "Melbourne" recourse is to narrative, expressed in long scan surfaces, whose changes and specifics come as encountered episodes and events. This has wide origins in earlier Australian architecture, but Morgan and McKenna, and now Paul Morgan's own office, pack the movement, the monumentalizing force, into distinct but self-contained objects that carry the kinetics, the energy, in themselves. This might be called an order of movement; one which pays a visit to more contained shapes, or to shapes placed in geometric opposition to a material or volume round them – a curved element within an oblong, for example.
The advantage of this approach shows in three recent alteration projects at RMIT University's city campus. The first was Morgan McKenna's lift foyer renovations in Building 51, of 2002. Then came Morgan McKenna's Computer Science and IT Flexible Learning Centre (project architect Paul Morgan) in the Gillespie Wing, also completed in 2002, and most recently the SIAL Sound Studios, in the former architecture wing, in a Percy Everett/Public Works-designed Science wing built between 1937 and the mid-1950s. Part of RMIT's spectacular programme of refurbishment and new buildings, these three projects sustain the mood.
All three hinge round capsule forms. The Building 51 renovation is a layered cladding of lift foyers keyed in different colours for each floor, each suggesting a tube broken open. Their supergraphics, fonts and colouration call on images from the earlier years of computing: the charcoal and cream dumb terminals, the spreading Star Trek imagery of the early and mid seventies, cardboard punch card fonts and the crisp, rounded frames of those cathode-ray monitors. The pastels are more broadly redolent of the seventies and early eighties, reminders that what is pronounced as technically advanced imagery of a given day can soon become as dated as Renaissance or Gothic revivalism. I well remember Doug Michaels proclaiming in 1982 how we could escape the clutches of Doric columns and giggly Mannerism – through recourse to Saturn rockets and US space capsules of the Kennedy-Johnson-Nixon era. Again, the High Tech architects were certain that their imagery would allow us to escape into a genuinely styleless contemporaneity, the sunlit upland. Morgan and McKenna are more knowing. In this last design, the inner laboratory is in part an oblate extension of one of Hal's pods in Kubrick's 2001, as if filtered through some anamorphic lens. But what is most interesting is the unmistakable geniality, their decidedly lighter touch.
Morgan's incursions into the Gillespie Wing's Computer and IT laboratories develop the Building 51 capsule idea further.2 He divides the labs with an acoustically insulated section in two-way pressed metal and plaster, which swells into their rectangular space. From the side it seems to condense from a series of frame and service strings, linking it with the grid of wires and ducts around the ceiling, so that the lab core becomes an embodiment of growth and change, a great marzipan swelling into the labs. It is flanked in different if related emblems of DNA spirals in glowing blue, carrying the outer labs' computer cables up to the ceiling. At other levels there is a hint of the bar – potentially visited by the residents of Deep Space Nine or Star Wars – with the outer terminals as a lounge and the central core as the drinks counter. Here the occupants are sealed off, visible rather than audible. Yet the labs have an unmistakable air of community. This is a significant achievement.
SIAL, the Spatial Information Architecture Laboratory, is run as part of RMIT's School of Architecture and Design, with work ranging from music to computer game design to the acoustic dimensions of spatial design. In volumes and solids, SIAL is rather like the flexible learning centre – a rectangular general space surrounding an acoustically shielded kitchen and an "inner" intense sound studio. This central core is for "dead as" conditions, free of any reverberation, and even its concrete slab is on seismic mounts. The internal structure is of two steel frames, one within the other. The outer frame rests on the floating concrete slab; the inner is to form the lining and is not directly connected. There is an air gap between each frame. The core's outer layer is in three layers of plasterboard, forming a 39 mm shell, over an air space of 45 mm with another 39 mm of plasterboard further in; MDF, fibreglass and flock surfacing inside that. Inside the core is a desk and recording furniture, with provision for eight speaker monitors.
For the core's form, Morgan takes his cues from acoustic requirements and the need for a balanced or curved shape, with internal convex faceting, and the flaring of ducts to reduce background noise. This leads to an apparition, literally, as the lab core is cast as part machine, part egg: swelling, rising, ballooning into the centre of the general laboratory room. It recalls the talismanic image of Hans Scharoun's Philharmonic Hall design of 1922. Closer up, as you look into or through Morgan's core laboratory, you sense the pod where Dave and his doomed mate Frank confer on disabling HAL's computer power in 2001.
Externally, the other main expressionist parallel is Erich Mendelsohn's 1918–21 Einstein Tower. This raises questions of how far the machine aesthetic – particularly of the streamlined machine – can go in architecture. Vincent Scully complained in Modern Architecture that Mendelsohn's design looks built for speed, yet it is stationary and so "means nothing".3 But he goes back on this in discussing Wright's imagery of movement and how it mythologizes America's prairie and its arena of immigrant experience. Then comes his anthropomorphic account of Corbusier's buildings at Chandigarh.
Morgan's design calls up similar meaning, though the anthropomorphism and direct presence of nature is not as explicit as in Corbusier or Wright. Morgan's imagery is more generalized, more oblique: a pleasurable realm, with sci-fi associations, but still lending a new sense of occasion and significance to laboratory surroundings. Just as the transitional membrane in Building 51 and the erupting core at the computer and IT lab have done. Morgan goes far in making the projected ombility of Scharoun and Mendelsohn work – a symbolic form in new settings. At the same time the SIAL core is much more conditional in form than the Computer and IT lab core. Its faceting, its indentations, even the haunches from which it seems to spring, all respond to specifics of structure. It also responds to functional need, particularly in window placement and the ovoid shape. But at the same time you can envisage a community, a group all working around, near and inside this billowing arrival, this extraordinary apparition. In a way the implication of circling movement, by individuals around this core, invites comparison with the faceted well at the centre of Edmond and Corrigan's Academic Centre at Newman and St Mary's Colleges.4 There, in squeezed and dramatic casting, the galleries become a compression of opera balconies, of the great reading room domes, all in a few metres' span. The same is true of Morgan's pods at RMIT: they strain resources to the limit on what are still small budgets; they loom in small surroundings, as great events in little rooms, startling in their projected intensity and their new scale. But isn't that seen so often in Australian architecture's exploratory episodes? You are confronted, again and again, by a grandeur of gesture made on the most basic means.
1. Ian McDougall, "Form, Fact, Function" Transition 21 (September 1987): 60–63.
2. See Pia Ednie-Brown, "Twilight Zone", Monument 51 (October/November 2002): 43–46.
3. Vincent Scully,Modern Architecture: The Architecture of Democracy (New York: Braziller, 1961).
4. Conrad Hamann, "Academic community",Architecture Australia vol 93, no 5 September/October 2004): 86–93.
Credits
Architect

Paul Morgan Architects

Project Team

Paul Morgan, Sophie Dyring
Consultants

Acoustic consultant Arup – Peter Holmes
Building surveyor BSGM
Engineering consultant Arup Melbourne
Head contractor APM Group (Aust) – Roland Di Carlo
Quantity surveyor Simon Wragg & Associates

Site Details

Location Melbourne, Vic, Australia

Project Details

Status Built
Category Public / commercial

Client

Client SIAL (Spatial Information Architecture Laboratory), School of Architecture and Design, RMIT University—Lawrence Harvey; RMIT Property Services Project Manager—Ron Crellin.

Source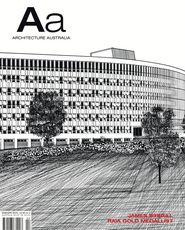 Issue
Architecture Australia, March 2005
Related topics