Community is central to life in regional Australia, providing a network of support an d a training ground in which local knowledge, skills and traditions are passed from one generation to another. Embarking on her first built project directly after graduating from Queensland University of Technology, Chloe Naughton came to understand the value of this connection intimately, as she returned to Bowen in North Queensland to oversee the construction of a house that she designed for her parents, on the site of her childhood home.
Having lived through many cyclones, Kerry Naughton-Menzies and Barney Menzies wanted a concrete building that "wasn't going anywhere" in a storm. Although not yet retired, they looked ahead to consider how their home might accommodate wheelchairs and live-in carers. The house was designed around a central communal space, with large sliding doors to the north and south that open to transform the living room into a shady breezeway. A strip of louvres in both the north and south walls allows for more carefully moderated cross-ventilation in windier weather. The main bedroom, study and indoor/outdoor bathroom form a suite to the east, along with the adjacent second bedroom that doubles as a south-facing painting studio. To the west another suite of spaces, which can also be entered directly from the garden, provide a degree of separation for a third bedroom, main bathroom, toilet and laundry.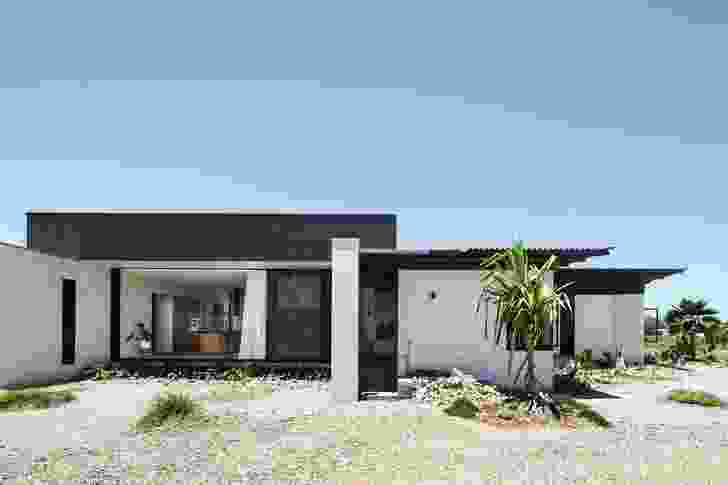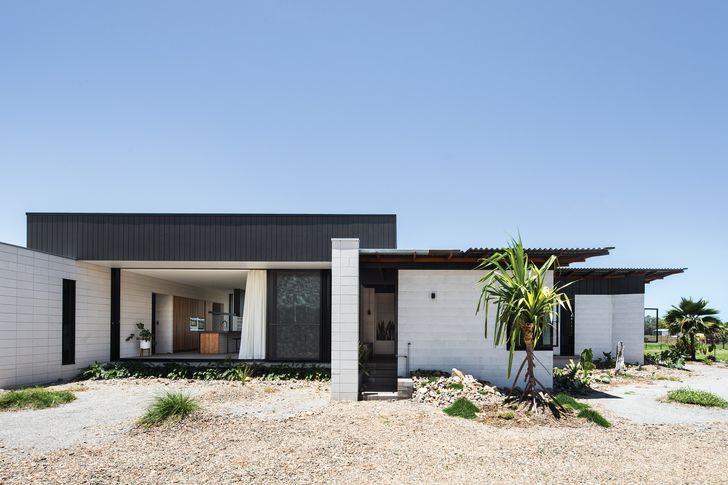 Although modest in size, the project was ambitious in detail and Chloe realized that she would need assistance to refine and adjust the design to the modest budget. She recognized the incredible learning opportunity that would be offered by being on site, but when she first moved back to the small rural town from the city, she felt disconnected from the industry and bereft of resources and mentors. While waiting for construction to commence, she worked on miscellaneous drafting jobs, developing relationships with local builders, sub-contractors and a retired engineer, Clifford Stanyon, who became her chief mentor and friend.
Construction began in 2015 with J. D. Lowcock and Co, which worked with Chloe to explore ways of reworking the design to reduce the budget while maintaining as much detail as possible. They explored concrete block as a more economical alternative to in-situ or precast concrete. Chloe was subsequently inspired by buildings at James Cook University, designed by James Birrell in the 1960s and m3architecture fifty years later, which demonstrate an alternative to both in-situ concrete and the local tradition of rendered concrete block, and "celebrate the raw and robust material in a delightful way."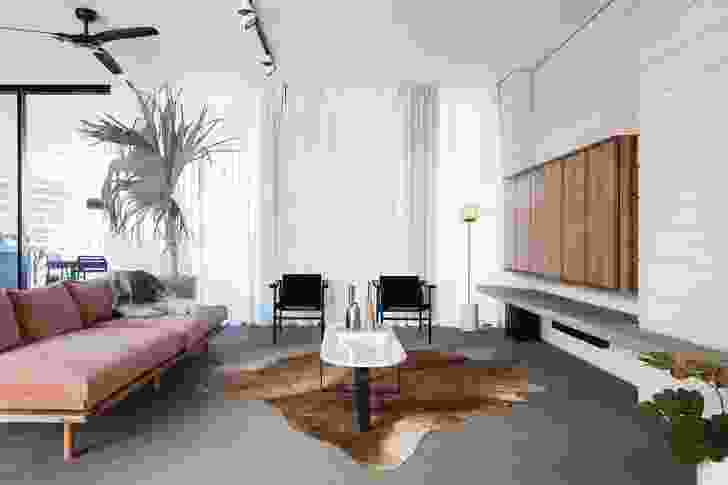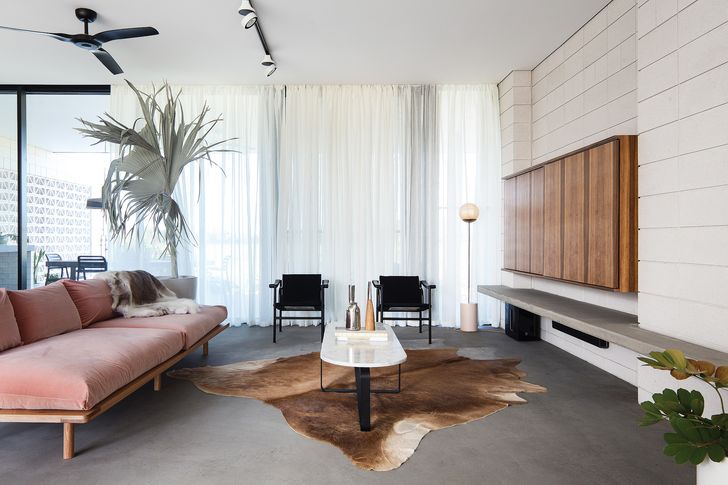 Being on site during construction allowed Chloe to consider ways that even the most prosaic details could be adjusted to provide opportunities for delight. Subtle variations were created through the choice of smooth and honed concrete block and different bonds. Local brickie Tim Johnstone was brought out of retirement to polish the block-laying skills of the local builders, who were accustomed to rendering over less precise construction. The slab was laid in five pours, with the gap for the expansion joint increased to allow a recess for pebble inlays that create thresholds between various spaces of the house.
Timber-framed skillion roofs top the house, with the largest section draining rainwater into a box gutter to be collected in tank s. The smaller roofs at either end of the house have no gutters, celebrating the rain as it sheets down around the edges of the bedrooms and drains directly into the rock garden below.
Inside, the open-plan living room is delineated into three zones. A TV alcove locates the lounge and sitting area and a round table to the south defines a dining space. Along the western edge, a timber veneer wall forms the backdrop for an island bench with built-in sink and cooktop, which is framed by two suspended boxes: a slender rectangular light fitting and a larger box that houses the cooktop extraction unit. The remainder of the kitchen appliances are in the scullery behind. The circulation path across the living space accentuates the strong relationship between inside and outside, by aligning with a visual connection to an existing Poinciana tree outside. The patio to the north, intended to overlook a future swimming pool, is shaded from the afternoon sun, with the adjacent breezeblock wall allowing for cross-ventilation.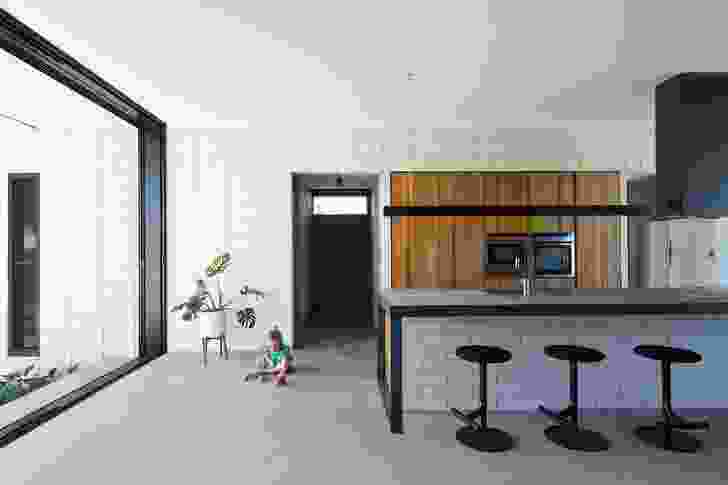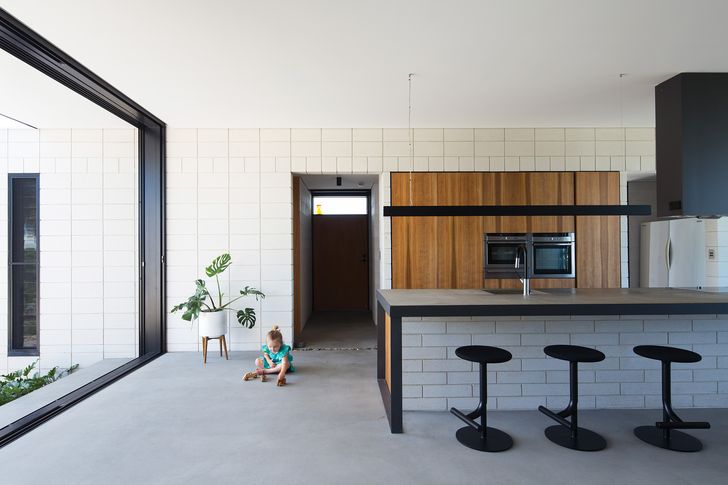 Chloe called on her grandfather, Bob Andrews, to assist with the joinery metalwork. Although he has spent a lifetime building aluminium boats, Bob was initially unsure that his tools would allow for the fineness of detailing required, but he and Chloe worked together to adjust the design to suit the tools. The aluminium frame of the kitchen bench, bathroom joinery, entry stair balustrade, front gate, outdoor dining table and the barbecue bench were coated in a paint that gives them a dark, grainy metallic finish.
Inverdon House challenges the current paradigm of stock housing in North Queensland, demonstrating that living there "doesn't need to be uncomfortable or expensive." Chloe has used everyday materials in alternative ways and reinvigorated the level of detail and craftsmanship characteristic of local traditions. The mentorship of older builders, engineers and tradespeople provided a valuable learning ground for both the young graduate architect and the local tradies. This learning, and the simplicity and generosity of the design and construction process, extended beyond the small town as Chloe documented the project via Instagram. This tough but delicate project extends the modernist linea ge in myriad delightful ways and is an incredible credit to a rising young talent.
Products and materials
Roofing

Lysaght Klip-Lok and Custom Orb Accent 35 roofing in Zincalume; Shadowclad plywood cladding in Colorbond 'Monument' from Carter Holt Harvey.
External walls

Austral Masonry GB Honed and Smooth 200 Series bricks in 'Porcelain'; Dry-Treat wall sealer; James Hardie fibre cement cladding with vertical pine battens, in Colorbond 'Monument'.
Internal walls

Austral Masonry GB Honed and Smooth 200 Series bricks in 'Porcelain'; Dry-Treat wall sealer.
Windows

Bradmans Essentials Range aluminium casements and louvres.
Doors

Bradmans Commercial Range aluminium/glass doors; Capral 200 Series aluminium/glass doors to ensuite; Hume solid-core ply-faced doors in Bona Naturale finish; Interia Tasmanian oak door pull in black; The Lock and Handle door hardware in matt black; pine door jambs with Bona Naturale finish.
Flooring

Concrete, steel-trowelled throughout; Austral Masonry La Paloma bricks in 'Dali' to entry court; Dry-Treat sealer.
Lighting

Marset Soho lamp and Ginger pendant; Inlite Tube Starr, Hydra, Ecostarr, Tuba LED and One-Liner lights; Luxxbox Flirt pendant; Delta Light Kix, Ultra X LED, Grand Diro, You-Turn Reo and Jeti lights.
Kitchen

Neff ovens and induction cooktop; Schweigen rangehood with custom casing; Oliveri Vilo mixer and Professional Series sink; Fisher and Paykel CoolDrawer; Tasmanian blackwood veneer joinery, crown-cut with Bona Naturale finish; aluminium island bench frame with Murobond Bridge paint in 'Carbon' custom made by Bob Andrews; concrete island benchtop custom made by contractor.
Bathroom

Plywood joinery; aluminium towel rails and joinery frame with Murobond Bridge paint in 'Carbon' custom made by Bob Andrews; Viridian mirror; Astra Walker tapware; Moda Lucia bath; Aquabocci linear floor waste; Fibonacci Stone terrazzo tiles to benchtop.
Heating and cooling

Hunter Pacific ceiling fans; Mitsubishi airconditioner; 900 mm eaves around house; blockout and sheer curtains made by client.
External elements

Floating concrete steps, shower, spotted gum dining tabletop and concrete barbecue bench frame custom made by contractor; entry balustrade and gate, dining table frame and barbecue bench frame custom made by Bob Andrews.
Other

Grazia & Co Ezra coffee table; Pop & Scott Dreamer couch; EzFurn outdoor chairs; all other furniture by Cult Design.
Source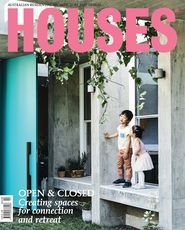 Related topics